Need help with a product?
FICO offers all licensed clients use of a secured, self-service Web portal for Product Support, FICO Online Support. FICO Online Support allows users to self help on their issues 24 hours a day, 7 days a week.
Financial Services
Insurance
Public Sector
Pharma and Life Sciences
Education
Retail
Learn how BMW sped up its customer communications
"Using FICO Customer Communication Services, we get a secure, highly flexible, robust solution with a low cost of entry, and we can leverage the expertise of a valued partner, which allows our in-house maintenance support to focus on other key internal priorities and platforms."
- Wayne Orchowski, CEO BMW
Authoring Tools
Resources
FICO Analytic Cloud: Your portal for operationalizing analytics and decisioning.
Customer data is more widely available than ever, but leveraging data to drive smarter decisions requires new thinking and a new kind of agility. Cloud-based decision management – the seamless marriage of data-driven insights and codified decision logic with applications that reach your customers where and when they want – is the key to operationalizing analytics to automate and optimize customer engagements. The FICO Analytic Cloud is where this journey begins…
Learn about FICO Products and Solutions whenever is convenient for you.
A highly interactive, hands-on experience in our classes, and a focus on practical knowledge and skills transfer.
Careers At FICO
Are you ready to fulfill your potential? FICO offers big career opportunities in Big Data Analytics from California to New York, London to Bangalore and Beijing.
From Stolen Eyes to the Wallet Diet — 14 Financial Crime Predictions for 2018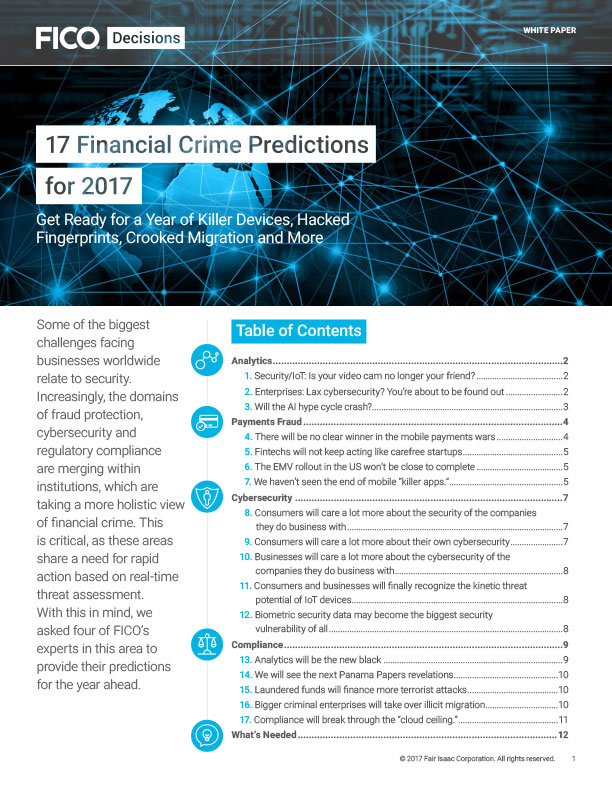 Last year brought new challenges around data security, fraud protection and AML compliance, along with a new focus on AI to combat these challenges. So what will 2018 look like? We asked four of FICO's experts in this area to provide their predictions.

About FICO
FICO (NYSE: FICO) powers decisions that help people and businesses around the world prosper. Founded in 1956 and based in Silicon Valley, the company is a pioneer in the use of predictive analytics and data science to improve operational decisions. FICO holds more than 150 US and foreign patents on technologies that increase profitability, customer satisfaction and growth for businesses in financial services, telecommunications, health care, retail and many other industries. Using FICO solutions, businesses in more than 100 countries do everything from protecting 2.6 billion payment cards from fraud, to helping people get credit, to ensuring that millions of airplanes and rental cars are in the right place at the right time. Learn more at www.fico.com. Join the conversation at https://twitter.com/fico & http://www.fico.com/en/blogs/ FICO is a registered trademark of Fair Isaac Corporation in the US and other countries.