Need help with a product?
FICO offers all licensed clients use of a secured, self-service Web portal for Product Support, FICO Online Support. FICO Online Support allows users to self help on their issues 24 hours a day, 7 days a week.
Financial Services
Insurance
Public Sector
Pharma and Life Sciences
Education
Retail
Learn how BMW sped up its customer communications
"Using FICO Customer Communication Services, we get a secure, highly flexible, robust solution with a low cost of entry, and we can leverage the expertise of a valued partner, which allows our in-house maintenance support to focus on other key internal priorities and platforms."
- Wayne Orchowski, CEO BMW
Authoring Tools
Resources
FICO Analytic Cloud: Your portal for operationalizing analytics and decisioning.
Customer data is more widely available than ever, but leveraging data to drive smarter decisions requires new thinking and a new kind of agility. Cloud-based decision management – the seamless marriage of data-driven insights and codified decision logic with applications that reach your customers where and when they want – is the key to operationalizing analytics to automate and optimize customer engagements. The FICO Analytic Cloud is where this journey begins…
Learn about FICO Products and Solutions whenever is convenient for you.
A highly interactive, hands-on experience in our classes, and a focus on practical knowledge and skills transfer.
Careers At FICO
Are you ready to fulfill your potential? FICO offers big career opportunities in Big Data Analytics from California to New York, London to Bangalore and Beijing.
Data Distillery
Your bridge from raw data to actionable analytics
Overview
Establishing the infrastructure to collect and analyze big data is a proven, practical investment for businesses. But even a commercially mature company may be missing the means to identify what data sources are providing input that is meaningful in decision-making, and how to tell the signal from the noise.
Data Distillery is a rapid services engagement designed to identify high-value data, determine how to structure and enrich it, and propose the most effective analytics to make it actionable. Based on subject matter expertise in data science and decision support and FICO's Signal BoxTM tools (which include data wrangling and data enrichment services, along with tools for Signal Detection, Prioritization and Visualization), the Data Distillery will map out a solution that is fast, unbiased, comprehensive, efficient in adoption and execution, practical to interpret, actionable and repeatable.
FICO is a world leader in customer-focused advanced analytics and credit-risk lifecycle software.
The FICO solution for Big Data-driven Analytics
Identify Data Viability
Separate Signal from Noise
Take Action
Identify Data Viability
To get you started, FICO's data scientists will frame the objective, collect data, and provide a preliminary assessment of which data sources are viable relative to your goals. We will assess data throughout the organization, so there is an opportunity to find new, valuable combinations and interactions. This assessment can include alternative and/or external data – not just the data initially presented as "in scope" for analysis. The result is a data topography that shows you the landscape of your data.
Separate Signal from Noise
Using FICO's leading Signal BoxTM technology, FICO data scientists will "wrangle" your data and look for potential value. Wrangling includes cleansing it of redundant or irrelevant artifacts, structuring or normalizing it, and resolving gaps. The consultants will "enrich" the data using the best available methods such as text analytics, behavior maps, social network analysis, etc. Then, visualization and other methods will be used to "detect" the signals in your data and prioritize them to uncover valuable insights.
Take Action
Once signal analysis has turned up promising leads, Data Distillery offers a deeper dive, using traditional analytics and machine learning methods. For example, FICO may recommend Descriptive Analytics for behavioral segmentation, profiling customers and generating personas that capture values, attitudes, preferences and risk assessments; Predictive Modeling to project how current prospects or customers will respond to a specific offer; or Decision Optimization for generating the best possible return on a given marketing campaign.
Solution Architecture
Your Analytics Roadmap
A key by-product of Data Distillery is an analytics roadmap, designed to help you to see the longer-term implications of the patterns found in your data. The roadmap will identify immediate opportunities to generate returns from analytics applied to the data at hand. Meanwhile, FICO's data scientists will provide design and development plans for deeper, more powerful analytical models that can provide ongoing business value, and help to scope a larger score-carding, modeling or other analytics development initiative. All of the knowledge/intellectual capital generated through the Data Distillery engagement will be transferred in practical, actionable form to you.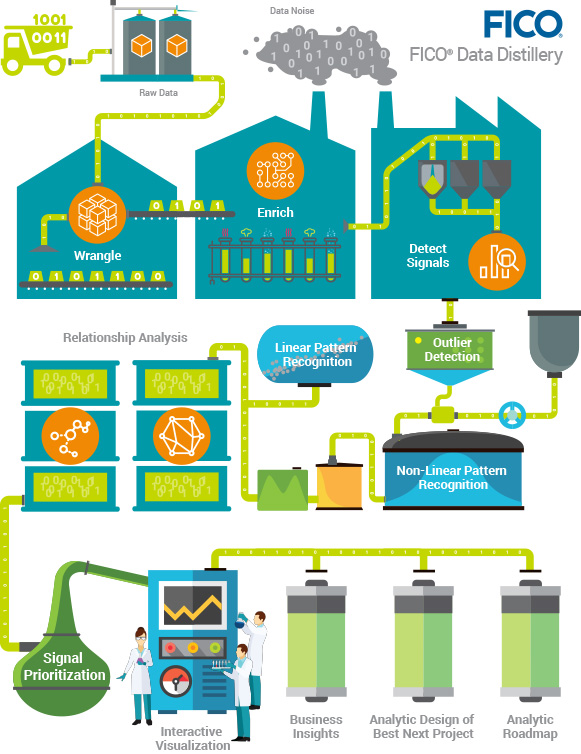 Want to take your business to new heights?
Request more information. Enter your information and we will respond directly to you.