Need help with a product?
FICO offers all licensed clients use of a secured, self-service Web portal for Product Support, FICO Online Support. FICO Online Support allows users to self help on their issues 24 hours a day, 7 days a week.
Financial Services
Insurance
Public Sector
Pharma and Life Sciences
Education
Retail
Learn how BMW sped up its customer communications
"Using FICO Customer Communication Services, we get a secure, highly flexible, robust solution with a low cost of entry, and we can leverage the expertise of a valued partner, which allows our in-house maintenance support to focus on other key internal priorities and platforms."
- Wayne Orchowski, CEO BMW
Authoring Tools
Resources
FICO Analytic Cloud: Your portal for operationalizing analytics and decisioning.
Customer data is more widely available than ever, but leveraging data to drive smarter decisions requires new thinking and a new kind of agility. Cloud-based decision management – the seamless marriage of data-driven insights and codified decision logic with applications that reach your customers where and when they want – is the key to operationalizing analytics to automate and optimize customer engagements. The FICO Analytic Cloud is where this journey begins…
Learn about FICO Products and Solutions whenever is convenient for you.
A highly interactive, hands-on experience in our classes, and a focus on practical knowledge and skills transfer.
Careers At FICO
Are you ready to fulfill your potential? FICO offers big career opportunities in Big Data Analytics from California to New York, London to Bangalore and Beijing.
Ever wonder how Capital Services continues to provide
innovative services to over 750,000 accounts nationwide?
The potential of FICO® Score 9 & FICO® Score Open Access
Meet Capital Services
Capital Services provides analytics, financial modeling, compliance, conduit technology and servicing for financial institutions nationwide in the US.
What differentiates Capital Services is their ability to originate for their clients. They explain why they've chosen to work with FICO to examine the new FICO® Score 9 and FICO® Score Open Access program for their clients.
Differentiation as an Early Adopter
Capital Services, a leading payment portfolio management and servicing company, originates and manages card assets and provides payments services for over 750,000 accounts nationwide.
How to differentiate your score card strategies from others? FICO Score 9 comes in as the most current, predictive credit score with a better methodology for handling medical debt and that appealed to Capital Services. A different approach that blends well with their custom models – working together to originate and manage the portfolio with this predictive-power advantage.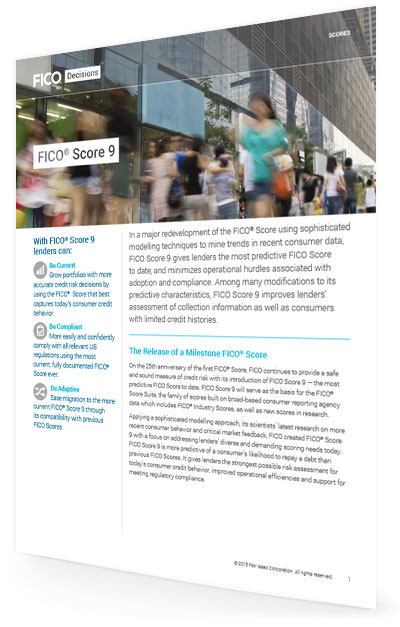 Building Better Customer Relationships

A refined and more nuanced way to assess consumer medical debt and collection information plus basing decisions on post-recession consumer behavior is ensuring Capitals' clients have the most up-to-date, robust and predictive risk model available – while providing new levels of positive customer service.
Offering customer access to their FICO Score through the FICO Score Open Access program adds a new level of engagement and transparency.
Want to take your business to new heights?
Request more information. Enter your information and we will respond directly to you.