Need help with a product?
FICO offers all licensed clients use of a secured, self-service Web portal for Product Support, FICO Online Support. FICO Online Support allows users to self help on their issues 24 hours a day, 7 days a week.
Financial Services
Insurance
Public Sector
Pharma and Life Sciences
Education
Retail
Learn how BMW sped up its customer communications
"Using FICO Customer Communication Services, we get a secure, highly flexible, robust solution with a low cost of entry, and we can leverage the expertise of a valued partner, which allows our in-house maintenance support to focus on other key internal priorities and platforms."
- Wayne Orchowski, CEO BMW
Authoring Tools
Resources
FICO Analytic Cloud: Your portal for operationalizing analytics and decisioning.
Customer data is more widely available than ever, but leveraging data to drive smarter decisions requires new thinking and a new kind of agility. Cloud-based decision management – the seamless marriage of data-driven insights and codified decision logic with applications that reach your customers where and when they want – is the key to operationalizing analytics to automate and optimize customer engagements. The FICO Analytic Cloud is where this journey begins…
Learn about FICO Products and Solutions whenever is convenient for you.
A highly interactive, hands-on experience in our classes, and a focus on practical knowledge and skills transfer.
Careers At FICO
Are you ready to fulfill your potential? FICO offers big career opportunities in Big Data Analytics from California to New York, London to Bangalore and Beijing.
Ever wonder how Southwest Airlines optimizes
aircraft, employees and 3,900 flights per day?
Meet Southwest Airlines
Southwest Airlines is a major U.S. airline and the world's largest low-cost carrier, headquartered in Dallas, Texas.
Southwest Airlines connects people to what's important in their lives by carrying more than 100 million passengers a year to 93 domestic and international destinations. With the airline industry continually looking for new opportunities to grow incremental margin, Southwest selected FICO® Xpress Optimization to implement multiple optimization projects across the airline — from fuel purchasing and airplane provisioning to crew planning and ground operations — and the optimization team has more projects in the works.
Ever Wonder How Southwest Airlines ranked #1 in customer satisfaction while staying consistently profitable?
When you're Southwest Airlines – the largest domestic carrier in the US and profitable for 40+ straight years – staying ahead of the rest of the industry means consistently finding new ways to reduce costs, improve performance and customer engagement, and keep crews and other staff happy. What's one of their key ingredients for success? FICO Optimization, which helps them solve their most challenging, complex problems.
Whether getting the best price on the 1.9 billion gallons of fuel, improving flight team quality of life through intelligent crew scheduling, or even reducing delays due to inclement weather, Southwest counts on FICO Xpress Optimization – and now, FICO Xpress Insight – to make the best decisions every time, faster than ever, so that they can safely and profitably get millions of customers to their destinations. Download our new case study to learn the many ways Southwest keeps resetting the global standard in the airline industry.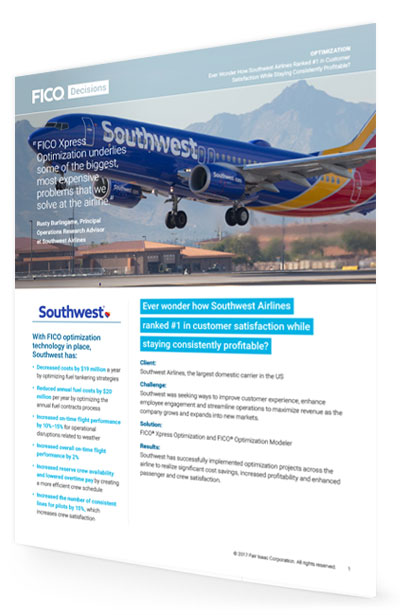 "The FICO Xpress Optimization Suite underlies some of the biggest, most expensive problems that we solve at the airline."
Rusty Burlingame, Senior Operations
Research Developer at Southwest Airlines
Want to take your business to new heights?
Request more information. Enter your information and we will respond directly to you.