Need help with a product?
FICO offers all licensed clients use of a secured, self-service Web portal for Product Support, FICO Online Support. FICO Online Support allows users to self help on their issues 24 hours a day, 7 days a week.
Financial Services
Insurance
Public Sector
Pharma and Life Sciences
Education
Retail
Learn how BMW sped up its customer communications
"Using FICO Customer Communication Services, we get a secure, highly flexible, robust solution with a low cost of entry, and we can leverage the expertise of a valued partner, which allows our in-house maintenance support to focus on other key internal priorities and platforms."
- Wayne Orchowski, CEO BMW
Authoring Tools
Resources
FICO Analytic Cloud: Your portal for operationalizing analytics and decisioning.
Customer data is more widely available than ever, but leveraging data to drive smarter decisions requires new thinking and a new kind of agility. Cloud-based decision management – the seamless marriage of data-driven insights and codified decision logic with applications that reach your customers where and when they want – is the key to operationalizing analytics to automate and optimize customer engagements. The FICO Analytic Cloud is where this journey begins…
Learn about FICO Products and Solutions whenever is convenient for you.
A highly interactive, hands-on experience in our classes, and a focus on practical knowledge and skills transfer.
Careers At FICO
Are you ready to fulfill your potential? FICO offers big career opportunities in Big Data Analytics from California to New York, London to Bangalore and Beijing.
Ever wonder how Yarra Valley Water took application
processing time from months to minutes?
Optimizing online applications with decision engine technology
Meet Yarra Valley Water
Yarra Valley Water is Melbourne's largest water and sanitation business providing water supply and sewerage services to over 1.7 million people and over 50,000 businesses in the northern and eastern suburbs.
Yarra Valley Water's online portal was unable to keep up with increasingly complex online applications leading to delays. Yarra Valley Water wanted to control defining business processes and increase automation with no IT support. This video provides a deep dive into how Yarra Valley Water made it happen and the benefits – from accelerated application approvals to more empowered employees – have been astounding
Yarra Valley Water dramatically reduces application processing time with FICO® Blaze Advisor® Decision Rules Management System
Yarra Valley Water is Melbourne, Australia's largest water and sanitation business
Yarra Valley Water's online portal for developers, easyAccess, helps expedite application approvals while reducing manual processes and freeing up employees to focus on more complex applications. The easyAccess the solution was unable to keep up with increasingly complex applications, and only 40% of each year's 5,500 submissions were handled automatically in 2011— the rest required human intervention. Learn how Yarra Valley Water implemented a solution to accelerate application approvals and empower employees to meet their needs for the future.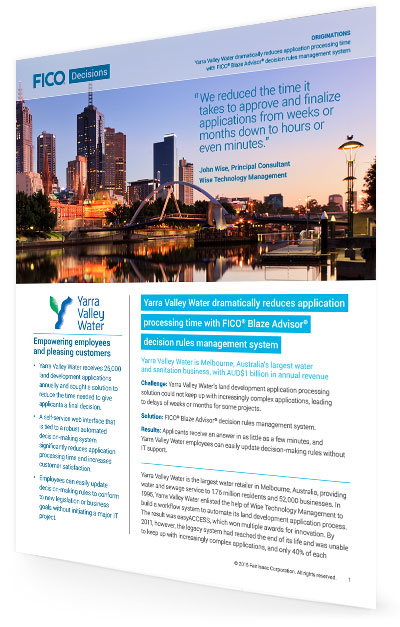 "We've been able to streamline our processes with FICO whenever we've found a need for change - and moving forward the FICO Decision Management Suite will help us with that."
Stuart Squires, Easy Access Systems Manager,
Yarra Valley Water
Want to take your business to new heights?
Request more information. Enter your information and we will respond directly to you.