Need help with a product?
FICO offers all licensed clients use of a secured, self-service Web portal for Product Support, FICO Online Support. FICO Online Support allows users to self help on their issues 24 hours a day, 7 days a week.
Financial Services
Insurance
Public Sector
Pharma and Life Sciences
Education
Retail
Learn how BMW sped up its customer communications
"Using FICO Customer Communication Services, we get a secure, highly flexible, robust solution with a low cost of entry, and we can leverage the expertise of a valued partner, which allows our in-house maintenance support to focus on other key internal priorities and platforms."
- Wayne Orchowski, CEO BMW
Authoring Tools
Resources
FICO Analytic Cloud: Your portal for operationalizing analytics and decisioning.
Customer data is more widely available than ever, but leveraging data to drive smarter decisions requires new thinking and a new kind of agility. Cloud-based decision management – the seamless marriage of data-driven insights and codified decision logic with applications that reach your customers where and when they want – is the key to operationalizing analytics to automate and optimize customer engagements. The FICO Analytic Cloud is where this journey begins…
Learn about FICO Products and Solutions whenever is convenient for you.
A highly interactive, hands-on experience in our classes, and a focus on practical knowledge and skills transfer.
Careers At FICO
Are you ready to fulfill your potential? FICO offers big career opportunities in Big Data Analytics from California to New York, London to Bangalore and Beijing.
Home
/ Fraud & Security / PSD2 Managing Fraud Intelligently
PSD2 Managing Fraud Intelligently
Adaptive analytics and machine learning to help protect you from fraud and prepare for PSD2
Overview
PSD2 focuses on fraud prevention
Fraud in remote payments such as online transactions, has long been a concern. PSD2 looks to tackle this by better authentication of payment transactions. Responsibility for payment security must be managed by the PSPs, PSD2 introduces strong customer authentication as the means to do this. Strong customer authentication often means that consumers must perform additional steps or provide additional information - this adds friction to the customer journey. Customers don't like delayed or difficult payment processes and PSPs who fail to handle the process well could lose customers. Additional checks can add cost to the payment process as many checks are charged on a per use basis.
PSD2 allows exemptions from strong customer authentication for those who can keep their fraud levels under specified reference fraud rates, this allows payments under €500 to be secured using transaction risk analysis. The lower a PSP can keep their fraud rates the more they will be able to use transaction risk analysis to secure payments. Using transaction risk analysis will help the PSP to lower friction in the customer payment process, improve customer service and keep the cost of securing payments lower.
Managing payment security for PSD2 will have implications for consumers who are using banking and card services to make payments. When strong customer authentication needs to be used or when authentication fails banks need to communicate effectively with their customers. This means providing customers with the information and instruction they need at the appropriate time using the right channel. Payment service providers that don't manage the customer communications process well could lose customers as a result.
Core Benefits
Prepare with expert advisors
Protect with a proven fraud detection solution
Adapt and futureproof with machine learning
Prepare with expert advisors
Get advice you can trust from informed and confident advisors.
Understand in detail why fraud is happening in your accounts.
Reduce fraud to the best possible levels for your operations, with specific and detailed information about what you need to do.
Understand when and how you can balance Transaction Risk Analysis with Strong Customer Authentication to deliver the best results for you.
Analyze your customers' journey for PSD2 so that you are ready to implement appropriate communicaton strategies.
Protect with a proven fraud detection solution
Be confident in your solution with software that already protects 70% of UK cards from fraud
Detect and manage fraud in mass volumes and in near real time. Our customers can process 9,000 transactions per second.
Improve accuracy of fraud detection with beter access to relevant data. We can incorporate data from multiple sources and help you to share fraud data through our consortium.
Detect more fraud faster with expertly built fraud models designed for PSPs.
Provide customers with the communcations and instructions they need, when they need them using the most appropriate channel.
Adapt and futureproof with machine learning
Adapt quickly to emerging threats and the new data landscape, with our proven machine learning capabilities
Reduce the need to manually write and change fraud models. Our machine learning capabilities will adapt them on the fly - and they're specially designed for your industry.
Be confident your solution won't date - our machine learning pedigree started 25 years ago and today we're innovating more than ever. We have over 42 fraud related AI patents awarded or pending in just the past five years.
Solution Architecture
Managing Fraud for PSD2
FICO has developed an integrated approach to managing fraud for PSD2, incorporating rules and profiles based on PSD2 specific parameters with innovative machine learning techniques. This allows your fraud operations to rapidly adapt to emerging fraud trends, information is fed back into the models so that they are constantly developing to better support you. The FICO Customer Communications Services are integrated with the Falcon Fraud Platform to provide two-way communication with customers. This keeps them informed and provides information back from them, that can, in turn, be used to enhance fraud detection. Models can be further enhanced with data shared with other PSPs in our fraud consortia so that your fraud detection is enhanced with more relevant data.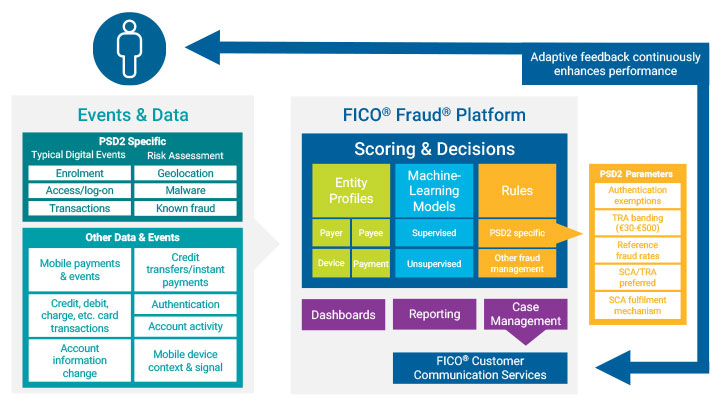 Want to take your business to new heights?
Request more information. Enter your information and we will respond directly to you.