Need help with a product?
FICO offers all licensed clients use of a secured, self-service Web portal for Product Support, FICO Online Support. FICO Online Support allows users to self help on their issues 24 hours a day, 7 days a week.
Financial Services
Insurance
Public Sector
Pharma and Life Sciences
Education
Retail
Learn how BMW sped up its customer communications
"Using FICO Customer Communication Services, we get a secure, highly flexible, robust solution with a low cost of entry, and we can leverage the expertise of a valued partner, which allows our in-house maintenance support to focus on other key internal priorities and platforms."
- Wayne Orchowski, CEO BMW
Authoring Tools
Resources
FICO Analytic Cloud: Your portal for operationalizing analytics and decisioning.
Customer data is more widely available than ever, but leveraging data to drive smarter decisions requires new thinking and a new kind of agility. Cloud-based decision management – the seamless marriage of data-driven insights and codified decision logic with applications that reach your customers where and when they want – is the key to operationalizing analytics to automate and optimize customer engagements. The FICO Analytic Cloud is where this journey begins…
Learn about FICO Products and Solutions whenever is convenient for you.
A highly interactive, hands-on experience in our classes, and a focus on practical knowledge and skills transfer.
Careers At FICO
Are you ready to fulfill your potential? FICO offers big career opportunities in Big Data Analytics from California to New York, London to Bangalore and Beijing.
Home
/ Originations / Consumer Credit
Consumer Credit
Improve profitability and the customer experience with automation and advanced analytics.
Overview
When it comes to originating consumer loans, lenders today are challenged with meeting the demands of sophisticated digital-savvy consumers while factoring in regulatory restrictions and risk. Leveraging automation and advanced analytics is an important part of bringing these pieces together—and FICO origination solutions make that happen to deliver better decisioning that improves the customer experience while driving business profit. Customers get a more streamlined and transparent origination process with loans that are fine-tuned just for them. Lenders win through lower-cost, more compliant loans and tools for strengthening customer engagement and building product usage over time.
Solution Architecture
FICO® Origination Manager
FICO Origination Manager supports connected decisions across the entire lending lifecycle for a more holistic view of the customer relationship that can then be factored into origination decisions. Origination Manager is composed of four core modules that can operate together or independently to best fit your origination needs.
The Application Processing Module includes preconfigured workflow processing steps, queues and data capture that reduce the implementation cycle time.
The Decision Module, leveraging FICO® Blaze Advisor® decision rules management system, includes an intuitive user interface that enables business users to author rules and deploy business strategies quickly, without the need for IT coding.
The Data Acquisition Module provides access to external data sources such as consumer or small business credit reporting agencies and alternative data providers. It also includes credit report characteristics, which are the key components of FICO® Scores.
The Analytic Module access to a FICO-hosted service that scores each applicant using the latest versions of FICO® Pooled Models.
Small Business Scoring Service Version 7.0: The latest version offers new capabilities that provide credit grantors with more choice and risk measures for identifying additional profit opportunities. Capabilities include support for higher loan amounts, a bankruptcy score and additional models.
Coming Soon in 2018 Application Risk Models Version 4.0: The newest release of Application Risk Models takes consumer lenders to an entirely new level. Lenders can now both reduce risk exposure and expand the range of transactions they can assess.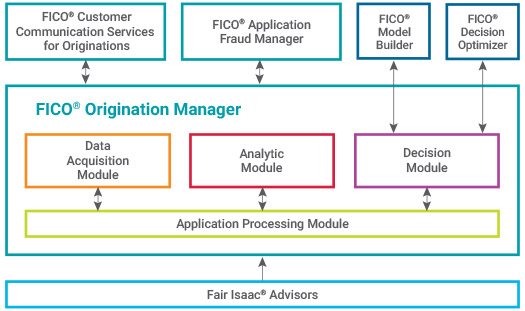 Available Products
Product overview
FICO® Application Studio is a powerful solution that shortens the time to develop and deliver analytically powered applications—up to 10 times faster than traditional approaches—that are secure, mobile-ready and can be deployed as a cloud-based or on-premises solution.
FICO® Blaze Advisor® Decision Rules Management System
FICO® Origination Manager
Want to take your business to new heights?
Request more information. Enter your information and we will respond directly to you.
TD Canada wins with customer-centric view.
"Working with FICO, we're building a credit infrastructure that allows us to stay competitive and grow our business."