Need help with a product?
FICO offers all licensed clients use of a secured, self-service Web portal for Product Support, FICO Online Support. FICO Online Support allows users to self help on their issues 24 hours a day, 7 days a week.
Financial Services
Insurance
Public Sector
Pharma and Life Sciences
Education
Retail
Learn how BMW sped up its customer communications
"Using FICO Customer Communication Services, we get a secure, highly flexible, robust solution with a low cost of entry, and we can leverage the expertise of a valued partner, which allows our in-house maintenance support to focus on other key internal priorities and platforms."
- Wayne Orchowski, CEO BMW
FICO Analytic Cloud, democratizing analytics through the cloud.
Customer data is more widely available than ever, but leveraging data to drive smarter decisions requires new thinking and a new kind of agility. As companies develop strategies for both cloud computing and for using Big Data to improve customer relationships, analytically-empowered solutions, cloud-based applications and a flexible cloud-based Decision Management development platform become essential.
Learn about FICO Products and Solutions whenever is convenient for you.
A highly interactive, hands-on experience in our classes, and a focus on practical knowledge and skills transfer.
Careers At FICO
Are you ready to fulfill your potential? FICO offers big career opportunities in Big Data Analytics from California to New York, London to Bangalore and Beijing.
Home
/ Originations / Leasing
Leasing
Drive more agile and intelligent leasing decisions with advanced analytics.
Overview
Successful equipment leasing needs to take the customer experience into consideration while keeping risk and fraud at a minimum. Leveraging advanced analytics can make the leasing process more efficient and profitable. FICO origination solutions leverage analytics to develop more intelligent decisioning that improves the customer experience while driving business profit. Customers get a more streamlined and transparent origination process with leases that meet their specific needs. Lenders win through streamlined, lower-cost processing that results in greater profit.
Solution Architecture
FICO® Origination Manager — Leasing
FICO Origination Manager delivers the power to make more precise, value-based decisions at the origination stage, enabling you to grow more profitable portfolios while managing customer-level risk. Built on a platform using service-oriented architecture principles, it minimizes your IT dependence and ongoing maintenance requirements. It delivers the most advanced statistical modeling techniques and analytical approach to credit decisioning in a flexible, easily deployed solution.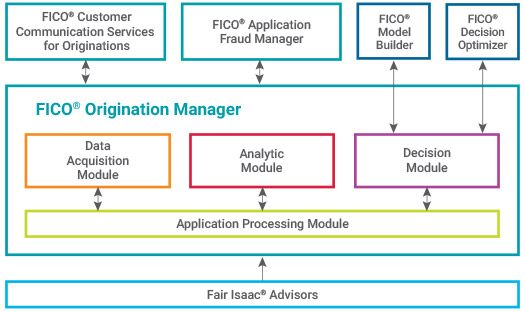 Available Products
Product overview
FICO® Application Studio is a powerful solution that shortens the time to develop and deliver analytically powered applications—up to 10 times faster than traditional approaches—that are secure, mobile-ready and can be deployed as a cloud-based or on-premises solution.
FICO® Blaze Advisor® Decision Rules Management System
FICO® Origination Manager
FICO® Small Business Scoring Service
Want to take your business to new heights?
Request more information. Enter your information and we will respond directly to you.
Leading manufacturer realizes growth through processing improvements.
50-100% increase in application volume capacity and 25-50% reduction in manual reviews with improved credit analyst productivity.