Need help with a product?
FICO offers all licensed clients use of a secured, self-service Web portal for Product Support, FICO Online Support. FICO Online Support allows users to self help on their issues 24 hours a day, 7 days a week.
Financial Services
Insurance
Public Sector
Pharma and Life Sciences
Education
Retail
Learn how BMW sped up its customer communications
"Using FICO Customer Communication Services, we get a secure, highly flexible, robust solution with a low cost of entry, and we can leverage the expertise of a valued partner, which allows our in-house maintenance support to focus on other key internal priorities and platforms."
- Wayne Orchowski, CEO BMW
Authoring Tools
Resources
FICO Analytic Cloud: Your portal for operationalizing analytics and decisioning.
Customer data is more widely available than ever, but leveraging data to drive smarter decisions requires new thinking and a new kind of agility. Cloud-based decision management – the seamless marriage of data-driven insights and codified decision logic with applications that reach your customers where and when they want – is the key to operationalizing analytics to automate and optimize customer engagements. The FICO Analytic Cloud is where this journey begins…
Learn about FICO Products and Solutions whenever is convenient for you.
A highly interactive, hands-on experience in our classes, and a focus on practical knowledge and skills transfer.
Careers At FICO
Are you ready to fulfill your potential? FICO offers big career opportunities in Big Data Analytics from California to New York, London to Bangalore and Beijing.
FICO® Customer Data Integration
Do this better, and you'll do everything better.
Overview
Data-driven insights inform just about everything you do with, for and about customers. If you can integrate a consolidated customer view using real-time and offline data and put these insights to use faster, you've got an all-around performance enhancer.
By turning data integration from an impediment to an enabler, you influence and improve your business outcomes. The challenge for marketers is piecing it together to create a consolidated, centralized and immediately useful view of customers without sacrificing quality for speed. To do this right, you need self-serve tools that blend real-time and offline data from different channels and sources.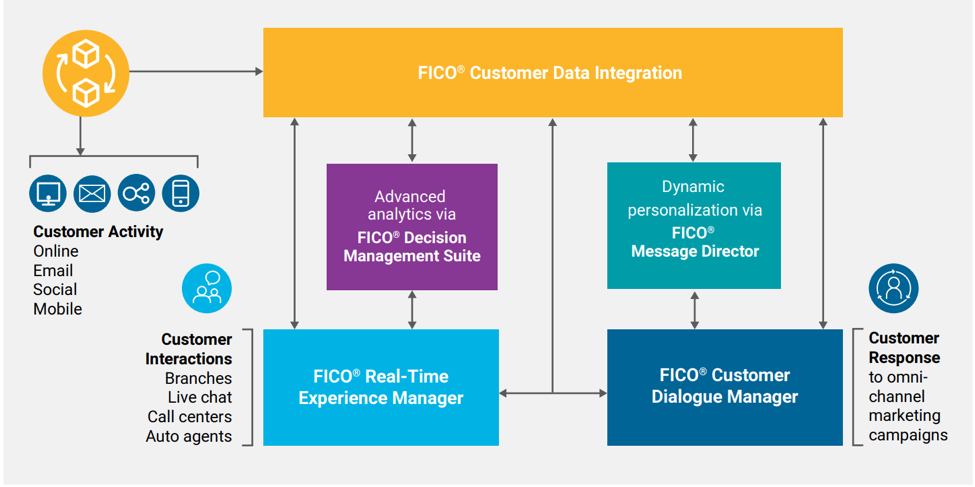 Core Benefits
Support multiple data types
Self-service data tools
Solution Architecture
Support multiple data types
Quickly load and explore data to answer immediate questions or uncover opportunities. Easily configure scheduled or recurrent integration jobs and continuously process streaming data or instantly merge with existing customer data.
Self-service data tools
Define data using input/output fields, mapping sources and destinations. Transform data from different sources via validation, cleaning, standardization, ID resolution, matching, householding and aggregations. Blend consolidated data sets in real-time and batch-processed, structured, unstructured and semi-structured, from online and offline sources.
Solution Architecture
Making sense of data from many sources can be a challenge. Enormous amounts of online, mobile and social activity are generating enormous amounts of consumer data. Self-serve tools let you blend real-time and offline data from different channels and sources.
Key Features
Accelerate time-to-campaigns and improve results from customer decisions and interactions with self-service data integration
Reduce integration time by 90% for data from diverse sources, including batch and real-time from online and offline channels
Manage data on both known and unknown individuals, automatically linking profiles as personally identifiable information becomes available
Leverage big data by scaling to ingest high volumes of streaming transactional data
Improve data reliability and user confidence through ongoing monitoring, reporting and notifications on automated data intake, cleansing, validation and transformations
Accelerate time-to-analysis through integration with FICO industry-leading analytics
Want to take your business to new heights?
Request more information. Enter your information and we will respond directly to you.