Need help with a product?
FICO offers all licensed clients use of a secured, self-service Web portal for Product Support, FICO Online Support. FICO Online Support allows users to self help on their issues 24 hours a day, 7 days a week.
Financial Services
Insurance
Public Sector
Pharma and Life Sciences
Education
Retail
Learn how BMW sped up its customer communications
"Using FICO Customer Communication Services, we get a secure, highly flexible, robust solution with a low cost of entry, and we can leverage the expertise of a valued partner, which allows our in-house maintenance support to focus on other key internal priorities and platforms."
- Wayne Orchowski, CEO BMW
Authoring Tools
Resources
FICO Analytic Cloud: Your portal for operationalizing analytics and decisioning.
Customer data is more widely available than ever, but leveraging data to drive smarter decisions requires new thinking and a new kind of agility. Cloud-based decision management – the seamless marriage of data-driven insights and codified decision logic with applications that reach your customers where and when they want – is the key to operationalizing analytics to automate and optimize customer engagements. The FICO Analytic Cloud is where this journey begins…
Learn about FICO Products and Solutions whenever is convenient for you.
A highly interactive, hands-on experience in our classes, and a focus on practical knowledge and skills transfer.
Careers At FICO
Are you ready to fulfill your potential? FICO offers big career opportunities in Big Data Analytics from California to New York, London to Bangalore and Beijing.
FICO® Customer Dialogue Manager
Earn more attention from your customers
Overview
Gaining the customer's attention isn't easy. To attract and keep more of it, you need to use data-driven insights to turn campaigns into personalized omni-channel conversations that bring customers increasing value over time. Traditional product-centric marketing activities in specific channels are giving way to customer-centric campaigns that span channels. The challenge for marketers isn't just sharing information across product and channel silos, it's using data and analytics to create precisely targeted and timed campaigns with the appropriate context, playing a positive role in the entire customer journey.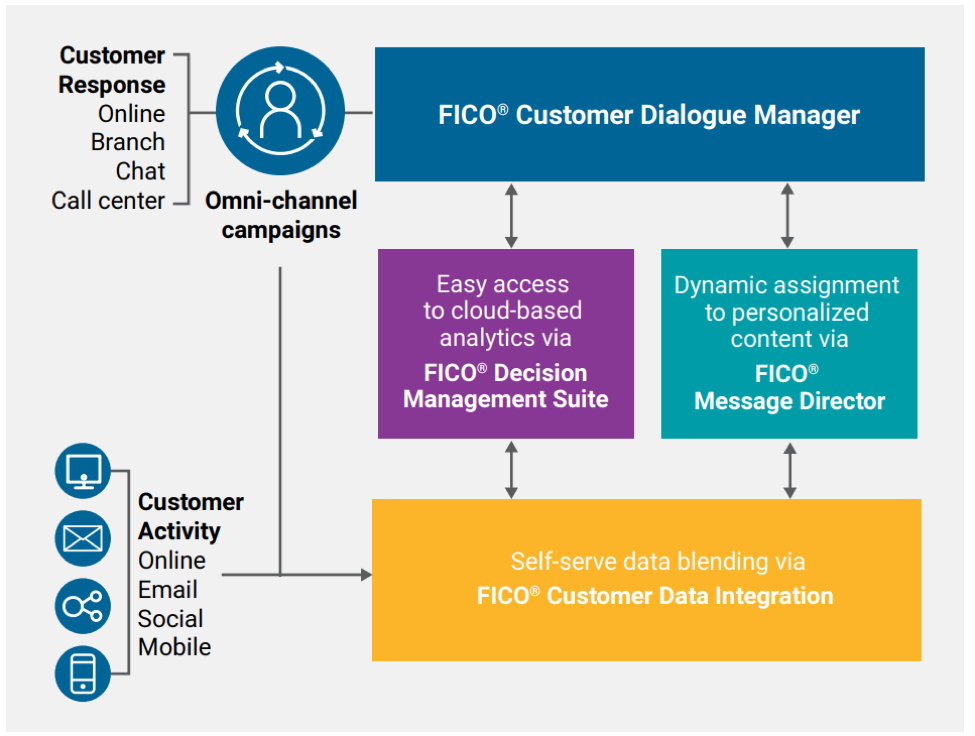 Core Benefits
Adjust quickly to market trends
Avoid waste and inefficiency
Add new channels as they emerge
Adjust quickly to market trends
The solution gives you the agility to adjust your strategies to changes and new opportunities in the market, with the ability to build and launch on-demand, automatically recurring or event-triggered campaigns based on hundreds of types of events.
Avoid waste and inefficiency
With real-time dashboard reporting, FICO® Customer Dialogue Manager enables you to monitor the effectiveness of campaigns and make rapid adjustments. You can fine tune as you go, ramp up campaigns that are working, and discontinue those that aren't.
Add new channels as they emerge
Built on an open architecture, FICO® Customer Dialogue Manager doesn't lock you in to today's existing channels. As new channels develop–as they are bound to–you can easily integrate them into your marketing efforts.
Product Introduction
FICO® Customer Dialogue Manager
Watch this 2 minute video to learn more about FICO® Customer Dialogue Manager.
Key Features
Easy-to-use interface lets non-technical marketers build campaigns and workflows visually
Cloud delivery makes it easy to get started, avoiding capital expense and complex IT implementations
High-performance marketing database provides a single view of the customer
Interaction Services make survey, form or profile updates simple with automated API creation
Clear and understandable reporting make it easy to see what is working and what isn't
Open architecture makes integration with legacy systems or new channels simple
Batch, event-triggered and real-time campaign capabilities put the marketer in control
Tools to test and refine allow for continual campaign performance improvement
Want to take your business to new heights?
Request more information. Enter your information and we will respond directly to you.