Overview
The FICO® Decision Management Suite provides an easy way for customers to evaluate, customize, deploy and scale state-of-the-art analytics and decision management solutions. It allows customers to quickly integrate FICO and FICO partner decision management tools and components with their own components, helping organizations of all sizes realize the promise of advanced analytics and decision management via cost effective, scalable cloud and on-premises solutions.
Core Benefits
Connect to and leverage Big Data
Accelerate customer insights and engagement
Dramatic decision management improvement
Connect to and leverage Big Data
The FICO® Decision Management Suite will connect to and leverage Big Data to determine optimal decisions. It allows users to sift through and extract value from an increasing avalanche of first and 3rd party data to create and deploy consistent business rules and models that drive smarter decisions.
Accelerate customer insights and engagement
The FICO® Decision Management Suite together with other FICO solutions will dramatically improve customer engagement by exploring and utilizing Big Data to develop more valuable insights, proactively and reactively responding to customer driven events in real time and expertly managing the customer dialogue via email, voice, social media, mobile and web.
Dramatic decision management improvement
- Greater than 90% reduction in time to deploy analytic models
- 10%-40% increase in model performance
- 70% reduction in time to develop decision management applications
- 30%-50% increase in decision performance
- 10%-50% improvement in business performance through optimal actions
Solution Architecture
FICO® Decision Management Suite
The FICO Decision Management Suite, along with the FICO Analytic Cloud, provides a comprehensive environment that makes it quick and easy to glean insights from data, and develop analytic models and decision services that operationalize those insights. It seamlessly integrates analytics, decisioning, optimization, data visualization and exploration, rapid application development and other FICO Decision Management Platform capabilities to provide a complete and agile decisioning solution.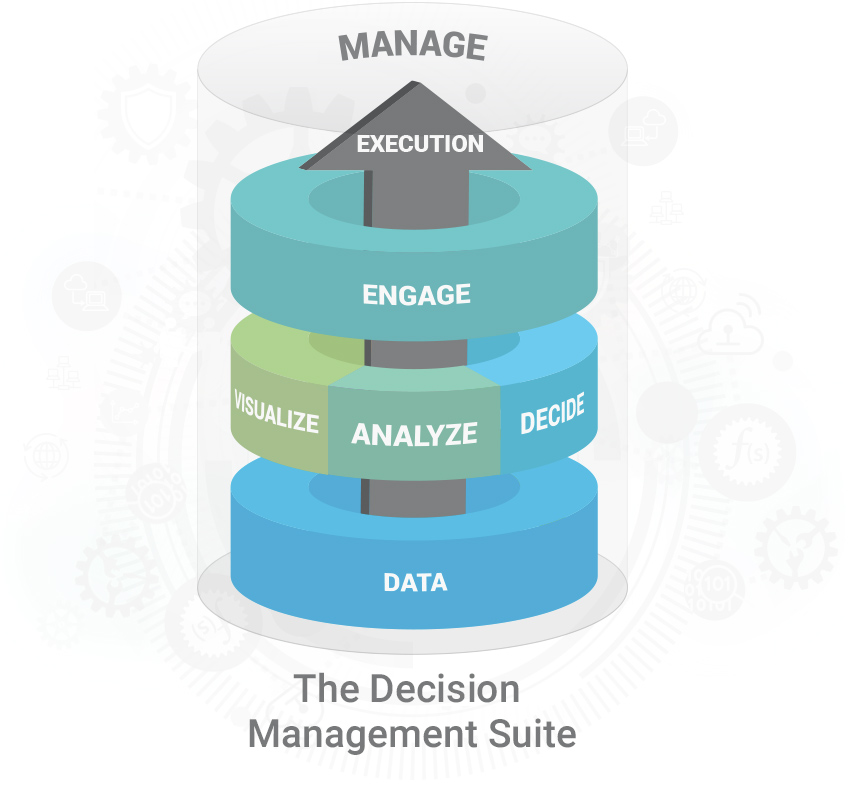 Key Features
Rich, extensible library of pre-integrated, re-usable decision components with built-in lifecycle management.
Tools to rapidly configure decision services using analytic models, business rules, text and data analytics, and optimization.
Support for any model type, from any source, including PMML and SAS.
Text analytics on unstructured data.
Web authoring and collaboration facilities that give business experts control of their strategies.
Fully integrated solution for data visualization, performance management and reporting.
Flexible graphic user interface to tailor experience for consumers and internal users.
Everything a developer needs to design, orchestrate components, and develop web-based and mobile optimized applications.
A full array of consumer engagement channels—mobile, web, social and more.
Hosted in the FICO Analytic Cloud and available for on-premises deployment.
Want to take your business to new heights?
Request more information. Enter your information and we will respond directly to you.