Need help with a product?
FICO offers all licensed clients use of a secured, self-service Web portal for Product Support, FICO Online Support. FICO Online Support allows users to self help on their issues 24 hours a day, 7 days a week.
Financial Services
Insurance
Public Sector
Pharma and Life Sciences
Education
Retail
Learn how BMW sped up its customer communications
"Using FICO Customer Communication Services, we get a secure, highly flexible, robust solution with a low cost of entry, and we can leverage the expertise of a valued partner, which allows our in-house maintenance support to focus on other key internal priorities and platforms."
- Wayne Orchowski, CEO BMW
FICO Analytic Cloud, democratizing analytics through the cloud.
Customer data is more widely available than ever, but leveraging data to drive smarter decisions requires new thinking and a new kind of agility. As companies develop strategies for both cloud computing and for using Big Data to improve customer relationships, analytically-empowered solutions, cloud-based applications and a flexible cloud-based Decision Management development platform become essential.
Learn about FICO Products and Solutions whenever is convenient for you.
A highly interactive, hands-on experience in our classes, and a focus on practical knowledge and skills transfer.
Careers At FICO
Are you ready to fulfill your potential? FICO offers big career opportunities in Big Data Analytics from California to New York, London to Bangalore and Beijing.
FICO® Decision Management Suite 2.0
Realize the promise of advanced analytics and decision management
Overview
FICO
®

Decision Management Suite 2.0

The FICO® Decision Management Suite 2.0 provides an easy way for customers to evaluate, customize, deploy and scale state-of-the-art analytics and decision management solutions. It allows customers to quickly integrate FICO and FICO partner decision management tools and components with their own components, helping organizations of all sizes realize the promise of advanced analytics and decision management via cost effective, scalable cloud and on-premises solutions.

In Decision Management Suite 2.0, the products and features have expanded and evolved to even further encompass analytics and decision modeling, optimization, predictive and streaming analytics with a robust execution and application development environment. The Decision Management Suite is the first solution that includes workflow, application, and analytic lifecycle capabilities to provide customers with a holistic view of customer engagement and management.
Core Benefits
Connect to and leverage Big Data
Accelerate customer insights and engagement
Dramatic decision management improvement
Connect to and leverage Big Data
The FICO® Decision Management Suite will connect to and leverage Big Data to determine optimal decisions. It allows users to sift through and extract value from an increasing avalanche of first and 3rd party data to create and deploy consistent business rules and models that drive smarter decisions.
Accelerate customer insights and engagement
The FICO® Decision Management Suite together with other FICO solutions will dramatically improve customer engagement by exploring and utilizing Big Data to develop more valuable insights, proactively and reactively responding to customer driven events in real time and expertly managing the customer dialogue via email, voice, social media, mobile and web.
Dramatic decision management improvement
- Greater than 90% reduction in time to deploy analytic models
- 10%-40% increase in model performance
- 70% reduction in time to develop decision management applications
- 30%-50% increase in decision performance
- 10%-50% improvement in business performance through optimal actions
Solution Architecture
FICO® Decision Management Suite
The FICO Decision Management Suite, along with the FICO Analytic Cloud, provides a comprehensive environment that makes it quick and easy to glean insights from data, and develop analytic models and decision services that operationalize those insights. It seamlessly integrates analytics, decisioning, optimization, data visualization and exploration, rapid application development and other FICO Decision Management Platform capabilities to provide a complete and agile decisioning solution.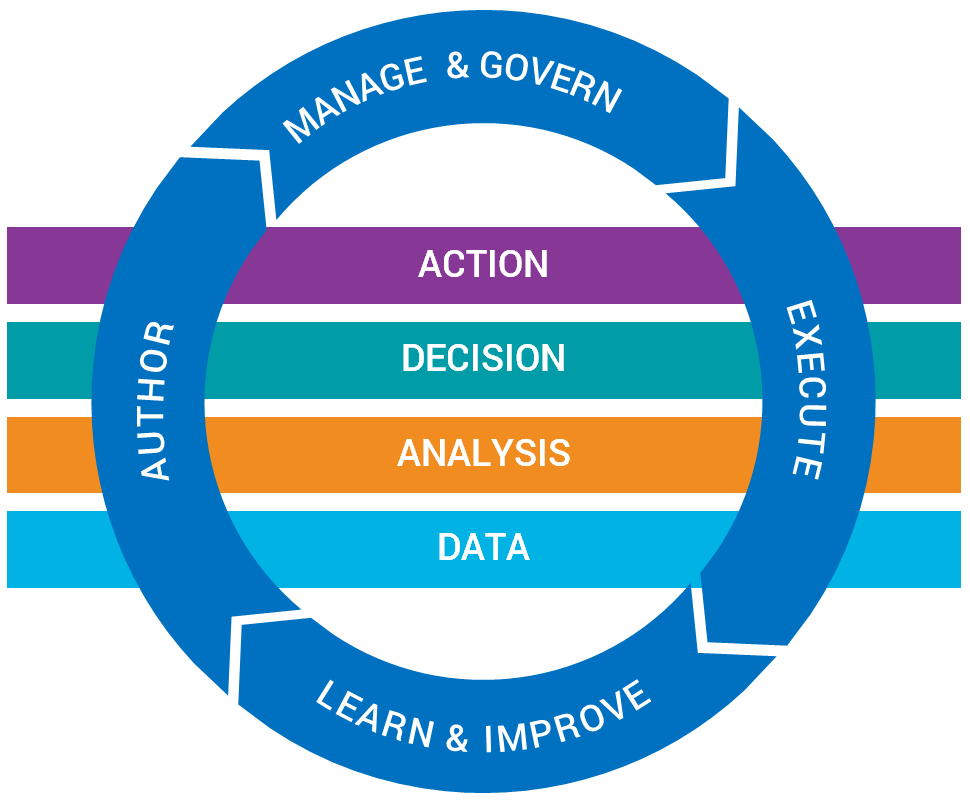 Key Features
An overhauled user experience to unify user interaction, authoring tools and management with a similar set of menus and iconography.
The addition of a new Decision Strategy implementation manager called FICO Strategy Director. FICO Strategy Director is a powerful decision engine that combines industry leading analytics and decision automation to enable nontechnical users to proactively manage their business. Strategy Director is built on the FICO Decision Management Platform and is provisioned as a component of the Decision Management Suite.
The full integration of the free FICO DMN Modeler. This tool provides an easy-to-use and flexible interface to build decision models based on the Decision Modeling and Notation (DMN) standard.
FICO Decision Management Platform Streaming will be further integrated into DM Suite. This new solution will better manage analytic and decision models authored in DM Suite and provide a better mechanism for performing and reporting on streaming data insights.
An expanded management solution for decision management solutions authored in the Decision Management Suite, called FICO Decision Central™​. Decision Central™​. represents a dramatically improved and enhanced version of FICO Model Central™, which will provide the necessary infrastructure to manage, audit, report and update decision logic along with predictive models.
Expanded and enhanced SAS and PMML translation and execution. FICO Model Executor and FICO Model Translator will be more fully integrated into the Decision Management Suite tools.
Want to take your business to new heights?
Request more information. Enter your information and we will respond directly to you.