FICO® Enterprise Security Score
FICO® Enterprise Security Score Profile
Focused on the needs of assessing third-party cybersecurity risk for cyber insurance underwriting as well as active vendor and partner management. Allows users to monitor the Enterprise Security Score of third parties without exposing specific details behind the results.
Help CROs and CPOs tackle active vendor management
Vet the risk of potential partners
Monitor the risk of your entire partner portfolio
Benchmark across categories or segments of partners
Support breach insurance underwriting
FICO® Enterprise Security Score Portrait
Designed to help CISO's demonstrate and improve the security posture of their respective organizations. Delivers the actionable information needed to quickly understand risk exposure and proactively strengthen defenses.
Helps CISO's demonstrate security performance over time
Delivers detailed threat info across all evaluated network assets
Provides drill-down to primary threat vectors
Delivers actionable information to proactively strengthen your defenses
Supports investment decisions and resource allocation

Predictive
Forecasts the likelihood of a future material data breach.

Empirical
Machine learning models that utilize historical data breach patterns.

Trusted
Concise intuitive metric from a trusted source in scoring.
U.S. Chamber of Commerce Principles for Fair and Accurate Security Ratings
The FICO® Enterprise Security Score is aligned with the U.S. Chamber of Commerce Principles for Fair and Accurate Security Ratings, which promote accuracy, fairness, utility, and transparency in the provision of cybersecurity scores and ratings (the "Principles"). FICO supports the Principles through its adherence to empirically-derived models for cyber risk scoring, prudent disclosure of contributing risk factors, sound model governance practices, and the enablement of direct client involvement in the resolution of data and definitional issues. FICO was a key contributor in the establishment of the Principles, and is committed to upholding them.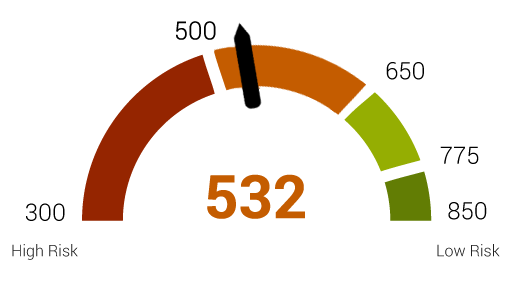 Use Cases

Cyber-Insurance
Utilize FICO® ESS for cybersecurity risk assessments and underwriting decisions.
FICO® ESS accurately captures the risk posture of an organization as observed from an external vantage point. This risk estimate can be used to price insurance policies and determine exclusions or riders.

Vendor Risk
Understand cybersecurity risk created by your relationship with your vendors.
FICO® ESS presents aggregated data and measurements that capture the cybersecurity risk of your vendors via a diverse set of measurements. Linked tools allow a conversation with your vendors regarding the reported data.

Enterprise
Evaluate your cybersecurity posture on the basis of specific data measurements.
FICO® ESS provides organizations with continuous monitoring of key cybersecurity properties most associated with data breaches. FICO® ESS provides an easy-to-understand cybersecurity metric suitable for c-suite discussions.
Anatomy of a Score
FICO® ESS is based on an empirical score that relies on a comprehensive and diverse set of cyber security data signals in order to determine the risk profile for an organization. These signals capture several key symptoms including the health and hygiene of IT systems, network infrastructure and software and services. A historical set of these data signals is combined with a set of good and bad exemplars to train a machine learning model. This trained model then serves as the engine that can score any organization's cyber security posture and its data breach risk. The score is presented on a scale of 300-850.
Want to take your business to new heights?
Request more information. Enter your information and we will respond directly to you.