Need help with a product?
FICO offers all licensed clients use of a secured, self-service Web portal for Product Support, FICO Online Support. FICO Online Support allows users to self help on their issues 24 hours a day, 7 days a week.
Financial Services
Insurance
Public Sector
Pharma and Life Sciences
Education
Retail
Learn how BMW sped up its customer communications
"Using FICO Customer Communication Services, we get a secure, highly flexible, robust solution with a low cost of entry, and we can leverage the expertise of a valued partner, which allows our in-house maintenance support to focus on other key internal priorities and platforms."
- Wayne Orchowski, CEO BMW
Authoring Tools
Resources
FICO Analytic Cloud: Your portal for operationalizing analytics and decisioning.
Customer data is more widely available than ever, but leveraging data to drive smarter decisions requires new thinking and a new kind of agility. Cloud-based decision management – the seamless marriage of data-driven insights and codified decision logic with applications that reach your customers where and when they want – is the key to operationalizing analytics to automate and optimize customer engagements. The FICO Analytic Cloud is where this journey begins…
Learn about FICO Products and Solutions whenever is convenient for you.
A highly interactive, hands-on experience in our classes, and a focus on practical knowledge and skills transfer.
Careers At FICO
Are you ready to fulfill your potential? FICO offers big career opportunities in Big Data Analytics from California to New York, London to Bangalore and Beijing.
FICO® Identity Resolution Engine
Resolve individuals' identities and reveal fraud rings
Overview
FICO
®

Identity Resolution Engine

FICO® Identity Resolution Engine (IRE) adds a critical dimension to the fight against fraud by proactively identifying and investigating the true identities of perpetrators and fraud rings. FICO Identity Resolution Engine allows institutions to classify identities and other entities and correlate relationships through their data. Identity Resolution Engine applies predictive graph analytics by analyzing linkages between people, places, documents, and events. Subsequently IRE can generate prescriptive alerts that empower organizations to prioritize fraudulent activity.

IRE is utilized in numerous industries across the public and private sectors to target the detection of organized fraud rings committing financial crimes through bust-out fraud, fraudulent health claims, and other nearly undetectable methods.

FICO® Identity Resolution Engine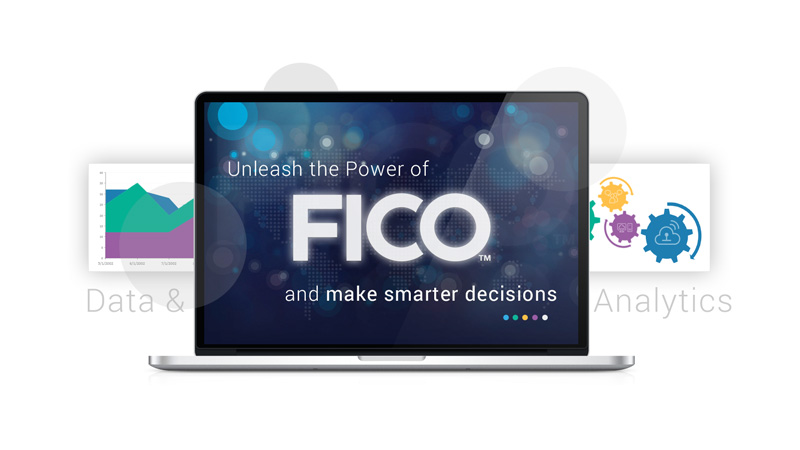 Core Benefits
Uncover up to 50% more fraud
Increase investigator efficiency
Improve collection efforts
Uncover up to 50% more fraud
With advanced proactive graph analytics technology, FICO® Identity Resolution Engine can identify suspicious individuals in application processing, as well as active fraud rings before they rupture and result in considerable damage. When used in conjunction with FICO predictive analytic solutions, Identity Resolution Engine can uncover and stop up to 50% more fraud than rules-based systems.
Increase investigator efficiency
Through Identity Resolution Engine's visual link analytics tool, investigators can quickly discover and visualize relationships of persons of interest. For example, when a FICO client used IRE, they found 33% more claims in a fraud ring just in the first 200 claims reviewed.
Improve collection efforts
Billions of dollars of fraud perpetrated by bust-out fraud rings is misclassified as credit losses; consequently, collectors are often chasing money they will never be able to recover. Identity Resolution Engine helps collection departments to intelligently reduce resource waste and recover legitimate debt.
Solution Architecture
FICO® Identity Resolution Engine
At the core of IRE is a sophisticated matching and entity resolution engine capable of accessing and organizing disparate internal and external data to formulate human centric objects and relationships.
On top of the resolved entity stores, IRE provides three integrated business applications.
Investigations and Screening – Provides the means for analysts to conduct fuzzy searches into data and perform sophisticated link analysis.
Predictive Graph Analytics – Empowers organizations to proactively identify and prioritize organized fraud and criminal activities using relationship-driven predictive analytics.
Single View of a Customer - Accelerates operational insights by constructing complete 360 degree views of a customer, organization, location, product, and event at any volume.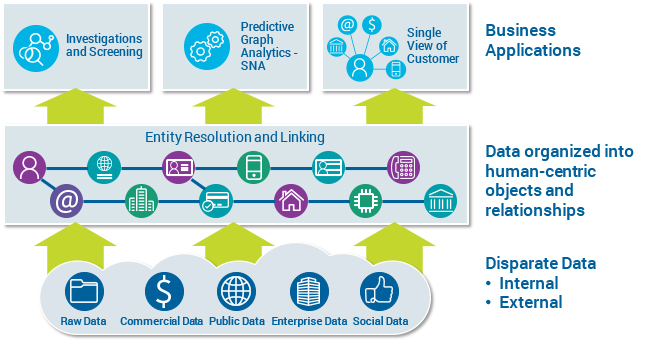 Key Features
Federated data search: Examine multiple data sources, piecing together relevant bits into the bigger picture while complying with privacy regulations and requirements.
Matching & Relationship Intelligence: Using more than 50 analytic algorithms to automatically deliver matching and relationship intelligence with a high degree of precision and throughput.
Alert, Triage and Investigate: Presents relationship results as well as red flag alerts and social link visualization.
Social Network Discovery: Discovers link between disparate entities and finds hidden relationships that are not obvious.
Social Network Analysis: Once entity links and suspicious networks are identified, Identity Resolution Engine analyzes and scores them.
FICO Identity Resolution Engine for Compliance: Helps analysts to search across all of their databases for persons and businesses of interest essential to investigations to ensure compliance in Anti-money laundering (AML), Security and Vendor compliance, and US Patriot Act Section 314(a) compliance.

FICO Identity Resolution Engine for Bust-out Fraud: Effectively detects bust-out fraud by exposing fraud rings' biggest vulnerability: shared identity information.
FICO Identity Resolution Engine for Insurance Claims Fraud: Detect collusive claims fraud for health, property and casualty, and automotive insurers. FICO IRE can connect fraud rings across siloed data by detecting and linking shared identity information, to reveal individual fraudsters and their links to each other.

FICO Identity Resolution Engine for Healthcare Fraud: Proactively identify relationships, links, interactions and hidden patterns of information sharing within potentially fraudulent clusters, including: shared patient, provider and inappropriate relationships; and links between recipients, businesses, assets and relatives and associates.
Want to take your business to new heights?
Request more information. Enter your information and we will respond directly to you.