Need help with a product?
FICO offers all licensed clients use of a secured, self-service Web portal for Product Support, FICO Online Support. FICO Online Support allows users to self help on their issues 24 hours a day, 7 days a week.
Financial Services
Insurance
Public Sector
Pharma and Life Sciences
Education
Retail
Learn how BMW sped up its customer communications
"Using FICO Customer Communication Services, we get a secure, highly flexible, robust solution with a low cost of entry, and we can leverage the expertise of a valued partner, which allows our in-house maintenance support to focus on other key internal priorities and platforms."
- Wayne Orchowski, CEO BMW
Authoring Tools
Resources
FICO Analytic Cloud: Your portal for operationalizing analytics and decisioning.
Customer data is more widely available than ever, but leveraging data to drive smarter decisions requires new thinking and a new kind of agility. Cloud-based decision management – the seamless marriage of data-driven insights and codified decision logic with applications that reach your customers where and when they want – is the key to operationalizing analytics to automate and optimize customer engagements. The FICO Analytic Cloud is where this journey begins…
Learn about FICO Products and Solutions whenever is convenient for you.
A highly interactive, hands-on experience in our classes, and a focus on practical knowledge and skills transfer.
Careers At FICO
Are you ready to fulfill your potential? FICO offers big career opportunities in Big Data Analytics from California to New York, London to Bangalore and Beijing.
FICO® Medication Adherence Score
Identify patients at risk for medication non-compliance
Overview
FICO
®

Medication Adherence Score

Medication adherence is closely linked with clinical outcomes. As reported by the Center for Disease Control (CDC), one half of US patients stop taking their medications within one year of being prescribed. The FICO® Medication Adherence Score identifies patients at risk for non-compliance so the chain of healthcare providers can proactively take actions to improve adherence levels through interaction and better decisions on treatment design. Not a retrospective of what happed and what should have happened that places healthcare providers in a reactive mode, but an intelligent analysis and prediction of future risk of non-adherence.

By identifying each patient's propensity toward medication adherence over the next 12 months, this fully HIPAA-compliant solution helps direct activities to patients at highest risk of noncompliance, improving program efficiency and maximizing results.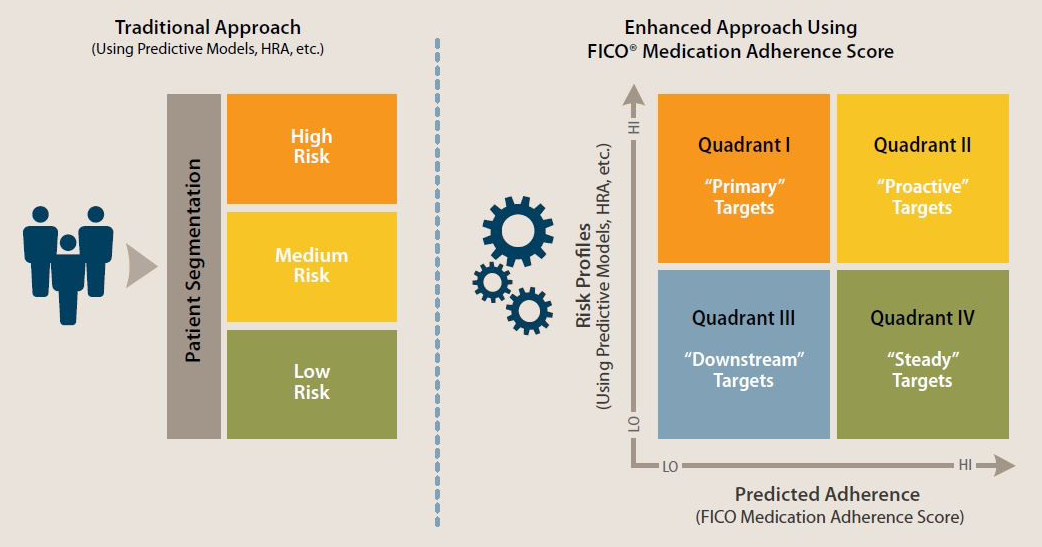 Core Benefits
Effectively identify medication non-compliance
Take a proactive approach to compliance management
Improve program planning and targeting
Effectively identify medication non-compliance
Using the same world-class predictive methodologies used to create the FICO® Score, expertise from delivering a wide range of healthcare analytics and leveraging multiple, third-party data sources, the FICO® Medication Adherence Score can predict each patient's adherence over the next year.
Tailored to the desired performance measurement, the Medication Adherence Score can inform pharmaceutical manufacturers, healthcare payers and the lifeline of medical professionals overseeing a patients' progress through a drug regiment.
Take a proactive approach to compliance management
While other methodologies identify lapses in patient medication adherence only after the fact, the FICO® Medication Adherence Score is a predictive model that allows you to identify and proactively address adherence problems before they occur.
Integrate with your patient communications systems for tailored dialogues, reminders, alerts and improved message targeting and timing.
Improve program planning and targeting
Gauge the right level of action across the patient base to optimize care, case management and drug utilization programs—setting a universal baseline assessment. on which survey results or other patient information can be overlaid when available.
Develop refined intervention and adherence programs through 'test & learn' strategies. Execute through FICO® CCS in a single, integrated, automated solution that optimizes multiple communications channels.
Solution Architecture
The FICO® Medication Adherence Score
The FICO® Medication Adherence Score can be executed through the FICO® Decision Management Suite (DMS). The decision platform provides a simple, cost-effective way to develop and deploy analytics and decision management solutions that connects, integrates and unifies functionality. This capability supports the integration of FICO® Customer Communication Services for coordinated, cross channel communications. The service supports real-time patient dialogue, immediate resolutions, timing text-messaging, and closed looped-learning to take medicine, refill or schedule follow-up labs or appointments tied to the requirements of the drug.
A custom analytic service, creation of a Medication Adherence Score establishes a direct connection between predictive analytics, action, and reaction—closing the learning loop on medication adherence.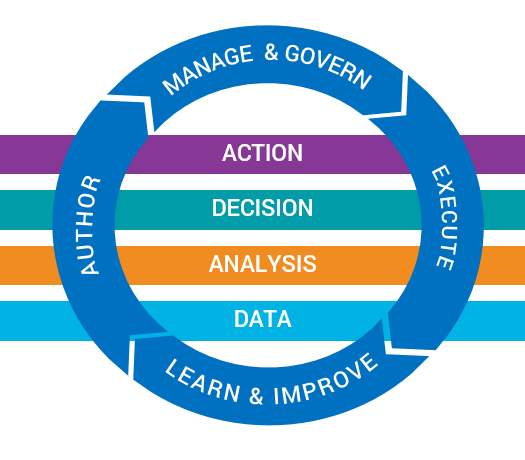 Key Features
Powerful prediction; fully-compliant to safeguard privacy
The data-driven predictive model assesses an individual's likelihood of filling future prescriptions.
This can be modeled by therapeutic category, disease class, and brand or single-drug adherence models.
Analytic development and implementation is fully HIPPA-compliant for data privacy and provisions for safeguarding medical information.
Medication Adherence Score does not take an individual's FICO® Score which measures credit risk into consideration.
Empower the team of care givers to make the right decisions
Medication non-adherence poses a real risk for patients and obstacle for the success rate of their healthcare providers.
A collaborative care team including physicians, pharmacists, nurses and the patient is crucial to establishing a medication adherence strategy to stay healthy and out of the hospital.
A common analytic, decision support and communications platform can serve as the guard rails for the best patient care tailored to their medical-adherence behavior and attributed level of risk for non-compliance.
Data-driven models to increase engagement
Data collected and used to create a predictive model depends on the patient performance to be measured.
From de-identified prescription records to third party 'predictor' data, FICO uses data sets to identify the best predictors of medication adherence and non-adherence.
The model is validated using patient populations to ensure strength and reliability.
Want to take your business to new heights?
Request more information. Enter your information and we will respond directly to you.