Need help with a product?
FICO offers all licensed clients use of a secured, self-service Web portal for Product Support, FICO Online Support. FICO Online Support allows users to self help on their issues 24 hours a day, 7 days a week.
Financial Services
Insurance
Public Sector
Pharma and Life Sciences
Education
Retail
Learn how BMW sped up its customer communications
"Using FICO Customer Communication Services, we get a secure, highly flexible, robust solution with a low cost of entry, and we can leverage the expertise of a valued partner, which allows our in-house maintenance support to focus on other key internal priorities and platforms."
- Wayne Orchowski, CEO BMW
Authoring Tools
Resources
FICO Analytic Cloud: Your portal for operationalizing analytics and decisioning.
Customer data is more widely available than ever, but leveraging data to drive smarter decisions requires new thinking and a new kind of agility. Cloud-based decision management – the seamless marriage of data-driven insights and codified decision logic with applications that reach your customers where and when they want – is the key to operationalizing analytics to automate and optimize customer engagements. The FICO Analytic Cloud is where this journey begins…
Learn about FICO Products and Solutions whenever is convenient for you.
A highly interactive, hands-on experience in our classes, and a focus on practical knowledge and skills transfer.
Careers At FICO
Are you ready to fulfill your potential? FICO offers big career opportunities in Big Data Analytics from California to New York, London to Bangalore and Beijing.
FICO® Origination Manager Essentials—Small Business
Make faster, smarter small business lending decisions at a lower cost
Overview
Given competitive and margin pressures, it doesn't make sense to use the same origination process for a small business loan of $50,000 as one for $5 million. Increase approval rates and portfolio profitability by expediting decisions for applications while keeping risk in check. FICO® Origination Manager Essentials–Small Business is an easy-to-use, analytically powered loan origination system that identifies measurable credit risk over the life of a new account while directing qualifying applications onto faster paths. Your small business lending experts use simple web-based tools to set the rules for who qualifies and what steps applications go through. It's also easy to get started with Origination Manager Essentials through our suggested 3 step process.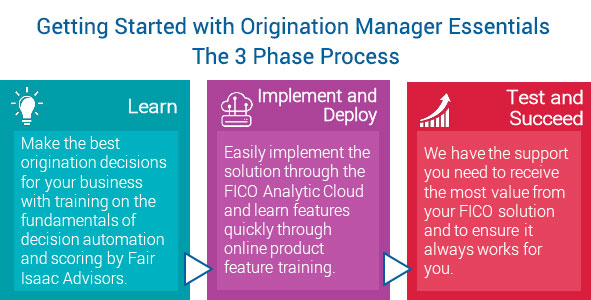 Core Benefits
Value-aligned origination cost
Scalable smart decisions
Easier regulatory compliance
Value-aligned origination cost
Spend less time and money originating loans with smaller ROI potential. Origination Manager Essentials includes free access to the market-leading FICO® Small Business Scoring Service℠ (SBSS℠). Based on the application's score and your score cut-off and policy rules, you can tell the system to skip or shorten some processing steps. You can also control when consumer and business bureau reports get pulled, saving unnecessary credit report expense.
Scalable smart decisions
Grow your portfolio by increasing application processing volume while continuing to make careful, astute decisions. Origination Manager Essentials scales decision-making capacity by processing applications based on rules reflecting industry best practices, FICO's extensive experience with small business lenders and your organization's expertise. It's as if every application were being seen to by one of your top loan experts. They can then focus on applications needing additional attention and initiating and nurturing small business relationships.
Easier regulatory compliance
Rules-based processing improves decision consistency across channels, reducing opportunities for human subjectivity and error. Origination Manager Essentials ensures decisions are being made according to your policies—and makes it easy for you to prove it. The system provides a complete audit trail, capturing all information considered, rules activated and human interventions at each step. It puts everything you need to answer questions and prepare reports right at hand.
Solution Architecture
Origination Manager Essentials
Application Processing "Out of the Box" to Propel Small Business Growth
Origination Manager Essentials has been developed to provide an end-to-end application processing solution for small business loans in order to get mid-market lenders started with automated decisioning quickly. Rather than being a customizable origination domain solution, this product removes the entry barrier of installing software in-house or in a hosted environment.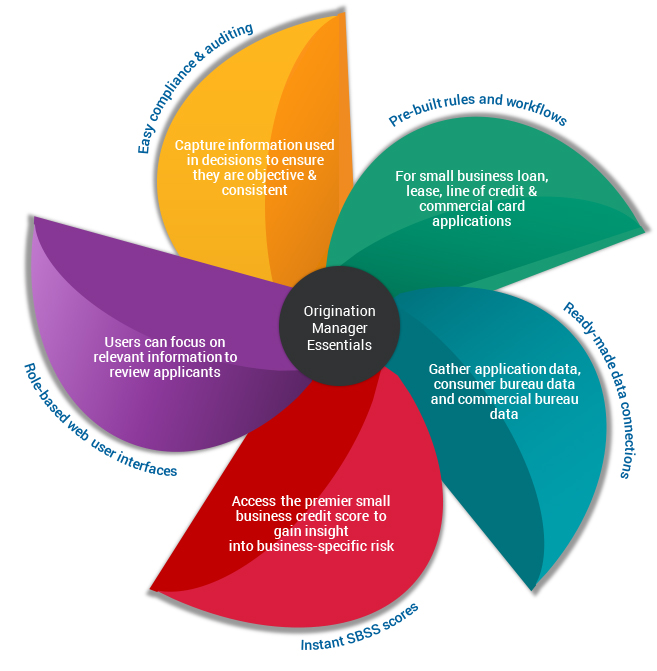 Want to take your business to new heights?
Request more information. Enter your information and we will respond directly to you.