Overview
Today, the battle for good customers is more complex than ever. Whether launching a new credit product, or trying to rapidly adapt existing processes to new market segments or regulations – organizations are challenged by long IT queues, and inflexible software. FICO® Origination Manager brings advanced analytics, application processing and decision flexibility to businesses, so they can make more precise, profitable decisions when starting a new credit relationship.
Core Benefits
Improve operational efficiency and effectiveness
Reduce losses and drive compliance
Improve customer satisfaction with mobile
Improve operational efficiency and effectiveness
Decrease time to decision by 50%, and reduce manual reviews by 25%-50% through an agile platform built for change.
Achieve improved credit analyst productivity, plus increased approval rates, up-selling and cross-selling.
Implement new credit programs faster—in days, versus quarters.
Reduce infrastructure investment and maintenance costs, employing one solution for multiple lines of business.
Reduce losses and drive compliance
See a 15%-25% reduction in delinquencies and bad debt
Reduced application fraud exposure
Improved consistency of policy and procedure.
Improve customer satisfaction with mobile
Automate status updates via a customer's preferred channel (e-mail, phone, text) to help win good applicants, and build a bridge for future interactions.
Speed additional information requests (income verification) via two-way mobile communications.
Reduce processing times
Solution Architecture
FICO® Origination Manager
FICO Origination Manager supports connected decisions across the entire lending lifecycle for a more holistic view of the customer relationship that can then be factored into origination decisions. Origination Manager is composed of four core modules that can operate together or independently to best fit your origination needs.
The Application Processing Module (APM) includes preconfigured workflow processing steps, queues and data capture that reduce the implementation cycle time.
The Decision Module, leveraging FICO® Blaze Advisor® business rules management system, includes an intuitive user interface that enables business users to author rules and deploy business strategies quickly, without the need for IT coding.
The Analytic Module provides access to a FICO-hosted service that scores each applicant using the latest version of FICO® Application Risk Models and the Small Business Scoring Service.
The Data Acquisition Module provides access to a FICO-hosted service that enables you to obtain consumer credit data from credit reporting agencies with pre-configured interfaces to consumer bureaus in North America.
View More on FICO® Origination Manager Data Acquisition Module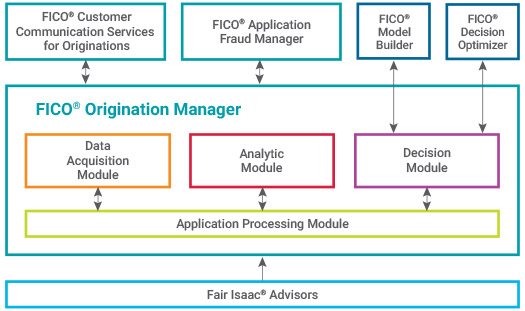 Key Features
Business users can easily modify minimum credit scores, add new products or product terms
Pre-build reporting and easy customization to see results end-to-end
Champion/Challenger testing and strategy simulations
Simple connections to other external or internal data sources
Pre-build interfaces to major credit reporting agencies
Role based access controls to limit who can see and modify data
Want to take your business to new heights?
Request more information. Enter your information and we will respond directly to you.