Need help with a product?
FICO offers all licensed clients use of a secured, self-service Web portal for Product Support, FICO Online Support. FICO Online Support allows users to self help on their issues 24 hours a day, 7 days a week.
Financial Services
Insurance
Public Sector
Pharma and Life Sciences
Education
Retail
Learn how BMW sped up its customer communications
"Using FICO Customer Communication Services, we get a secure, highly flexible, robust solution with a low cost of entry, and we can leverage the expertise of a valued partner, which allows our in-house maintenance support to focus on other key internal priorities and platforms."
- Wayne Orchowski, CEO BMW
Authoring Tools
Resources
FICO Analytic Cloud: Your portal for operationalizing analytics and decisioning.
Customer data is more widely available than ever, but leveraging data to drive smarter decisions requires new thinking and a new kind of agility. Cloud-based decision management – the seamless marriage of data-driven insights and codified decision logic with applications that reach your customers where and when they want – is the key to operationalizing analytics to automate and optimize customer engagements. The FICO Analytic Cloud is where this journey begins…
Learn about FICO Products and Solutions whenever is convenient for you.
A highly interactive, hands-on experience in our classes, and a focus on practical knowledge and skills transfer.
Careers At FICO
Are you ready to fulfill your potential? FICO offers big career opportunities in Big Data Analytics from California to New York, London to Bangalore and Beijing.
Overview
Much as the FICO® Score is the standard measure of consumer credit risk throughout the financial ecosystem, the FICO® Safe Driving Score provides a consistent and objective measure of driver risk and safety based on driving behaviors. Core to FICO's telematics analytic suite, the FICO® Safe Driving Score model provides broad and measurable benefits for fleet drivers, safety managers, novice drivers and drivers requiring remediation. The goal is to foster safer drivers, safer roads and reduce risk and costs for all.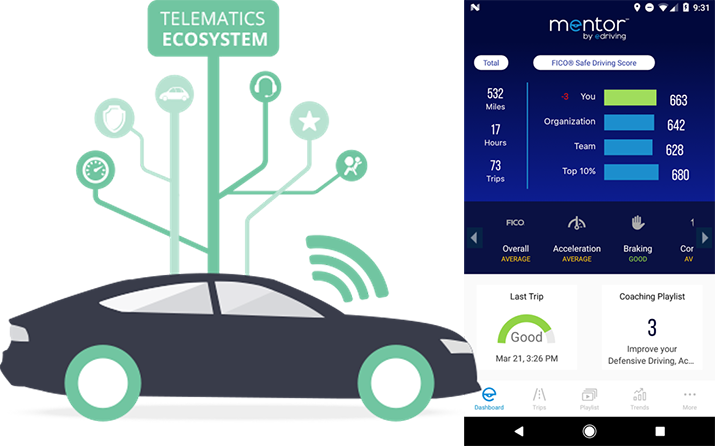 Core Benefits
Safety in Numbers
Monitor and Motivate
Not hindsight, predict future risk
Safety in Numbers
Fleet safety managers can more effectively monitor individual driver performance and objectively assess the driver's aptitude. 'High-risk' drivers learn about their risk exposures and how those factors affect their safety.
Monitor and Motivate
Novice drivers can manage, control and mitigate their risk of accidents, and improve their driving and ultimately their safety. 'Good' drivers are empowered to maintain their low-risk profile.
Not hindsight, predict future risk
Telematics Service Providers through analytics can give consumers valuable insights into their driving behavior and will help people protect themselves, their passengers and their vehicles.
Key Features
Telematics, the sending and receiving of vehicle and driver interaction data, permits the observation and assessment of risky driving behaviors and fuels the FICO® Safe Driving Score,
A robust algorithm that scores a driver based on their driving performance across acceleration, braking, cornering, speed, distraction, and other behind-the-wheel conduct captured over the duration of a trip and over subsequent trips.
Researching and evaluating the use of telematics data for several years, FICO analyzed data covering multiple countries, millions of road miles, and millions of trips.
As with all FICO® Score products, there is a significant level of transparency and insight that is shared with opt-in drivers and their management. Fleet safety performance can be benchmarked and reported by company, division, or team.
Sensitive to data privacy concerns, the program is only used with the express consent of the driver. The variables used in the model are behaviors that can be controlled and changed by the individual.
This capability, of assessing and scoring safety risk, can feed into driver education training and safe driving programs, as well act as a valuable tool for commercial insurers to help control losses through proactive safety initiatives.
Want to take your business to new heights?
Request more information. Enter your information and we will respond directly to you.