FICO® Score XD
Expanding Credit Opportunities
Giving bankcard issuers the ability to identify credit worthy, previously unscorable, borrowers.
Overview
Expanding Credit Opportunities
Bankcard issuers have a new opportunity to extend credit to millions of U.S. consumers who otherwise cannot be scored safely, either due to insufficient or stale data in traditional credit bureau files. FICO introduces FICO® Score XD—developed in partnership with LexisNexis® Risk Solutions and Equifax® — this new score leverages alternative data sources to give issuers a second opportunity to assess otherwise unscorable consumers. FICO® Score XD is designed with precision and compliance in mind to enable issuers to safely extend credit to a largely untapped market using an accessible and familiar FICO® Score.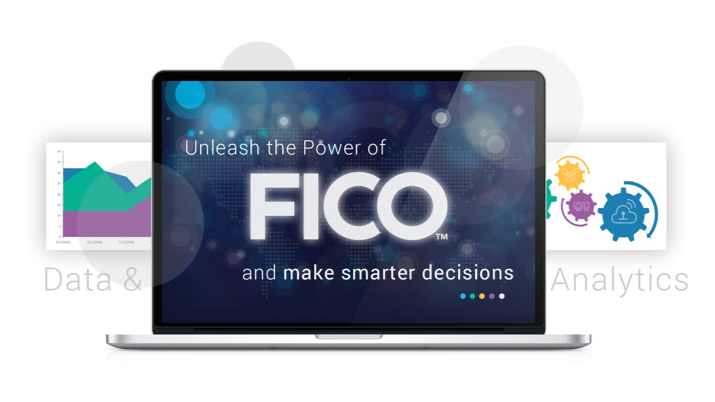 Core Benefits
Expanded Scoreable Universe
Easy integration
An onramp to mainstream credit
Expanded Scoreable Universe
FICO® Score XD extends the scorable universe by millions of consumers and has shown to enable lenders to score more than half of all applicants that have previously been unscorable.
Easy integration
The design of FICO® Score XD allows lenders to easily incorporate the score into their existing strategies and operational workflows that are currently using traditional FICO® Scores. With all the data sources aggregated by the score processor, Equifax, leveraging alternative data just got a lot simpler.
An onramp to mainstream credit
More than a third of applicants now scorable with FICO® Score XD fall above 620. Research shows borrowers that score higher with the FICO® Score XD and go on to obtain credit maintain high traditional credit scores. Nearly half of those scoring above 620 that obtain credit migrate to FICO® Scores of 700 or higher. Lenders providing this initial access to credit stand to benefit by building lifetime loyalty and incremental opportunities with these consumers.
Solution Architecture
FICO® Score XD Marketecture
Safely Scoring More Consumers
FICO is using FCRA-compliant alternative data sources to give reliable FICO® Scores to people who can't be scored using credit bureau data alone. In evaluating and selecting data for the model, FICO put each data type through a rigorous six-point test: ability to comply with relevant regulations; depth/breadth of information provided; scope and consistency of coverage across populations; accuracy; predictiveness; and additive value.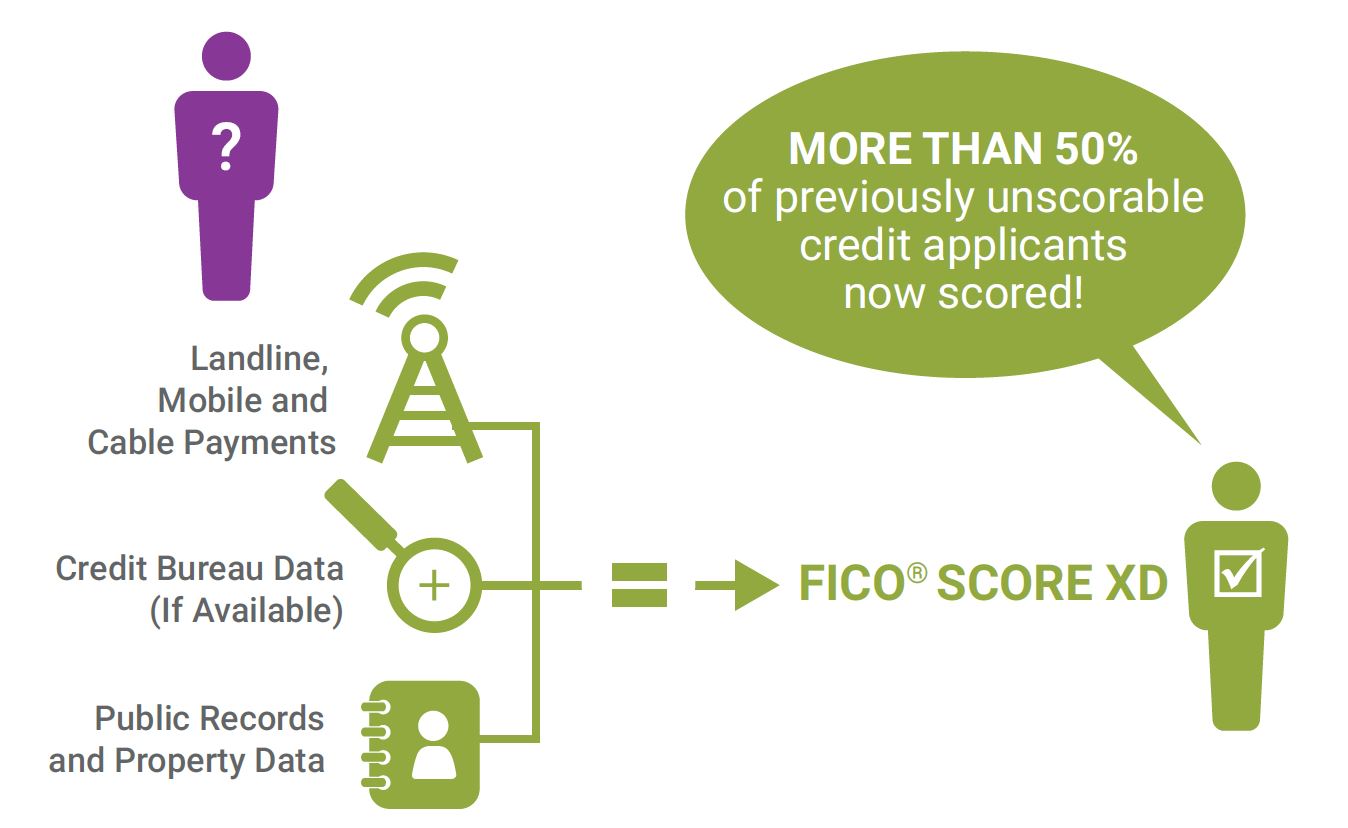 Key Features
Precise Risk Assessment: FICO® Score XD leverages the same modeling technology as the traditional FICO® Score, and replicates advancements made in the characteristic design of FICO® Score 9 for accurate alignment with today's consumer marketplace.
Regulatory Compliance Support: FICO applied its vast experience in regulatory compliance in the development of FICO® Score XD. Like all FICO models, FICO® Score XD provides up to five reason codes; in addition, FICO's alternative data partners have FCRA compliant infrastructure and processes in place.
Familiar design – Interpretation and integration of FICO® Score XD into an issuer's score-based strategies is simplified. FICO® Score XD is designed with the same 300-850 scale as other FICO® Score versions; in addition, the model has been designed such that the odds-to-score relationship is aligned with other FICO® Score models. Therefore, a score of 680 with FICO® Score XD represents the same level of risk as a 680 with FICO® Score 9.
·
Easy Access & Integration: Traditional credit data is complimented with other alternative data sources to generate the FICO® Score XD. Bankcard issuers have easy access to the score at Equifax, and can begin using it like any other FICO® Score, without maintenance headaches or merging hassles.
Want to take your business to new heights?
Request more information. Enter your information and we will respond directly to you.