Need help with a product?
FICO offers all licensed clients use of a secured, self-service Web portal for Product Support, FICO Online Support. FICO Online Support allows users to self help on their issues 24 hours a day, 7 days a week.
Financial Services
Insurance
Public Sector
Pharma and Life Sciences
Education
Retail
Learn how BMW sped up its customer communications
"Using FICO Customer Communication Services, we get a secure, highly flexible, robust solution with a low cost of entry, and we can leverage the expertise of a valued partner, which allows our in-house maintenance support to focus on other key internal priorities and platforms."
- Wayne Orchowski, CEO BMW
Authoring Tools
Resources
FICO Analytic Cloud: Your portal for operationalizing analytics and decisioning.
Customer data is more widely available than ever, but leveraging data to drive smarter decisions requires new thinking and a new kind of agility. Cloud-based decision management – the seamless marriage of data-driven insights and codified decision logic with applications that reach your customers where and when they want – is the key to operationalizing analytics to automate and optimize customer engagements. The FICO Analytic Cloud is where this journey begins…
Learn about FICO Products and Solutions whenever is convenient for you.
A highly interactive, hands-on experience in our classes, and a focus on practical knowledge and skills transfer.
Careers At FICO
Are you ready to fulfill your potential? FICO offers big career opportunities in Big Data Analytics from California to New York, London to Bangalore and Beijing.
FICO® Strategy Director for Retail Banking
Smarter Banking Decisions
Overview
FICO® Strategy Director for Retail Banking helps financial services institutions proactively manage individual deposit and credit accounts to increase revenue, maintain compliance, and improve customer retention. Using FICO's industry-leading methodology for segmentation and deployment of predictive analytics, institutions can deliver fast, fully automated decisions for Collections, Pricing, Marketing, Authorizations, Overdraft Management, Pricing, Pay/No Pay, Fee Waiver and Deposit Hold actions – based on each customer's risk and relationship value. Best of all, policy-based retail banking solutions can be implemented quickly, easily and affordably.
Core Benefits
Limit exposure and losses
Improve customer satisfaction & reduce attrition
Tackle regulatory compliance
Limit exposure and losses
Determine, based on risk and past behavior, whether to increase or decrease credit and/or cash limits at the account or customer level. Calculate and set overdraft limits, and combine those strategies with pre-approved Pay/No Pay decisions to control potential losses.
Improve customer satisfaction & reduce attrition
The perception of high fees is a top reason that consumers switch banks. Build the right framework for fee waiver decisions to take the right actions, to retain your best customers.
Tackle regulatory compliance
Help ensure compliance by more effectively managing both credit (collections, credit limit) and deposit decisions (holds & overdrafts), with a clear audit trail.
Solution Architecture
FICO® Strategy Director for Retail Banking
Strategy Director for Retail Banking leverages the Decision Flow methodology at the core FICO® TRIAD Customer Manager. Business users can quickly build strategies using the four key components of the Decision Flow: Exclusions/Population Groups - determining which entities are eligible for a decision, then the first level of segmentation for reporting and decision making, Strategy assignment – what specific decisions should be made for each group, which is the basis for champion/challenger testing, Action Sets – the assignment of the specific decisions for each entity, Reporting/Visualization – understanding the results of your decision strategies to analyze and improve upon.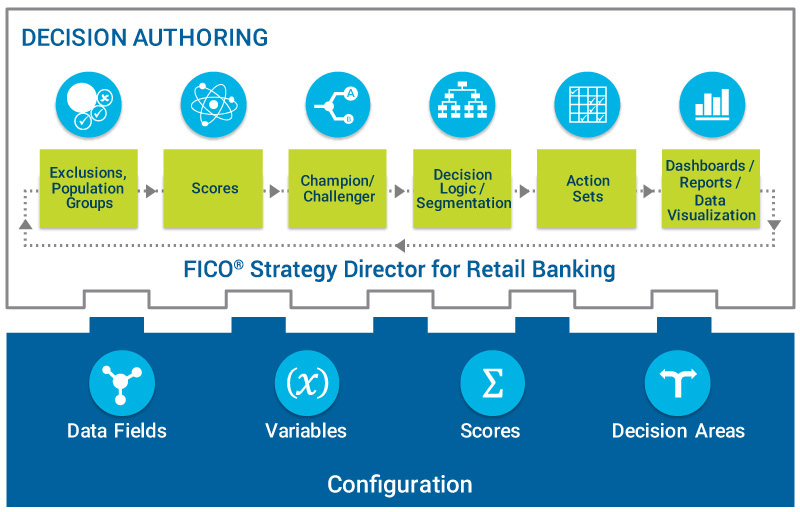 Key Features
Collections for both delinquent and over limit collections at the account or customer level. Accelerate collections on higher-risk accounts, while allowing lower-risk accounts time to self-correct.
Pricing can be based on risk/revenue assessment. Organizations can adjust elements of pricing based on the behavior of the customer to increase revenues by stimulating increased usage.
Reissue automates the account renewal or card reissue process to reduce credit and operational losses by managing the reissue period for accounts based on risk.
Credit Line Calculation to control credit line and cash line decisions at the account or customer level. Determine, based on risk and past behavior, whether to increase or decrease credit and/or cash limits. Setting the appropriate credit limits can improve revenue, decrease costs, lower expenses, and reduce attrition of your best customers.
Authorizations to make fast real-time decisions that help increase revenue and improve customer satisfaction by minimizing the number of point-of-sale transactions referred for manual intervention.
Marketing to increase analytically driven, cross-sell capabilities that enhance customer relations and retention by making the right offer to the right individual.
Overdraft Limit Management calculates and sets overdraft limits, and pre-approval of Pay/No Pay decisions to control your risk from poor-performing accounts – while protecting your relationship with your best customers.
Fee Waiver Assignment defines a fee waiver category for each type of bank fee — overdraft, late payment, NSF returned item and 16 other defined fee types. Each fee category can be assigned a different proactive or retroactive response including no waiver, partial waiver or full waiver.
Deposit Pricing effectively manage liquid and term deposit pricing in any rate environment by balancing margins with portfolio growth via deposit pricing optimization rules. This can result in delivering 2-5 basis points in lower rates paid by targeting the right rate, for the right product, to the right customer.
Want to take your business to new heights?
Request more information. Enter your information and we will respond directly to you.