Need help with a product?
FICO offers all licensed clients use of a secured, self-service Web portal for Product Support, FICO Online Support. FICO Online Support allows users to self help on their issues 24 hours a day, 7 days a week.
Financial Services
Insurance
Public Sector
Pharma and Life Sciences
Education
Retail
Learn how BMW sped up its customer communications
"Using FICO Customer Communication Services, we get a secure, highly flexible, robust solution with a low cost of entry, and we can leverage the expertise of a valued partner, which allows our in-house maintenance support to focus on other key internal priorities and platforms."
- Wayne Orchowski, CEO BMW
Authoring Tools
Resources
FICO Analytic Cloud: Your portal for operationalizing analytics and decisioning.
Customer data is more widely available than ever, but leveraging data to drive smarter decisions requires new thinking and a new kind of agility. Cloud-based decision management – the seamless marriage of data-driven insights and codified decision logic with applications that reach your customers where and when they want – is the key to operationalizing analytics to automate and optimize customer engagements. The FICO Analytic Cloud is where this journey begins…
Learn about FICO Products and Solutions whenever is convenient for you.
A highly interactive, hands-on experience in our classes, and a focus on practical knowledge and skills transfer.
Careers At FICO
Are you ready to fulfill your potential? FICO offers big career opportunities in Big Data Analytics from California to New York, London to Bangalore and Beijing.
FICO® Strategy Director for Telecommunications
Grow profits and increase loyalty
Overview
Today it's easy for customers to leave, unless they have reasons to stay. In saturated telecom markets, competitors offer similarly high levels of coverage and service. Years of price-based competition have left little room for differentiation and margins are stretched thin. To keep customers happy, firms need to give them the devices, lines, features, apps and services they want — making relevant offers they can afford that are profitable for your business. Strategy Director for Telecommunications delivers a solution to help balance the complexities of credit risk, channel characteristics and agreements, price sensitivity, purchase motivators, attrition risk, profitability, and lifetime value to help generate greater profits.
Core Benefits
Maximize Profitability
Stay Agile and Compliant
Build Customer Loyalty
Maximize Profitability
Ensure that each decision (i.e. cross-sell, device financing authorization, loss mitigation, etc.) is made to maximize profit. Business users can easily add new data sources, customer characteristics and analytic models to strategies, while leveraging predictive analytics to know what's likely to happen and prescriptive analytics to know what to do about it for the maximum profit.
Stay Agile and Compliant
Strategy Director delivers an easy to use system that allows business users to react quickly and make changes based on market conditions and organizational uniqueness. All while providing a clear audit trail of decisions to comply with ever-changing banking regulations.
Build Customer Loyalty
Create short-term profit and long-term customer relationship decisions (i.e. service plan modification, voluntary churn reduction, etc.) to target problem accounts and reduce attrition of valued customers.
Solution Architecture
FICO® Strategy Director for Telecommunications
Strategy Director can be implemented quickly to produce results right away. It provides transparency into the entire decision model, allowing you to make adjustments continuously to achieve sustained performance overtime. Strategy Director connects directly to existing systems and allows business users to easily add or update decision variables through its web-based system without the need of IT support.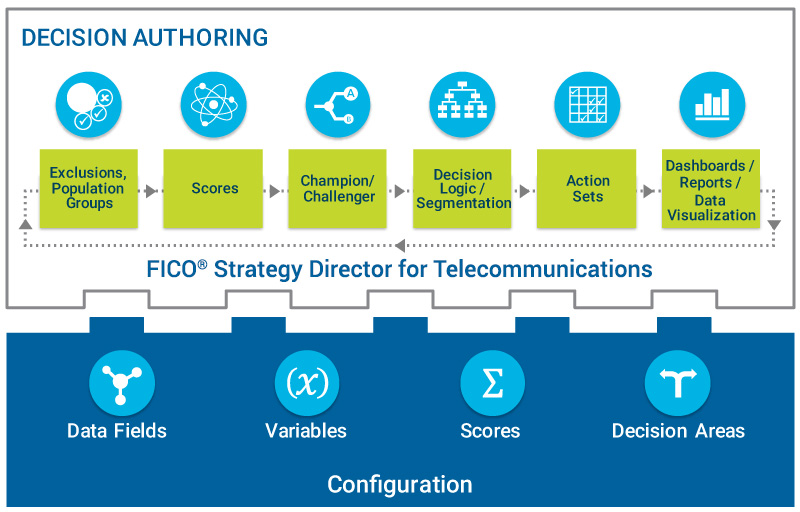 Key Features
Voluntary churn reduction. Identifies customers likely to leave voluntarily and recommends actions (proactive or reactive) for retaining them.
Credit exposure and terms assignment. Assesses customer ability to pay and recommends appropriate overall credit exposure and device financing limits.
Device finance authorization. Determines in real time, on a device- and customer-specific basis, whether financing should be offered.
Service/plan modification. Recommends and automates timely adjustments customer's existing credit restrictions based on rising or falling risk.
Cross-sell candidate identification. Identifies customers eligible for additional offers, like private-label credit cards, and assigns risk-appropriate credit lines
Loss mitigation / pre-delinquency intervention. Detects early signs of payment difficulty and automates proactive contacts and interventions to reduce balance at risk.
Delinquency management. Differentiates between past-due accounts and recommends collection strategies most likely to succeed with each customer.
Want to take your business to new heights?
Request more information. Enter your information and we will respond directly to you.