Need help with a product?
FICO offers all licensed clients use of a secured, self-service Web portal for Product Support, FICO Online Support. FICO Online Support allows users to self help on their issues 24 hours a day, 7 days a week.
Financial Services
Insurance
Public Sector
Pharma and Life Sciences
Education
Retail
Learn how BMW sped up its customer communications
"Using FICO Customer Communication Services, we get a secure, highly flexible, robust solution with a low cost of entry, and we can leverage the expertise of a valued partner, which allows our in-house maintenance support to focus on other key internal priorities and platforms."
- Wayne Orchowski, CEO BMW
Authoring Tools
Resources
FICO Analytic Cloud: Your portal for operationalizing analytics and decisioning.
Customer data is more widely available than ever, but leveraging data to drive smarter decisions requires new thinking and a new kind of agility. Cloud-based decision management – the seamless marriage of data-driven insights and codified decision logic with applications that reach your customers where and when they want – is the key to operationalizing analytics to automate and optimize customer engagements. The FICO Analytic Cloud is where this journey begins…
Learn about FICO Products and Solutions whenever is convenient for you.
A highly interactive, hands-on experience in our classes, and a focus on practical knowledge and skills transfer.
Careers At FICO
Are you ready to fulfill your potential? FICO offers big career opportunities in Big Data Analytics from California to New York, London to Bangalore and Beijing.
FICO® Xpress Optimization
Solving your biggest and most complex business problems
Overview
FICO® Xpress Optimization
FICO® Xpress Insight
FICO® Xpress Executor
FICO® Xpress Solver
FICO® Xpress Workbench
FICO Xpress Optimization is comprised for four core components: FICO Xpress Insight, FICO Xpress Executor, FICO Xpress Solver and FICO Xpress Workbench. Click on the buttons above to access information on each component.
---
Solving large complex optimization problems can be the difference between success and failure in today's marketplace. FICO® Xpress Optimization allows businesses to solve their toughest problems, faster.
FICO's deep portfolio of optimization options enables users to easily build, deploy and use optimization solutions that meet their needs. Standard capabilities include scalable high-performance solvers and algorithms, flexible modeling environments, rapid application development, comparative scenario analysis and reporting capabilities, for on-premises and cloud installations.
Visit the FICO Xpress Optimization Community to learn more about what you can do with Xpress Optimization, download software trials, get support and talk to the experts!
Browse the FICO Xpress Optimization product documentation where you will find installation guides, help for all four modules and examples!
60-day Trial
FICO® Optimization Community
Core Benefits
Solve Your Most Difficult Business Problems
Rapidly Increase Business Value
Allows Every Type of User to Successfully Utilize Optimization
Solve Your Most Difficult Business Problems
FICO® Xpress Optimization offers powerful and versatile solvers and flexible language support to model more accurately and solve highly complex, real-world problems. FICO offers a complete set of industry leading solver technologies.
Rapidly Increase Business Value
This allows FICO® Xpress Optimization to process millions of variables at great speed and scalability, enabling business users to find better decisions to complex problems in minutes.
Allows Every Type of User to Successfully Utilize Optimization
FICO offers optimization products, solutions, and services that allow every level of user to successfully apply optimization to solve business problems, including features and functionality for business users and analysts, solution developers, data scientists and operation research professionals.
Solution Architecture
FICO® Xpress Optimization
FICO® Xpress Optimization is comprised of four components:
FICO® Xpress Insight enables businesses to rapidly deploy optimization models as powerful applications. It allows business and other users to work with models in easy-to-understand terms.
FICO® Xpress Executor provides standalone support for optimization execution services, allowing business to deploy and execute optimization models quickly and easily.
FICO® Xpress Solver provides the widest breadth of industry leading optimization algorithms and technologies to solve linear, mixed integer and non-linear problems.
FICO® Xpress Workbench is an Integrated Development Environment (IDE) for developing optimization models, services and complete solutions. FICO® Xpress Workbench is used with and supports all the other FICO Xpress Optimization components.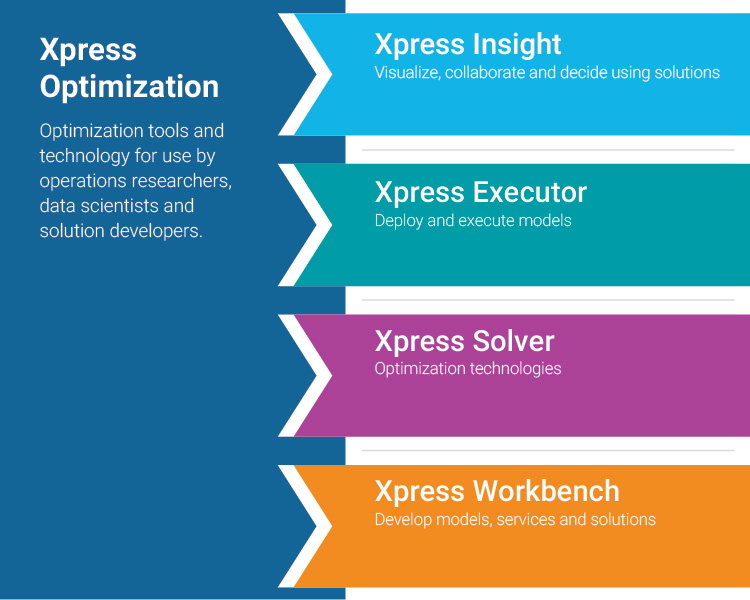 Key Features
Access the most complete set of algorithms for solving large-scale linear, mixed integer and non-linear problems as well as constraint programming problems.
Powerful solution sensitivity analysis, making it possible to efficiently explore large quantities of "what if?" scenarios.
Allows businesses to rapidly deploy optimization models as powerful applications.
High-performance and reliable optimization engines that support multi-threaded parallel processing out of the box.
Uses Xpress Mosel, the most flexible modeling and configuration language available, to provide an easy-to-learn, robust way to interact with Xpress solver engines.
Xpress Mosel contains drivers for access to text, XML, R, Python, MATLAB, CSV, Excel, Hadoop's HDFS, OBDC and Oracle databases.
APIs connecting to Java, C/C++, .NET, VB and other languages and web services.
Straightforward, goal-oriented screens put the power of optimization in the hands of business users.
Business users can understand trade-offs and sensitivities implicit in the business problem and compare the outcome of different scenarios
Integration with Tableau® for FICO facilitates drag and drop creation of visualizations
FICO® Xpress Optimization components are integrated within the FICO® Decision Management Suite enabling organizations of all sizes to leverage the power of optimization
Want to take your business to new heights?
Request more information. Enter your information and we will respond directly to you.