New research shows that when it comes to opening a new online account, most customers are prepared to answer up to 10 questions. Any more and over half (+50%) simply abandon the process.
We polled opinion among 14,000 consumers across the globe, to gauge their attitudes and preferences towards online account opening. It's clear we're an impatient lot and a trend that's likely to continue, with nearly one in five (~20%) indicating they would be just as likely to drop out at five or more questions.
But there are some significant regional differences in attitudes to friction and abandonment.
Around one in three (+30%) UK and South African customers said they were quite happy to answer up 10 questions when it came to opening a current or savings account.
For other financial products such as auto finance, loans and credit cards, a modest but notable level of intolerance crept in with only around one in four (~25%) UK customers said they were willing to answer more than 10 questions.
South Africans showed a little more tolerance with up to one in three (~30%) digital customers willing to answer up to 10 onboarding questions.   
But if the number of questions is raised to 20, only around one in 10 (~10%) UK and South African customers will bother seeing the process through to its conclusion – a trend that's common to all major financial products.
Digital Onboarding Needs to Stay Online
If customers are asked to move out of channel to answer onboarding questions, or prove their identities, many abandon the application - either giving up on opening an account completely, or by going to a competitor. Of those that don't immediately abandon, an additional 15% will delay completing the process.
Unsurprisingly, 25-34-year-olds are the least tolerant to digital disruption with two out of five (42%) saying they would abandon applications if they were obliged to mail documents or visit a branch. If asked to scan or email documents, or even switch channel to use a separate identity portal, more than a third (35%) of the 25-34-year-old demographic would still abandon the application.
We're already enabling our clients to better serve their customers and make faster, smarter, and more profitable originations decisions. We've also now unveiled a powerful next-generation originations solution for digital-first account opening.
Click the image below to read our new white paper, Riding the Digital Wave with Faster, Smarter Account Opening.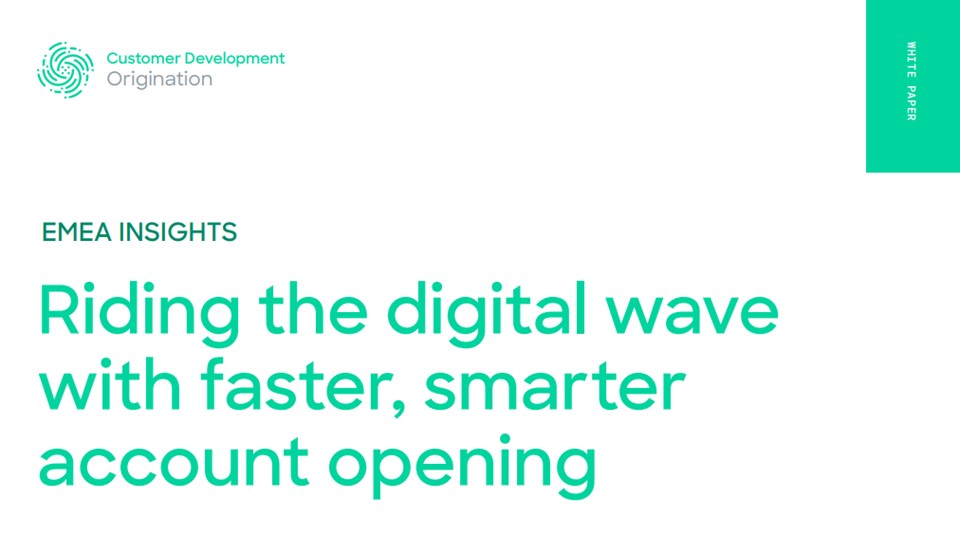 It also shows how a unified, open platform for digital decisioning offers a clear route to helping create seamless customer experiences by unifying data, analytics and AI, right across multiple business function.