Fraud Protection & Compliance
It's been more than 20 years since "The End of Software" was declared in 1999. Since then, cloud software delivery best practices have evolved to reach the bullet-proof performance and security levels that financial institutions require of production applications — exactly what cloud-based FICO delivers, and more.
FICO's Vision for a Data-Rich Future
With the FICO Platform, FICO has re-architected our industry-leading FICO® Falcon® Fraud Manager and the FICO® Siron® Anti-Financial Crime compliance suite, converging the functionality of both of these market-leading solutions under a completely new code line to run as a single, cloud-based software platform. As explained by Claus Moldt, FICO's Chief Technology Officer, the FICO Platform presents one of several strategic responses to the fundamental business challenge of "How we can deal with the massive amount of data generated by organizations undergoing digital transformation?"
As Claus detailed in his FICO World keynote address, FICO's Falcon X is the most powerful version of FICO's fraud and financial crimes solutions – ever – built for a future of endless data. It fully address five key customer requirements:
Deliver faster time to value
Integrate capabilities between offerings and external services
Provide global options to consume services
Enable our clients' data science teams with lessons learned in FICO labs
Continue to deliver innovation and protect investments
In my mind, meeting those customer requirements allows us to achieve four core benefits with a platform approach.
Benefit #1: A Single Technology Solution – Scalable by Design
FICO provides a single platform for enterprise fraud, customer identity management, and financial crimes compliance, creating crime-fighting synergy by integrating these two critical functions. As criminals become more sophisticated, crimes like money muling provide an excellent example of how fraud and AML can work in concert to increase detection.
FICO also delivers an important twist on classic benefits of subscription-based cloud software such as:
Access to new features: FICO customers gain access to product updates and the latest improvements of the software stack. FICO will manage the process of updating models as they are released — which is important with fraud, where the goal is to always stay one step ahead of the fraudsters, who are trying to stay one step ahead of you.

New Falcon features and functionality includes access to model upgrades and updates. FICO updates dozens of fraud models every year and, depending on which models you're using, the process can be complex. Your organization will still have some work to do with FICO, but you won't need to go to your IT organization to triangulate the implementation of new models with other priorities. Implementing models faster can significantly improve detection levels and thus fraud losses.
Managed infrastructure: Your IT team will be freed from managing the servers, storage, operating systems and networking now deployed to run Falcon applications on-premises.
Benefit #2: Any Channel, Any Product – Flexible by its Nature
Consumer payment preferences are changing, an already large-scale trend accelerated by the pandemic. An April 2020 survey conducted by The Harris Poll found that 73% of US adults were more likely to leverage digital banking and payments while social distancing. FICO provides a one-stop solution for detecting new fraud schemes, with features that allow new information, such as checking account inflows and outflows, and mobile payments, to be incorporated into fraud and AML decisioning.
As the world of transactions becomes increasingly mobile, FICO further empowers you to match the pace of change with X-dimensional profiling, which takes profiling down to a nano level. You can see how an individual interacts with different call centers, uses different devices, determine if others are using the same computer or device, and much more, in real-time. Real-time aggregations and calculated derived variables feed any financial crimes strategy and keep your organization ready for new fraud schemes perpetrated by bad actors.
Benefit #3: Data-Driven Innovation
Rich, unbiased data is essential for building and training effective machine learning (ML) models. With FICO® Falcon® Intelligence Network, more than 9,000 global institutions contribute anonymized transactional and non-monetary data to the FICO, providing an ideal data set for four important activities:
Supervised ML: Offering the world's largest tagged fraud dataset, the Falcon Intelligence Network enables your organization to develop advanced analytic models trained on actual fraud and non-fraud real-world results.
Performance Benchmarking: The Falcon Intelligence Network provides an unparalleled capability to benchmark model performance – whether that's the absolute performance of fraud models and strategies in a given portfolio, or the comparative performance of a given portfolio vis-à-vis peers.
AI Research & Development: The consortium data that underpins the Falcon Intelligence Network provides a rich and diverse pool of data to study the fraud problem on a global scale. In this way, your bank can benefit from the experience of all other participating banks. 
Compromise Identification: The Falcon Intelligence Network sees fraud happening in real-time, around the world. By analyzing common points of purchase, FICO is able to identify compromised accounts and assess the likelihood of future fraudulent usage, enabling issuing banks to literally stop fraud before it happens.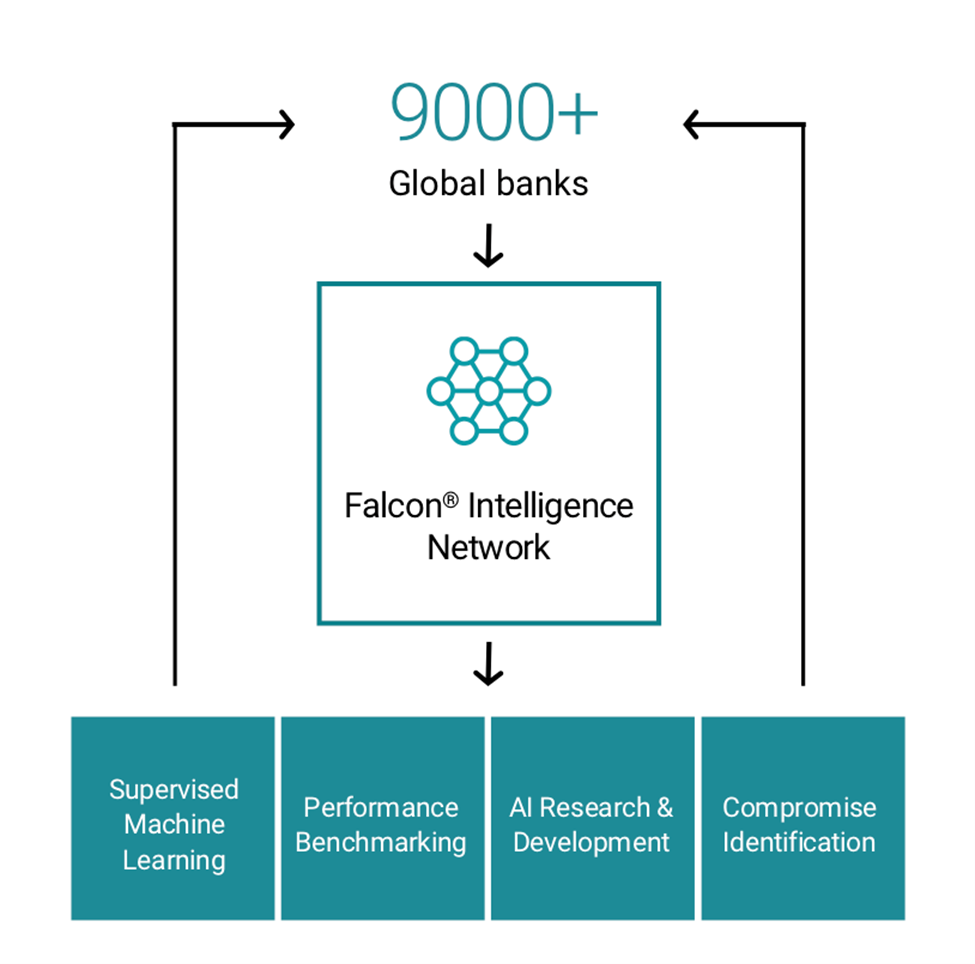 Benefit #4: User-Directed, Open Machine Learning
The FICO Platform is built to give your data scientists maximum analytic model flexibility. Our approach allows organizations to mix and match the best of FICO's models with access to an open machine learning tool kit, which includes FICO's core fraud analytics tooling. 
Our intuitive modeling environment, FICO® Analytics Workbench - Falcon Edition, lets your organization easily incorporate its own analytic talent and experience within the FICO Platform framework; the Workbench supports multiple open source model types, analytic innovations developed in FICO's labs, including Catalyst Models - think of these as a self-directed Falcon model starter kits. Of course, FICO's large catalog of pre-built, consortium-based fraud detection models are all available as well.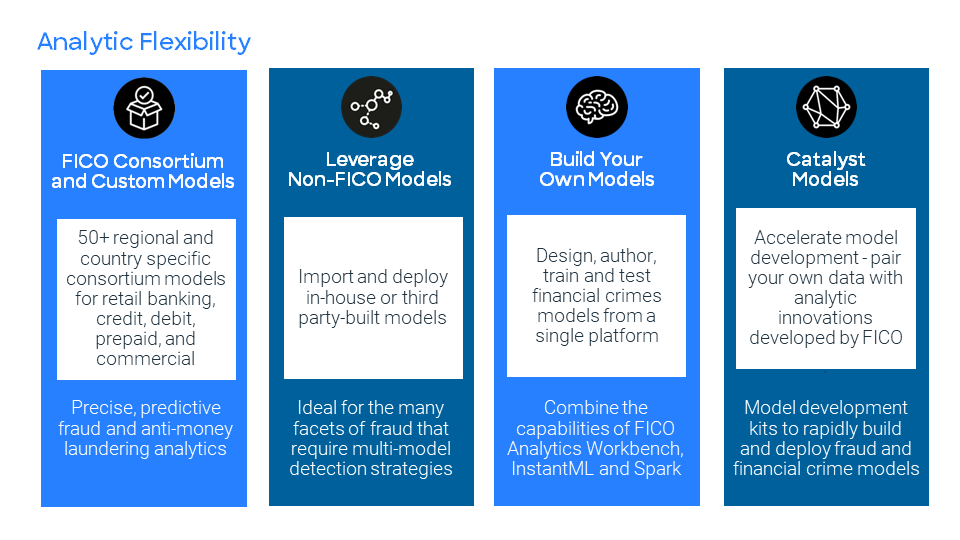 Learn More
Clearly, there's a lot to explore. For even more information about FICO's Fraud Protection and Compliance strategy, check out TJ Horan's FICO World mainstage presentation, "Convergence: Fraud and Financial Crime Solutions." Follow me on Twitter @dougoclare to keep up with my latest thoughts on fraud, customer identity management and financial crimes compliance.