Many financial institutions are trying to create a "360 degree view" of their customer to determine the best experience for them. But organizations I work with find this "360 degree view" to be an abstract concept. Gathering customer data and using it in a meaningful way is seen as a complicated and resource-intensive problem to execute. I am on a personal quest to simplify this concept so complex businesses can achieve this view and create effective digital experiences with it. Ones that win long term customer loyalty and profitability while minimizing risk for the organization. Getting the digital experience right is especially urgent now because of the way the pandemic is accelerating digital transformation. Financial institutions should be strategic in how they approach digital transformation so that they get the right capabilities on the first try to manage data and customer actions across the business. Here are 4 of my top suggestions for creating the 360-degree view of customers and using it for a timeless digital customer experience.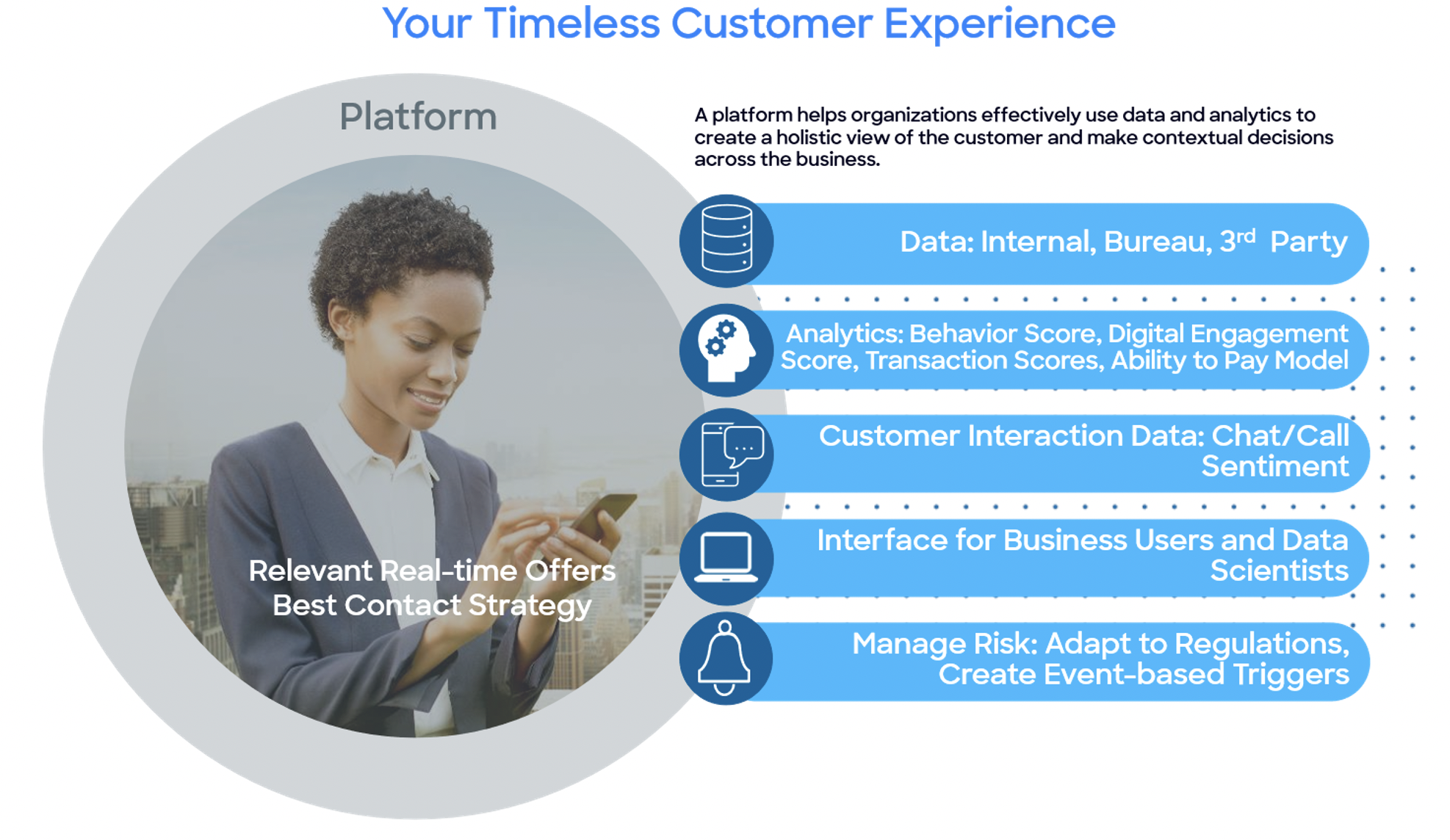 1. Use Digital Interaction Data to Inform Customer Decisions
The real value of digital transformation is driving customers towards the behavior that benefits them and your organization. Using digital interaction data can help you achieve this. For example, getting more customers to respond to a collections interaction and pay or promise to pay. If a long term customer logs into your mobile app more than 10 times a month you can use this context to inform your treatment of them such as contacting them with an automated SMS or Email to make a payment vs through a phone call. This can be accomplished tactically by creating a digital engagement score which measures the digital interaction with a customer. When a customer visits you through online or mobile channels in the last 6 months, you can flag this behavior and send them the appropriate interaction, then measure the impact to adjust as needed.
2. Use Deposit Data to Manage Risk
Did your organization grant payment deferrals with certainty that the customer was in need of them? Since COVID-19 began its spread across the globe, financial institutions have grappled to adapt their activities to assist the millions of consumers experiencing pandemic related financial impairment.  Financial institutions need to quickly respond to natural disasters and black swan events to meet customers on their own terms. To tackle this, you can create triggers that flag customer deposit information that indicates they were impacted by COVID such as a missing reoccurring deposit. This information can be used to quickly identify the best treatment for customers such as granting more payment deferrals or excluding a customer from receiving further collections contact.
3. Gather the Right Data for Testing and Adapting
In the Digital era, the best form of innovation results from rapidly learning through experimentation. Experiments should be constant, and testing should be easy, fast, and cheap. Can you quickly harvest customer channel engagement preferences? Did the customers in collections A) respond to a popup message in the mobile app to choose to connect to a live agent or B) prefer to self-resolve via an AI driven chatbot? If interaction #2 was more likely to get a response, it was a customer who mostly likes to interact through automated digital choices. With this data you know what contact methods are most likely to get results so you can better allocate your resources and minimize losses. Collecting data from A/B experiments like this and quickly operationalizing it can help organizations come up with the best customer contact strategy.
4. Make Customer Actions Consistent across the Enterprise
The organizations that are best at creating holistic customer views and pandemic-proof digital experiences have technology platforms that make it extremely easy to dictate how data should be used in customer interactions. Users can incorporate real time or batch data and internal, bureau or 3rd party data. Organizations are also breaking down organizational silos with these platforms because data can be shared across lines of business to add consistency and context to interactions. For example, making sure offers are synchronized across all products so a customer getting a credit line decrease on one account doesn't get a new offer with better terms. And customers with a steady stream of income in their deposit account while visiting car manufacturer websites will be pre-approved for an enticing auto loan offer.
Data can be a strategic asset as these uncertain times continue. It can help you produce real time insights that will generate long-term business value, and support ongoing customer needs. The right platform and partners can help you easily import data sources to pandemic-proof digital customer experience.
Something above strike a chord? Reach out to me at amirsikander@FICO.com to learn how FICO can help you make data and digital transformation concepts less abstract.