Even before the Coronavirus, banks and so-called traditional financial services were being disrupted on a massive scale. And unlike the COVID-19, you can check your own health. Here are eight signs you're a victim of digital disruption:
Your customers are leaving for tech-savvy competitors
Your data seems incomplete and gets stale quickly
The results of data analysis aren't always actionable
You are not entirely sure what the results of your strategies will be
Business users need to get in the IT queue to change their strategies
It takes too long to move from information to action
Linkage between decision strategies and KPIs/ROI is sketchy
You have limited visibility to the ROI of a customer across the lifecycle
If you're nodding your head at some of these signs, you're not alone. FICO recently conducted a global survey with Arizent (formerly Source Media, publisher of American Banker) to see how both banks and fintechs are doing when it comes to one of the most important aspects of digital transformation: automated decision management.
The results are either discouraging or encouraging, depending on your POV. Looking at what industry analysts are calling the traits of best-in-class decisioning, neither banks nor fintechs are "extremely confident" that they have these capabilities.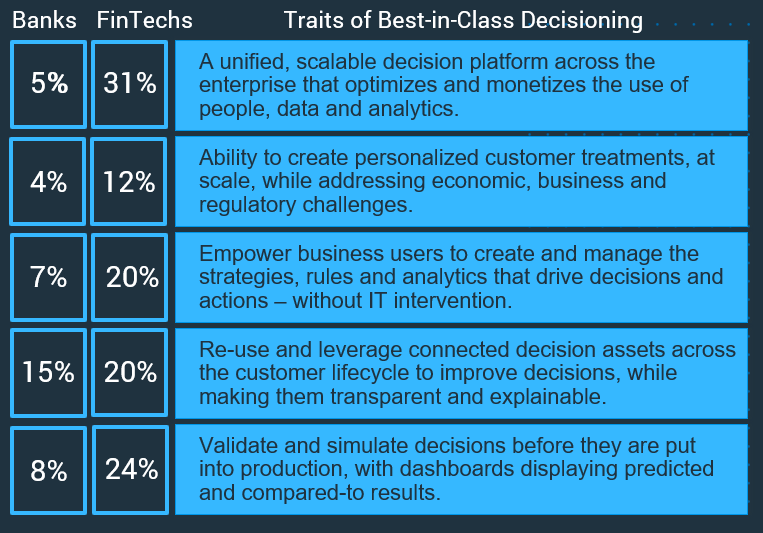 For the banking industry generally, this might look like bad news. But the good news is that if you want to catch up with the competition — be they banks or fintechs — you have a good shot!
What's the best strategy to get ahead of this trend? How can you move from disruptee to disruptor?
Join us at our webinar on March 26, "Digital Transformation: Are You a Disruptor or a Disruptee?" We will share more results from our global survey, some great case studies and some advice on how you can stay on the right side of the digital transformation / digital disruption equation.