In our previous blog, we outlined five ways that insurers can adopt a decision-first approach to accelerate the digitization of your business. Below, we take a deeper dive into these areas.
Adopt a decision-first approach: Rather than start with data, forward-looking insurers are defining their most critical business objectives and decision models before considering data and analytic requirements. Once the decision metrics have been identified – such as loss ratio, geographic distribution, growth, etc. - a carrier can assess data sources in order to gain customer insights and make decision at the exact right moment. The organization can then drive key decisions across all interactions and continuously improve so the next decisions are even more accurate. The leading decision management applications help businesses visually model their decisions before deploying them.
Improve your agility by optimizing resources: Digitization is hindered when businesses can't modify strategies quickly enough or respond to economic, competitive or consumer shifts. Decision management systems should empower business users to create, maintain and control business policies and procedures. Ideally, visual rule designers enable technical and non-technical people to author and maintain business logic – including analytic models – outside of traditional code, making updates quick and easy in a seamless and scalable architecture. The improved business agility helps organizations realize order-of-magnitude acceleration in decision cycle times, such as changing pricing, policy configurations and new/renewal underwriting. Tasks that formerly took days can be performed in minutes. This speed to deploy new strategies and predictive models helps insurers respond rapidly to internal or external policy changes and expedites time-to-market.
Automate high-volume operational decisions quickly and effectively: The core decisioning system needs to be robust, capable and agile whether creating simple rules for automation purposes or complex rules embedded in strategies and analytic models. Organizations can then drive smarter business decisions faster with the control, speed, accuracy, consistency and transparency of their business logic — which is particularly critical in responding to changing business, economic and regulatory conditions.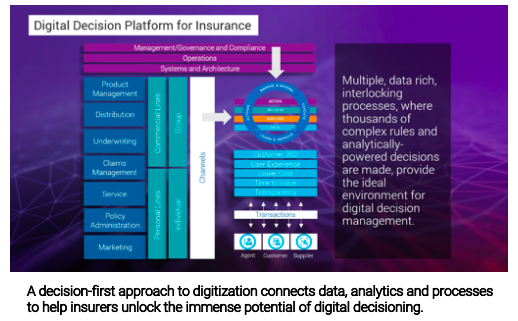 Collaborate to operationalize and institutionalize your decision strategies: As noted earlier, your rules technology should empower business analysts and policy managers to develop and maintain the decision logic themselves with an easy-to-use, intuitive interface. These groups can work collaboratively by sharing and reusing rules, rule sets, rule flows, object models, analytic models and other decision assets. This enables the experts to be more connected to the decision and work together to find the best strategies. Your systems should be able to simulate decisions before they are deployed into production, and you need full transparency into explaining how decisions are made, particularly as you make the push towards automation and digitization.
(Carefully) consider a Cloud-based platform as a digitization accelerator: Insurers are being bombarded with Cloud-based technology vendors touting big ROI numbers and other questionable claims. In reality, insurer IT departments and C-level executives are looking for ways to digitize via the Cloud, ultimately reducing the costs and risks of legacy, often disconnected, applications and infrastructures. Your rules platform should be cloud-ready, if not already deployed in the cloud, to help you rapidly operationalize your investments in data, analytics and optimization tools. A platform model should also enable a connected, centralized and visual approach to measuring outcomes, which is vital in helping you test new strategies and adapt to business conditions, and evolve over time. Particularly in areas such as commercial underwriting, insurers may initially seek to deploy Cloud-based solutions for specific use cases (such as setting pricing parameters or routing referrals), get quick wins and then expand Cloud capabilities to other business objectives.

Final perspectives

A decision-first platform can help your business evolve from inflexible business applications to digitized solutions at a pace that can help you outpace even your most nimble competitors. Imagine an agile, scalable platform that can help you translate models from any language and ingest them in your decision systems, faster than ever. Simulate decisions to assess potential business impact prior to deployment into production, so you can achieve better outcomes, faster. Empowering business users to author and maintain decision rules helps on multiple fronts, as the workloads of technical developers and IT resources can be reallocated to better support other initiatives, while strategy changes can be deployed in minutes instead of days or weeks. Deploy a decision-first Proof-of-Concept for a specific business challenge, and watch it grow into multiple, connected and ultimately centralized business solutions across your entire organization.

Interested in learning how you can actually put digital decisioning to work in your organization? FICO was just named a leader by Forrester Research in its report, The Forrester New Wave™: Digital Decisioning Platforms, Q4 2018. To download the full report, click here.