Fraud Protection & Compliance
In the global fight against money laundering, every bank shares the same top-line challenge and bottom-line reality; anti-money laundering (AML) operations are essential in combatting financial crime—and a costly compliance commitment. Yet each bank's AML organization and technology environment is different, requiring solutions that can be customized to meet individual institutions' needs.
FICO recently released three customer stories that take a detailed look at their different strategies and technology solutions to increase AML effectiveness and efficiency, while lowering costs. In this post I'll share highlights from each story and links to the full versions.
The Pandemic Creates Criminal Opportunities
For context, here are some refresher facts on the scope of the global AML challenge. About $1.6 trillion is laundered each year, a monetary total that is equal to about 2.7% of the world's gross domestic product (GDP). However, less than one percent of global criminal proceeds is confiscated, underscoring the challenge of separating huge volumes of unsuspicious transactions from the truly criminal.
Digital account opening during the pandemic created extraordinary opportunities for financial criminals; as a counterpoint, banks were hit with a record $10.4 billion in AML-related fines and penalties in 2020. Against these and other pressures, banks face an urgent need to improve their AML defenses.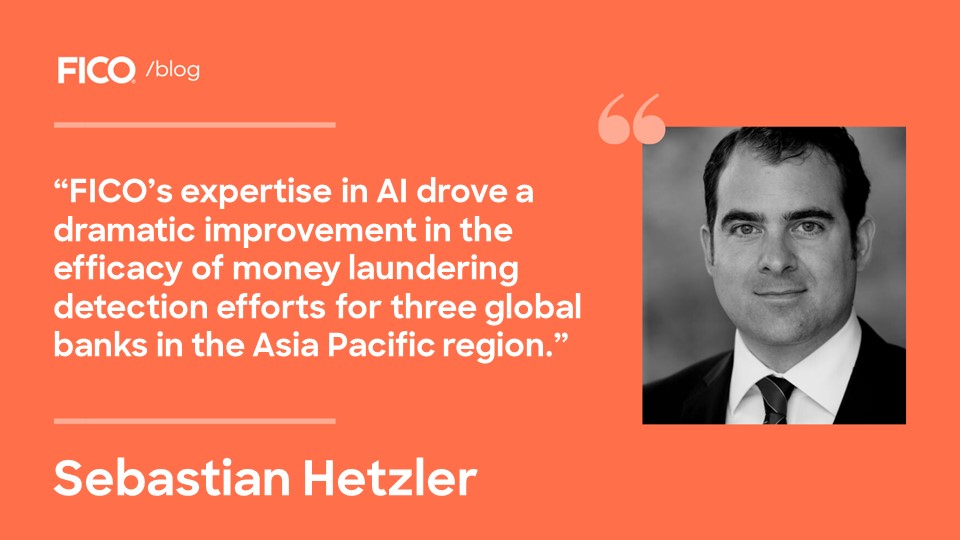 1. AI Brings New Insights
Led by Chief Analytics Officer Dr. Scott Zoldi, FICO's expertise in artificial intelligence (AI) drove a dramatic improvement in the efficacy of money laundering detection efforts for three global banks in the Asia Pacific region. FICO® AML Advanced Analytics enabled the banks to realize clear benefits in two ways:
The FICO® AML Threat Score adds powerful AI and machine learning (ML) algorithms to banks' existing rules-based workflows. This allows faster detection of suspicious cases than traditional rules-based systems, while reducing inefficiencies and false positives. The FICO® AML Threat Score generates very targeted alerts to increase the detection rate of known suspicious activity.

The Threat Score's AI algorithm uses up to 24 months of historical data to learn which alerts are closed as false positives, and which ones are highlighted as potential criminal activity based on key features of the alerts, such as velocity, value, and patterns of transactions. This model helped these banks achieve greater efficiency when detecting alerts worthy of inclusion in Suspicious Activity Reports (SARs).
 
The FICO® AML Soft-Clustering Misalignment Score adds a layer of automated ML that detects unknown unknowns, finding suspicious activity that banks don't know to look for, and thus not detected by existing rules. Instead of considering historical SAR data or previous AML rules, it rapidly takes a detailed look at every transaction associated with a customer and their accounts, generating archetypes of customer behavior. A customer's archetypes are then compared to other customers within the bank to assess threat.

The FICO® AML Soft-Clustering Misalignment Score ranks customers based on how abnormal their archetype patterns are compared to similar customers in the relevant archetypes. It tells your team why a customer's behavior is suspicious, using reason codes similar to those used in the AML Threat Score. AML Soft-Clustering Misalignment Score is a unique score patented by FICO.
2. Major Cost Savings through Process Automation
A multinational retail bank serving more than 50 million customers in over 30 countries turned to FICO to automate costly, time-consuming manual customer onboarding processes. The FICO solution leverages robotic process automation, reducing alerts requiring manual investigation by 86% and replacing paper-driven processes with fully automated and digital processes. Key components include:
FICO® Know Your Customer: FICO's screening solution allows the bank to auto-complete a previously lengthy process in milliseconds. The robotic process analytics verifies customer data against the necessary data points, in real time, and prioritizes the alerts for investigation, all using automated algorithms. In addition to far fewer alerts requiring manual processing, the bank realized a reduction in false positives overall.
FICO® Alert & Case Manager: The flexibility of FICO's solution allows each bank branch to customize workflow without involving IT or changing underlying functionality. Each region and/or bank branch can determine and set its own rules and thresholds that guide the automatic screening and routing of alerts. The user-friendly interface allows users to work more productively with a clear summary of the alert and automated built-in workflow for how the alert is to be investigated.
3. Digital Transformation and Modernization
For a leading Northern European universal bank, FICO spearheaded a digital transformation initiative, delivering a modern compliance system that can address AML and counter-terrorism financing (CTF) regulations specific to each country, with centralized alerting and case management functions.
A major restructuring acted as a catalyst for the universal bank to embark on journey to modernize, merge and restructure its new assets. The bank recognized there were large gains to be made from using one system for anti-financial crime compliance, rather than a patchwork of products, and would ensure the newly formed universal bank would meet compliance requirements.
Working closely with the client, FICO overcame obstacles including a complex legacy infrastructure — multiple core banking and payment systems, disparate systems for know your customer (KYC) and AML, and a decentralized alerting and case management system — to deliver a modern, cloud-based AML solution, on time, meeting regulators' requirements.
Working with the new platform, the client was able to consolidate customer information from external source systems, screen it and create and display alerts. The bank now can coordinate data from different streams and provide a detailed picture of a customer's possible suspicious activity.
For more information on how FICO can assist your organization with implementing comprehensive AML solutions, see www.fico.com/financialcrime.