Until someone devises a crystal ball for a lending portfolio's profitability, strategic planners will increasingly turn to analytics. Many banks have already gone well beyond the traditional use of business intelligence (BI) to analyze their past and current financial performance. They're using forecasting models to predict how their profit and loss (P&L) statement will look 12 or 24 months out.
While useful, these forecasts are limited. They often lack sufficient granularity to identify the most powerful drivers behind P&L components and to accurately quantify the impacts of making changes to them.
Moreover, analytics rarely look across departments to reveal how these drivers interact. It can be hard to say definitively which actions to take in which combination and sequence to improve profitability forecasts.
In our experience, analytics can work harder for strategic planners, providing the clarity needed to avoid missteps or delays in approvals and execution. What we see as a new baseline for analytics in strategic planning is depicted below. It also shows directionally where we think the process is heading, toward even more analytic insight.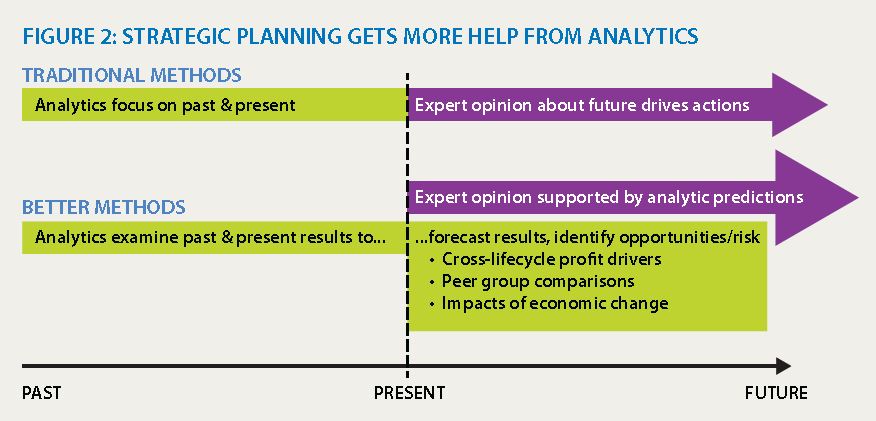 As I mentioned in my prior post, we've just published an Insights white paper on this subject: "How Two Banks Dodged Profit Perils." As the title implies, the paper highlights two in-depth case studies, each representing a typical profitability challenge and offering useful lessons learned. In the first, a fast-growing bank sharpens its strategic vision to recognize and avoid a "profit cliff." In the second, a bank with a recently acquired portfolio must quickly counter performance trends that could reduce ROI on this asset.