Fraud Protection & Compliance
With COVID-19 restricting people's ability or willingness to engage in face-to-face interactions, banks are looking to their digital channels for continued growth. Key to providing acceptable customer experiences is the way in which banks verify that applicants are who they say they are. Identity verification, required to prevent fraud and meet eKYC regulatory requirements, can also be the one that introduces friction and causes customers to abandon applications.
To find out how banks are responding and what their future strategies are, FICO commissioned extensive research including an in-depth survey with those tasked with making the decisions about identity verification at 57 banks in the USA and Canada. Completed in 2020, this study provides valuable insight on how the early days of COVID-19 impacted banks' digital transformation priorities.
Can You Prevent Application Abandonment Without a Focus on Customer Experience?
When it comes to building their identity verification strategies the biggest driver – reported by 53% of respondents – is meeting compliance requirements. This is further reflected by 51% saying that ensuring customer identities are genuine drives their strategies.  Almost 50% say their strategies are driven by a need to prevent application abandonment due to the identity verification process. This is at odds with the low number – just 29% say customer experience of the identity process is a priority.
For me, this approach is flawed; to deliver identity strategies that decrease abandonment rates, it feels intuitive that customer experience should be top of mind. As the graph shows, North American banks are at odds here with banks in the other nations surveyed, where customer experience is much more of a priority.  A balanced strategy where banks focus both on customer experience and gaining the necessary surety about customers' identities can deliver regulatory compliance and reduce abandoned applications.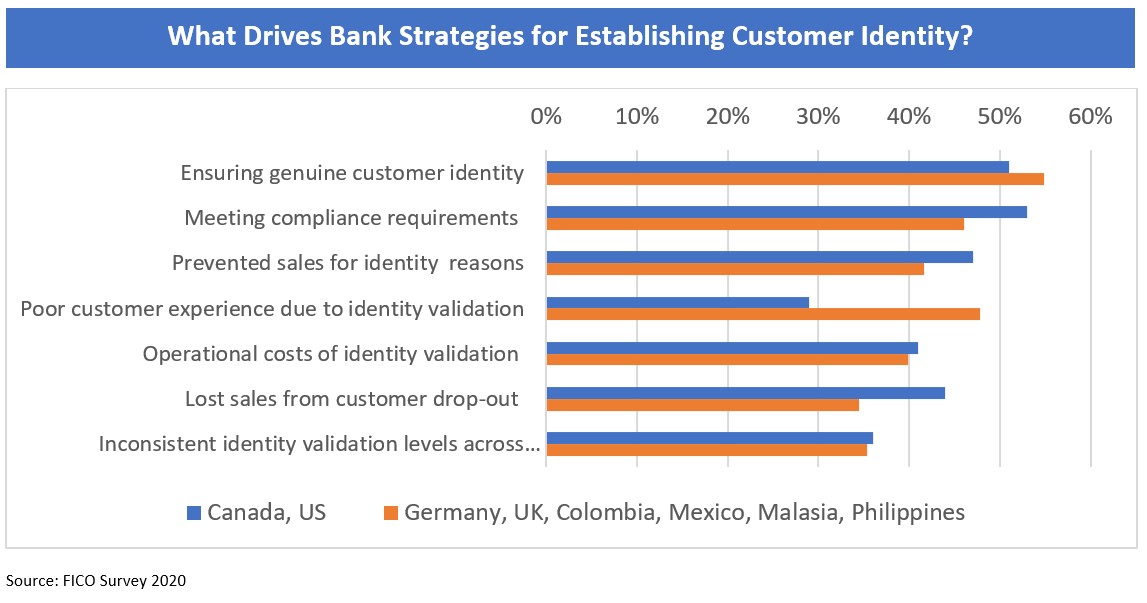 Identity Verification is Painful for Banks, Too!
We're used to talking about unnecessary friction for customers when we consider the challenges of identity verification – but its also difficult for the banks. When we asked about the operational challenges faced in validating identities, 53% said that manual processes are a challenge and 51% said the time taken to validate identities was an issue.
Both of these challenges relate to operational efficiency and suggest that the processes and technology to deliver faster and more automated identity proofing are not in place. US banks have been early adopters of identity solutions but in this rapidly developing market they may now need to take a more strategic approach. Consolidation of the multiple point solutions they have invested in over the years alongside deployment of a platform or orchestration layer will deliver faster, more automated identity decisions.
Too Many Customers are Still Being Sent to Physical Channels When Opening Accounts Digitally
For most of retail banking's history, in-person checking of identity documents by trained bank employees has been the standard. This worked well in a world where people expected to open accounts in branch, interacting with bank employees. As the account opening process moved online, identity verification hasn't necessarily followed.
While banks are more than prepared to manage applications in apps or on their website, the process falls down when they revert to identity verification that requires checks by bank staff. Whether this is in person or through the mailing of documents, it brings the onboarding of new applicants to a sudden and unwelcome halt.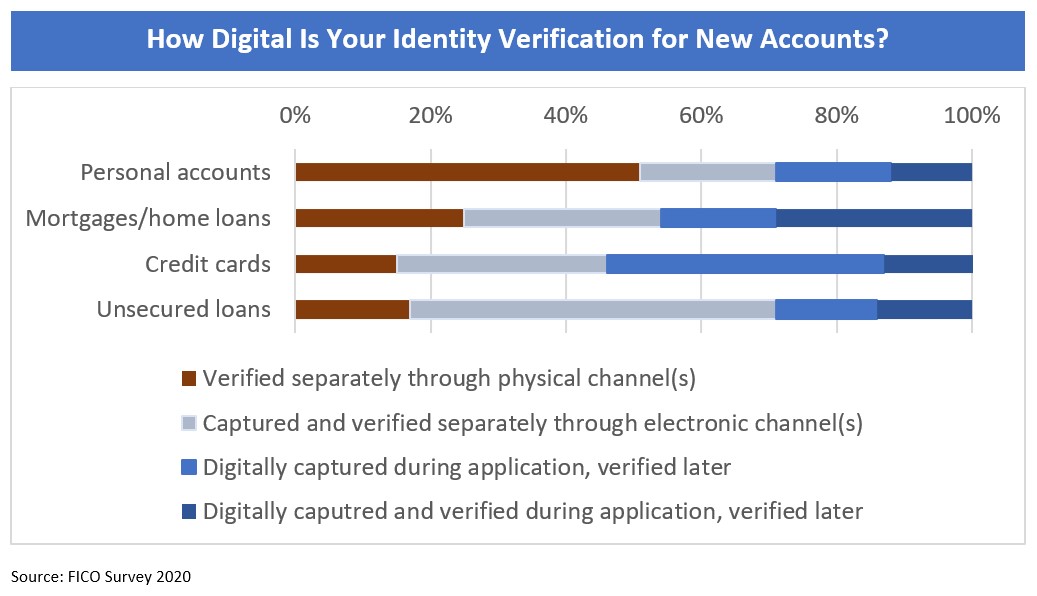 This is particularly an issue when customers open personal (DDA or checking) accounts, with over half of applicants pushed to mail their identity documents or take them in to branches. There may be a belief that as these accounts are frequently the first account a customer opens with a bank, that this gateway needs protecting with an in-person check.
Today's automated identity verification solutions are consistent and reliable and it's arguable that manual checking adds much to safeguarding the bank while significantly increasing application abandonment rates. This is illustrated when we look at another FICO study – this time a survey of consumers. We found that 21% of Canadians and 23% of US citizens would abandon an application if forced out of channel to prove their identity - with the majority of them taking their business to a competitor.
Customer Experience is THE Deciding Factor
COVID-19 still has a significant impact and consumers who were once wary of digital channels are rapidly becoming comfortable managing their finance with apps and websites.  Digital converts are unlikely to change allegiance once the pandemic is over - so the spotlight is firmly on customer experience in digital channels. The identity checking process cannot let the side down and become the single point of failure. The decision is clear: enhance your digital identity verification process or stand still as your competitors accelerate their growth.
For more information on this survey, watch our webinar on Customer Identity Management – Are You Digital Enough for Your Customers? You can also read our new ebook.