In my previous post, I looked at how pricing optimisation is more necessary than ever to address the need for auditable pricing controls, additional segmentation for vulnerable customer groups, and the growing number of pricing and operational constraints needed to meet fairness rules and satisfy the regulator. The UK's Financial Conduct Authority have recently launched investigations into the fairness of using price sensitivity in pricing decisions for financial services products for consumers in the UK, and released their initial discussion paper on the subject on 31st October 2018.
Setting the right price for each customer is arguably fairer than a one-price-for-all approach when customers and their behaviours can be so vastly different. For example, in the lending space, without a risk-based segmentation and pricing strategy, the outcome might mean that lower-risk customers end up subsidizing higher-risk customers, which one would anticipate would fall outside of the FCA's view of fair treatment. For 'at risk' customers, optimisation engines may be used to segment pricing and communication strategies, or set volume or price thresholds, on those customers most likely to attrite, to go bad, or those with attributes that may identify them as vulnerable.
Price Sensitivity Is Just One Factor
The view that pricing optimisation outcomes focus squarely on a customer's price sensitivity may be short-sighted. While it is true that the more commoditized a service is, the more price becomes a key decision lever, financial services organizations in the UK are working hard to differentiate themselves with new innovations and services. Consumers are looking for services to be relevant and interesting and to be perceived as delivering value, and firms are looking at how to provide that value-add.
Pricing is only one of the classic four areas of marketing that influences a customer's decision to take up a product – proposition (which includes brand and service), product (the type of product and its design), price and promotion (the communications and messages used to present the product to the customer). There remains a valid argument that a customer will only pay the price that is aligned with their perception of value and that a higher rate may be a fair trade for the value they receive. Price optimisation looks at the value/price trade-off that is at the heart of value-based pricing. You could argue that, far from being discriminatory, pricing optimisation simply gives the customer what they are most likely to want.
An understanding of how all of these competing factors interplay is necessary to devise the right price for a customer segment at the right time, and the approach needs to be explainable. As well as being able to solve for a value-based approach, optimisation enables the future delivery of the right price, for the right product, with the right message, at the right moment, to the right customer, and provides the supporting business insights and audit trail to be able to defend the strategy to the regulator.
Complex Models for Price Optimisation
Optimisation models can look at historical response data to all of the things that make up a product or service, including the price. These sophisticated models look at a blended response to the combined product, pricing, communication and service features both for the firm in question and against their competition.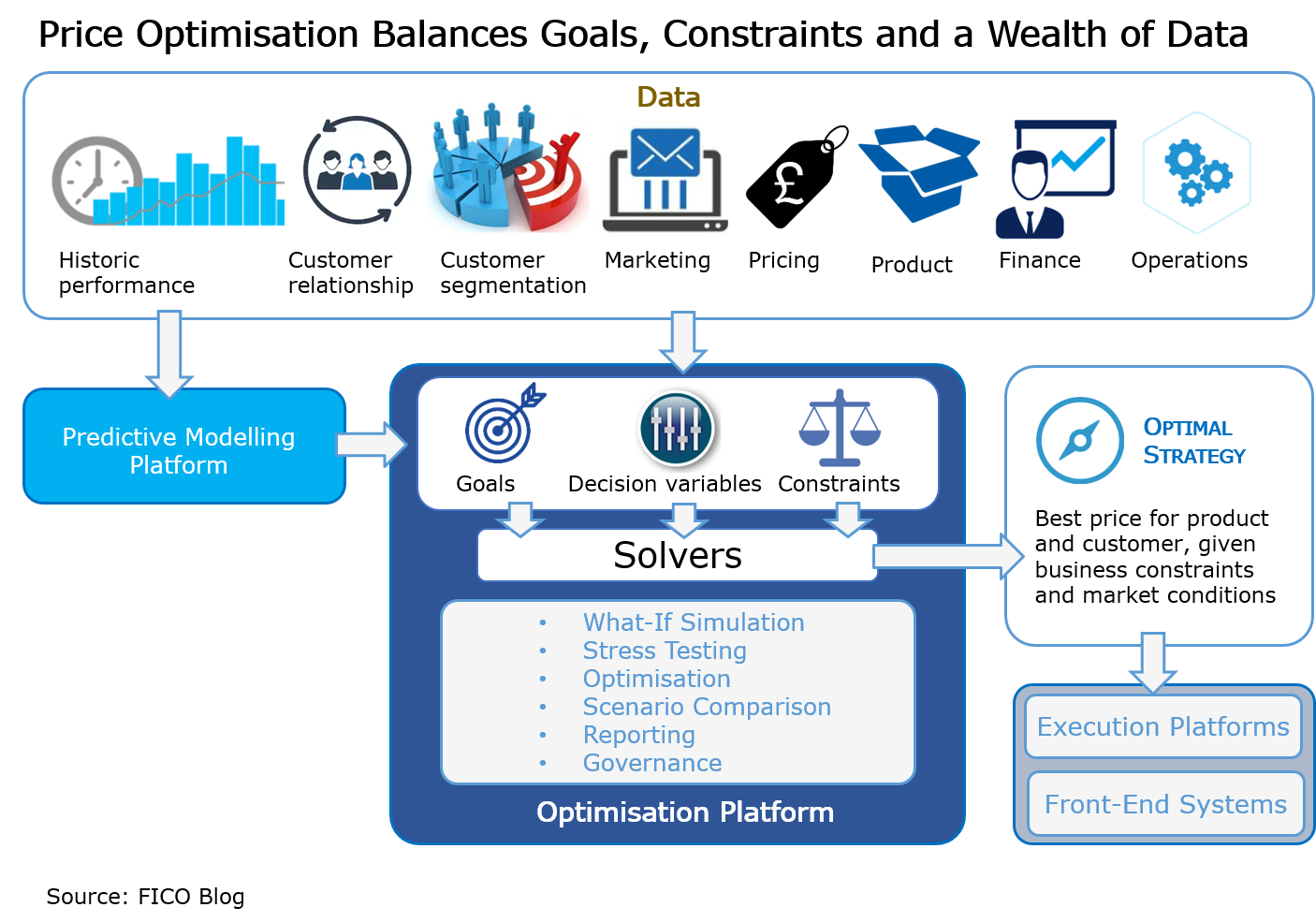 Optimisation can be used, for example, to set marketing spend budgets by channel, rather than just manage a price. The variables underpinning the modelled behaviour may include marketing spend and channel, customer persona (used for marketing message segmentation), economic factors, competitive environment, and product features, as well as an individual's budget, financial strength, breadth of relationship with the financial institution, customer service preferences and other attitudinal indicators, as well as their price sensitivity. It is key to leverage all of this data. Not including these elements can limit the degree of understanding and potential for the decisions being made.
Avoiding Pricing Discrimination
As the FCA states, it is not always straightforward to judge whether pricing discrimination has occurred. One of the reasons for this is that setting the right price (alongside the right communication strategy and product design) is an incredibly complex problem to solve. It requires the mining of lakes of data, the balancing of multiple variables, requirements and rules, and efficient pricing and re-repricing functions and processes.
Senior leaders in banking and finance are wondering how the FCA's investigations might impact them. Far too many are reliant on manual processes. Far too many are at the mercy of siloed, tactical analytics that cannot hope to solve for all of the variables across the bank or financial institution, to demonstrably set a right and fair price for each customer for each product. Far too many are struggling with siloed product, pricing and marketing functions acting independently, with differing views of the customer.
To really deliver the right offer to each customer at the right time, and not just make a proposition or pricing decision based on how they respond in one product area, requires a complete customer view, taken from all the areas that the customer touches across an organization. This requires the ability to pull in and use up-to-date customer data from all areas of an organization and to use that to identify a customer's wants and needs in a holistic manner. The answer lies in optimisation and enterprise-scale streaming and data processing technology.  As capabilities develop, machine learning and AI can be applied to further drive efficiencies in the modelling and decision execution processes.
Pricing optimisation solutions are no longer for those finance leaders just looking to be innovative. They are, with the right advice and application, the most efficient, easily executable and transparent way to respond to the amplifying call from customers and regulators to put the customer at the heart of all product, pricing, marketing and service decisions.