Debt Collection & Recovery
Automotive collections and recovery professionals are under constant pressure to do more—collect more money, be proactive (instead of reactive) when it comes to high-risk accounts, become more operationally efficient, improve customer satisfaction—all while dealing with increasing resource constraints.  
Success in this environment requires ingenuity and creativity, but it frequently precludes long-term, strategic thinking and investments. The result is a debt management operation characterized by overworked employees and comparatively immature technology and analytics.
What if you could change this dynamic by leveraging a holistic solution across the automotive collections and recovery lifecycle—a comprehensive mix of analytics, decisioning, customer (and debt) management, and customer communication capabilities that are finely tuned to solve the problems auto debt managers face every day.
What if you could do more with less? Here are three ways to build a winning digital collections strategy:
1. Optimized, Data-Driven Treatment Strategies
Common Problem: "Our collection strategies aren't preventing accounts from rolling forward. We are getting slammed with high volumes that are flowing to collections. What can we do?"
Winning Strategy: Consider an integrated strategy design and execution environment that brings advanced analytics to target accounts at a granular, sub-segment level. Tailor treatments to reduce roll-forward rates, maximize collections, and improve customer experience, while still operating within strict constraints. Create and compare multiple what-if scenarios, test and simulate offline, evaluate trade-offs between conflicting objectives, and build learning loops to continually improve portfolio performance.
2. Unified Customer (and Debt) Management
Common Problem: "We're treating all of our customers the same way and just not getting the results we need. We're spending so much time calling everyone, every day. All we're getting is frustration—from our agents and our customers."

Winning Strategy: Consider strategic customer management, where accounts are evaluated through analytics and segmented into targeted treatment groups. Constrained resources are intelligently allocated to the right customers and right accounts, enhancing collection results, agent success (and satisfaction), and customer experience.
3. Intelligent Customer Communication
Common Problem: "Our customer contact channels (both automated and live agent) aren't driving acceptable resolution rates."

Winning Strategy: Consider an intelligent communication platform that augments live agents with a mix of automated channels (auto voice, text, email, in-app notifications). This approach drives greater self-service resolution rates, while improving customer satisfaction and freeing collection agents to focus on high-priority accounts. Dynamically adjust treatment strategies based on captured customer behavior and contact preferences, and then scale and sequence those multi-channel contact strategies.
Two Auto Payments, Two Customers—Same Treatments?
Let's consider these two customer scenarios.
Customer A is late on her car payment. Data shows that she is a very good long-term customer with a solid repayment history and stable job history. The data indicates that she simply forgot her car payment this month. With a friendly text prompt, she greatly appreciates the reminder and gets back on track with payments immediately.
Customer B is current on his car payments; however, data shows that he is under financial stress and has changed addresses and mobile numbers frequently the past few months. He isn't delinquent (yet), but the data shows he may be at risk of becoming delinquent soon. With a sensitive and proactive approach, you may be able to work with this customer to help him through a rough patch and stay in his car.
Customer A is (technically) delinquent. Customer B is pre-delinquent. Should they be handled the same way? Of course not. With a scientific, analytics-driven approach, you gain deep insights into your customers and can better provide the right treatment, to the right customer, on the right channel that works best for them—before and after they become delinquent. This proactive approach improves customer experience and responsiveness, drives real business results, and empowers you to move at the speed of digital customer engagement.
A Winning (Happily Ever After) Auto Collections Story
All sounds great in theory, right? But, can a holistic approach like this actually be implemented and provide results? Glad you asked.
We recently worked with a top auto-financing organization that wanted to provide consistent customer experiences with tailored collection strategies. They wanted better adaptability, reliability, and flexibility for their early stage collections. Their existing system was inflexible, preventing them from adding the desired number of contact strategies. They struggled to finely segment their customer groups, and they needed a lot more flexibility and transparency for their business users.
Together, we partnered to build an end-to-end, customer (and debt) management solution that:
Proactively manages customers in early-stage collections
Enables scores and strategies to be built and deployed through an intuitive decision flow interface
Shows exactly how decisions are made
Provides omni-channel communications, tuned for customer preference
Optimizes collections treatment strategies, third-party placement, and overall account and case management
Offers full extensibility to meet evolving needs
With the flexible, unified solution, they are readily prepared to meet future business requirements, extend the solution as the business and regulatory landscape evolves, easily implement custom scores, strategically segment and target accounts, and (most importantly) move away from a static "one-size-fits-all" approach to collections. Bottom line: they're doing MORE with LESS.
Show Me How It (Actually) Works
The diagram below illustrates a typical process flow and sequencing throughout the Collections and Recovery lifecycle.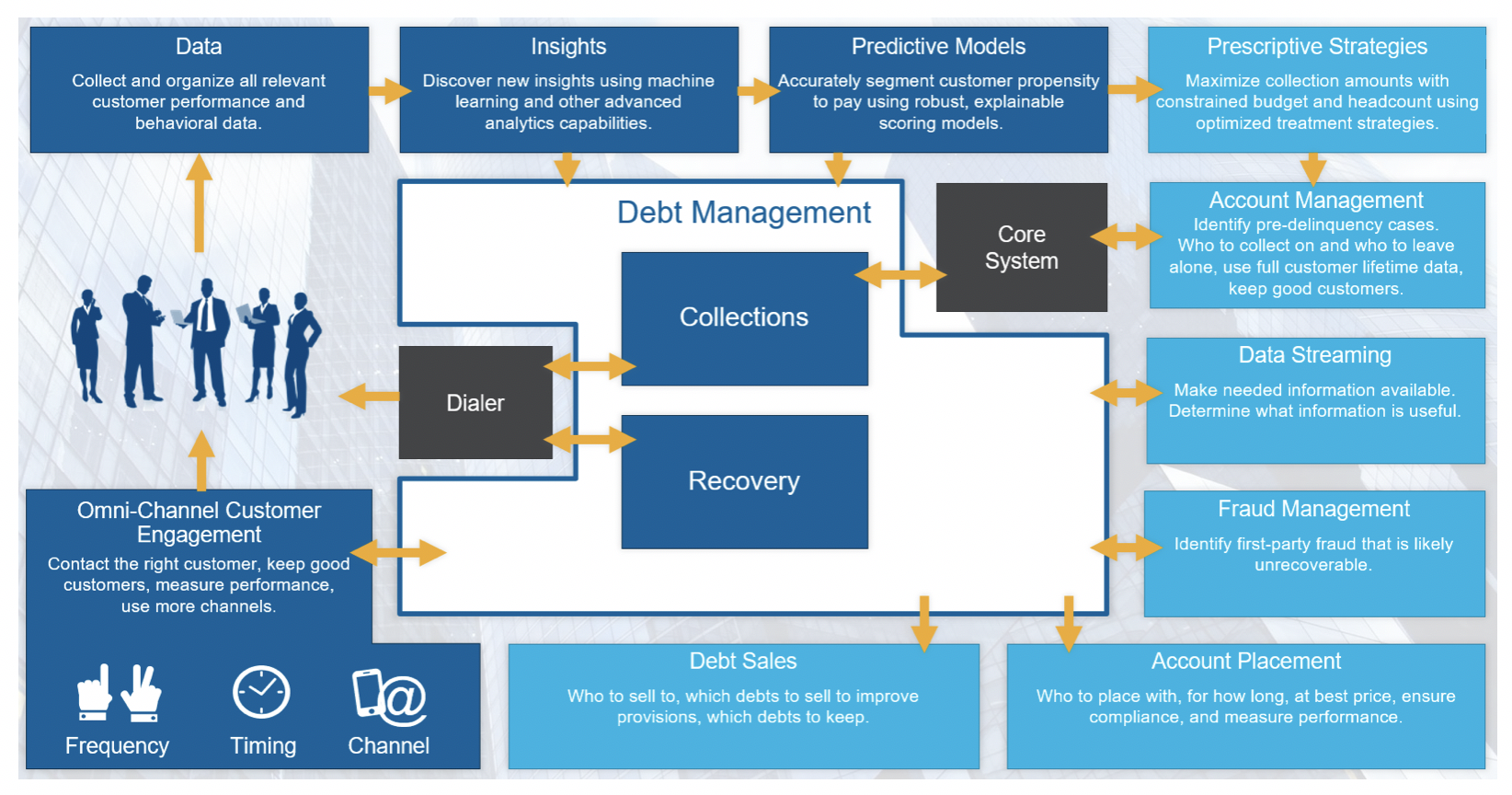 For more information about FICO's lifecycle approach to Collections and Recovery for Auto Finance, visit: https://www.fico.com/en/solutions/collections-and-recovery-for-automotive-finance. You can also register for a complimentary webinar on Oct 2 here.