In my last blog post, I shared a new FICO research study on credit trends in auto lending. One key finding highlighted that the size of auto loans has been increasing faster than inflation since the recession. So how are consumers affording these larger loans?
It's simple: consumers are ending up with longer terms for their car loans: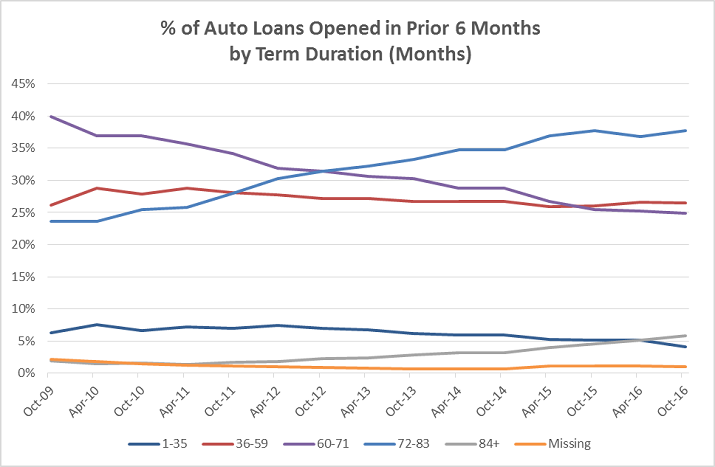 While five-year loans were the most popular length of terms in 2009, there has been a swing towards opening six-year loans since then. Seven-year loan terms—while still rare at ~5% of all new loans—seem to be increasing in popularity as well. This trend towards more six-year loans occurred across all FICO® Scores.
This shift may signal an increase in credit risk for the industry because six-year loans have historically had higher delinquency rates. However, confirming this requires some care in our analysis. The lingering effects of the recession, average age of the loan and mix of credit scores may all be shifting in ways that may hide what is really happening to delinquency rates.
Still, when we look at delinquency rates for loans booked in a single month, we find that delinquencies peak for auto loans somewhere between three and four years. This chart shows delinquency rates for accounts three to three-and-a-half years old: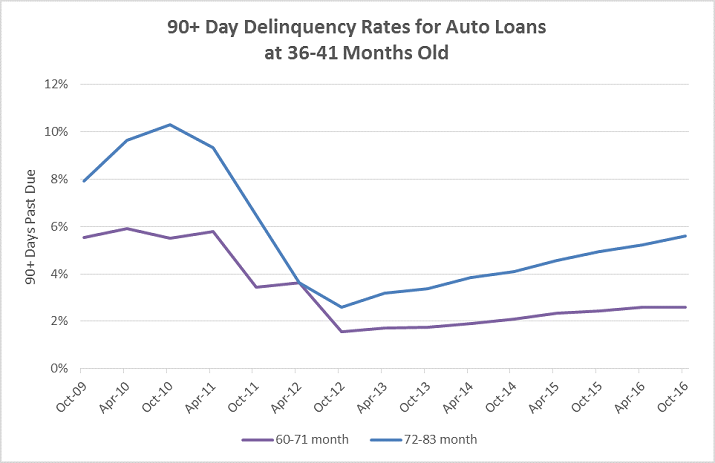 These findings suggest that not only are the six-year loans riskier, but also that these delinquency rates appear to have been more affected by the recession. Furthermore, looking at these delinquency rates by FICO® Score, we find delinquencies to be higher for six-year loans than five-year loans across the score spectrum:

While US auto lending is experiencing healthy growth, it is achieving that growth by shifting customers from five-year to six-year loans, and these loans appear to be substantively riskier. As we see delinquency rates increase and no evidence of tightened underwriting—unless lenders are accounting for this elevated risk via pricing—the profitability of these auto loans seems to be traveling toward hazardous road conditions ahead.