The data is in, and the average U.S. FICO® Score now sits at 711. This is 5 points higher than the average score just a year ago, and is likely to be viewed as a surprise result in light of the impacts that the COVID-19 pandemic has had on U.S. consumers and the global economy. 
Those surprised by this latest figure may have thought that the FICO® Score is an indicator of where the economy is headed. But in fact, there is a bit of a lag between when a major macroeconomic event occurs and when the FICO® Score reflects that event on an aggregate basis. And that's because it generally takes a few months for the effects of that event and the accompanying financial strain to start to show up in consumers' credit reports, in the form of rising balances, credit seeking behavior, and eventually for some, missed payments.  For example, during the Great Recession, the average national FICO® Score didn't hit its lowest point until late 2009, well after the recession was underway. In the case of the COVID-19 pandemic, the lag between the onset of the pandemic and when credit files begin to show the financial strain that millions of Americans are feeling is further affected by the significant steps taken by both the government (stimulus spending) and private sector (lender payment accommodations) to help consumers 'bridge the gap'.
There are a number of likely drivers behind this latest average score figure: 
Missed payments reported in the credit file are down.

As of July 2020, just 7.3% of the population had a 90+ day past due missed payment in the past 6 months.  This is down from 8.1% pre-COVID (Jan 2020). While millions of U.S consumers have lost their jobs and/or experienced disruption to their income since the onset of the pandemic, the aforementioned combination of government stimulus programs such as enhanced unemployment benefits, as well as payment accommodation programs being offered by lenders, appear to have thus far enabled many consumers to avoid falling behind on their bills.  Staying up to date on your bills can have a substantial and positive impact on your FICO® Score. In fact, it represents some 35% of the overall FICO® Score calculation.
Consumer debt levels are decreasing. Whether due to reined in spending in the face of the economic uncertainty wrought by the pandemic, or simply due to having fewer opportunities for spending on discretionary items such as restaurant, retail, and travel, consumer debt levels during the pandemic are down substantially. As of July 2020, U.S. consumers had on average $6,004 in credit card debt, down from an average of $6,934 back in January 2020.  A reduction in amounts owed (30% of the FICO® Score calculation), and in particular, the amount of credit card limits being used, can yield measurable gains in a consumer's FICO® Score.

The FICO® Score doesn't negatively consider forbearance/deferment agreements.

Accounts reported as "current" with credit reporting codes related to forbearance or deferment, or that the consumer has been 'affected by disaster', will not cause the FICO® Score to drop.  This should be welcome news to the millions of consumers holding accounts that have been reported in some form of payment accommodation since the onset of the pandemic.  In fact, placing a consumer in forbearance or deferment, along with reporting the account status as "current" instead of as "delinquent", will permanently ensure that their FICO® Score won't be impacted by late payments related to the effects of the COVID-19 pandemic.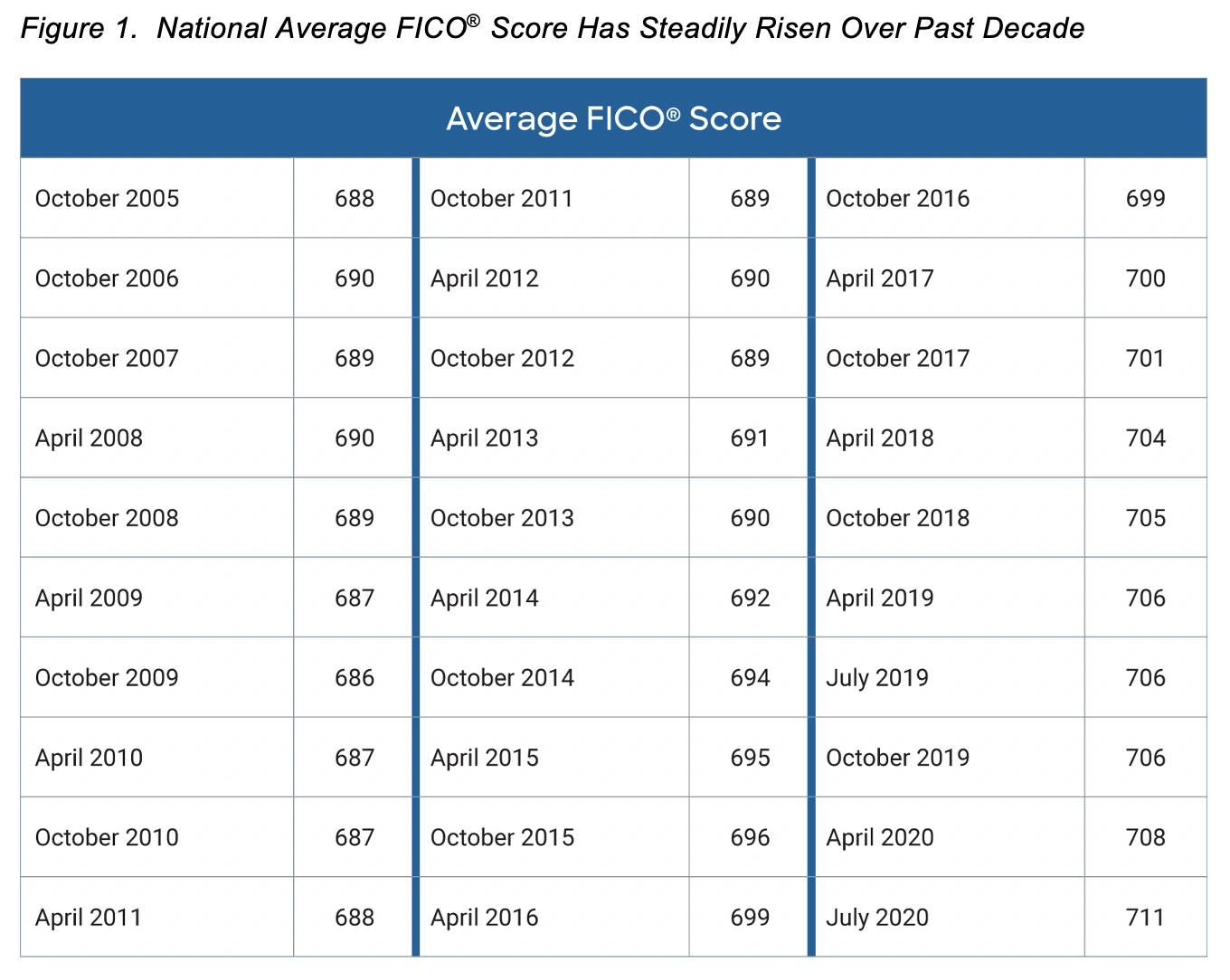 So where does the average FICO® Score go from here? There are a number of factors that will answer that question: What is the shape of this downturn and subsequent recovery going to look like? What will be the effects of any new government stimulus package?  Will it enable consumers who experienced job loss and/or income disruption due to COVID-19 to weather the storm until the job market has largely recovered?  The answers to these questions are still unfolding, and will be a major driver of the direction and magnitude of any shift in the average U.S. FICO® Score over the coming months.
For more insights, FICO will be presenting a webinar on November 11th - Emerging Consumer Credit Risk Trends and Insights in the Time of a Pandemic: What is Similar and What is Different from Prior Downturns? To learn more, register here: https://events.fico.com/taking-control/agenda/session/398660.