In July 2017, I wrote about the average U.S. FICO® Score hitting a milestone of 700, indicating that consumer credit and financial health continue to be strong. The momentum has continued, as the average FICO Score has risen again. For the first time, the average FICO Score in the U.S. has reached 704, showing a steady upward trend in U.S. credit quality.
Since bottoming out at a score of 686 in October 2009, we have seen eight consecutive years of increases in the national average FICO Score.
Figure 1 - National Average FICO® Score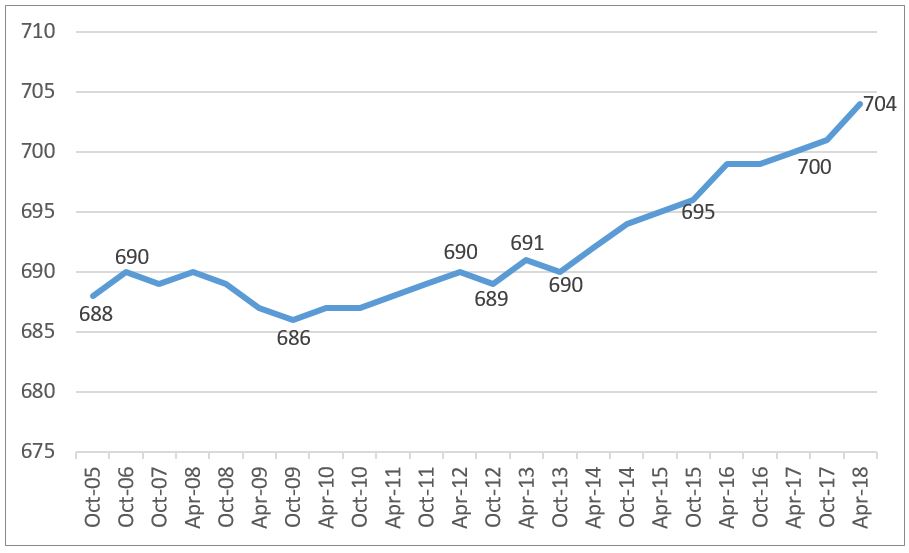 Source: FICO Blog
What does this rise in score mean? Let's take a look behind the number.
All Age Groups Rose
We also examined the shift in average FICO® Score between April 2017 and April 2018 by age band, to determine if the upward shift was more or less pronounced in certain age groups.  While older people score higher in general than younger people, the average FICO Score shifted upwards to the tune of a consistent 4-5 points across all age groups.

Source: FICO Blog
Fewer People Score Poorly
The score distribution below shows that the increase in the average FICO® Score is largely attributable to fewer consumers scoring in the lowest score ranges (e.g. < 550), and greater numbers of consumers scoring in the very high super-prime score ranges (800+). But there are other factors to consider as well in assessing the trend of the average credit profile of U.S. consumers.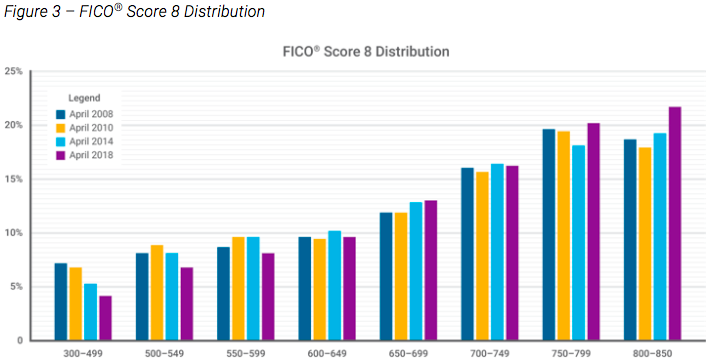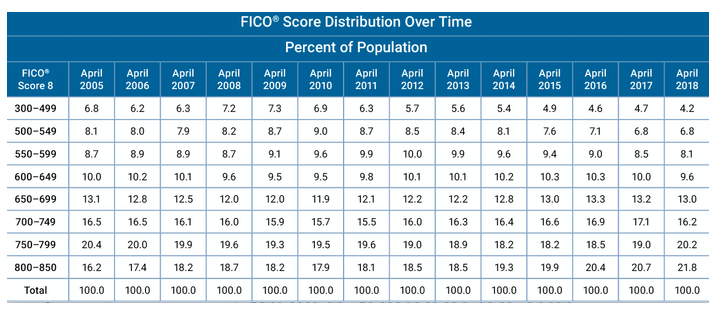 Source: FICO Blog
Fewer Profiles Have Negative Blemishes
We have noted that 23% of consumers have one or more collection agency accounts on file as of April 2018, down from 25.8% in 2017. Since payment history comprises roughly 35% of the overall FICO® Score calculation, this continued reduction in derogatory indicators on file is a clear contributor to the ongoing upswing in the FICO Score distribution. The Fed recently highlighted that consumer credit scores in the lower score ranges may be benefitting from NCAP-related efforts by the Credit Reporting Agencies to refine practices related to the reporting of collections on consumer files.

Source: FICO Blog
People Are Seeking Credit Responsibly
The percentage of the population with one or more "hard" inquiries (those posted to the file as a result of a consumer-initiated search for credit) hit a four year low of 42.2%. While not a strong driver of the FICO® Score, having a greater number of inquiries on file has been shown to be an indicator of increased repayment risk, and is factored into the score calculation.

Source: FICO Blog
Consumer Education Is Helping
Another potential driver of the continued increase in the national average FICO® Score could be increasing consumer education and awareness about their FICO Score. Research conducted by FICO and Sallie Mae in February 2018 found that consumers who frequently check their FICO Scores make better financial decisions and are more likely to have higher credit scores.
FICO continues to focus on consumer financial education, transparency and empowerment through our Financial Inclusion Initiative. Through programs like FICO® Score Open Access , we work with financial institutions to provide more than 250 million consumer accounts with free access to their FICO Score. We also recently launched FICO® Score Planner to help lenders and resellers to enable consumers to set a target FICO Score goal, desired time duration to reach their goal, and personalized potential actions consumers could take to help reach their target goal.
What's Next? Maintaining Positive Consumer Credit Behavior
While the overall average FICO® Score has increased, the delinquency rates for certain products, bankcards in particular, have begun to increase. This is an area FICO will continue to monitor and analyze.
Figure 6 - Delinquencies Rise on Bankcards

Source: FICO Blog
To better manage their financial health, it is helpful for credit active consumers to keep three things in mind: pay bills on time, reduce amounts owed, and apply for new credit only as needed. To learn more about the five factors that make up the FICO Score, and review educational tools and resources related to the FICO Score, go to myFICO.com.