In our latest quarterly survey of North American bank risk managers, we asked about the widening wealth gap. I was a bit surprised by the intensity of the response. More than six in ten (62%) respondents agreed "the wealth gap poses a growing risk to the financial system."
Only 14% of respondents disagreed.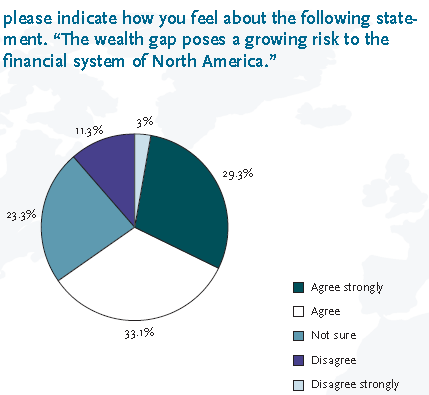 I think this is a case of bank risk managers putting on their "ordinary citizen" caps. This issue has received a great deal of attention lately, and we are all becoming more attuned to it. Bank risk managers notice when the pool of people who are thriving is squeezed. They are acutely aware of the long-term implications of this trend for an economy that is driven by consumer activity.
However, despite the concern about the wealth gap, there was some positive news in our survey results. For the first time in four years, a sizeable majority (59%) of respondents expected student loan delinquencies to level off or decrease over the next six months. This is the least pessimistic sentiment regarding student loans in the survey's history.
Time will tell if this quarter was an aberration, or if concern about student lending has truly peaked. Some lenders may simply feel things can't get any worse. Others may genuinely believe we've turned a corner regarding student loans.
In this edition of the survey, we also asked what bank risk managers felt were the biggest threats to consumer credit health. The most common concern was "under-employment and/or unemployment" (41%) while 22% cited "increasing consumer indebtedness." The third and fourth most common concerns were "a sudden shock to the financial system" (16%) and "rising interest rates" (12%). Some 8% of those surveyed said a "weakening of the housing market."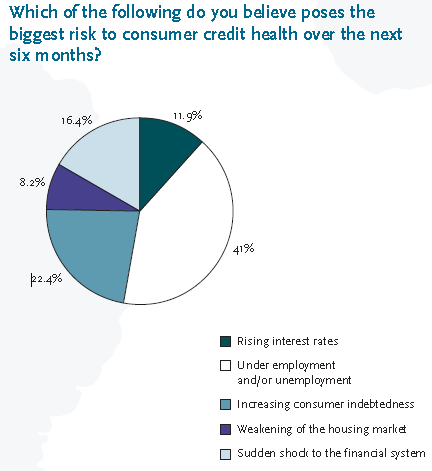 To view all survey responses, I invite you to download the full report. It's interesting that after 55 consecutive months of job growth (our longest streak ever) and more than 10 million jobs created in the US, there is still a very clear feeling of uncertainty about the state of the economy. The scars left by the recession are deep. I interpret our survey results as strong evidence that psychology is playing as big a role as empirical data in shaping perceptions about the economy.