We've been blogging about how financial institutions are struggling to implement many critical best practices around model management and capital adequacy, including many practices mandated by regulators. This is exemplified by a recent survey of global FIs, which we conducted with Chartis.
In many best practice areas, larger institutions are at the vanguard, perhaps because they are under greater regulatory scrutiny. However, these larger institutions still have major issues to address, and smaller FIs should anticipate that greater scrutiny is on its way.
Comparison of larger and smaller FIs in best practice areas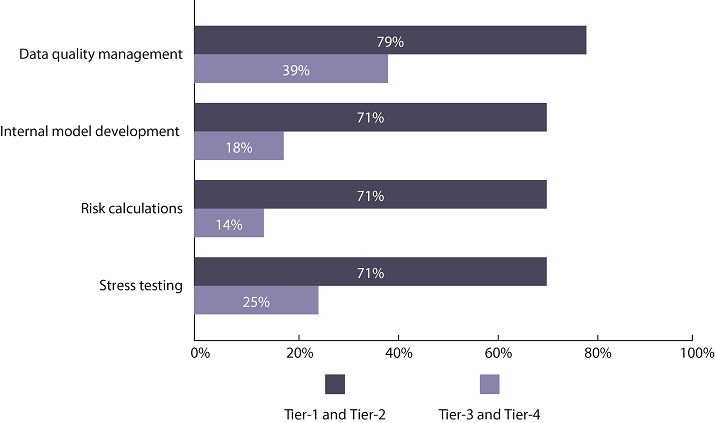 Source: Chartis Research 2015
Among the numerous challenges reported by survey participants, data quality issues still plague many institutions. Our survey found that approaches to data quality varied across organizational type. Generally, Tier 1 institutions delegated the responsibility to individual business lines, whereas smaller institutions have greater centralization of responsibility around data quality and data strategy. Leaders are addressing data management at the C-suite level. Both FICO and Chartis anticipate the prevalence of the Chief Data Officer (CDO) role will grow among Tier 1 & 2 FIs.
Regulatory reporting and stress testing remain a reactive exercise and largely compliance-driven across all institutions. As discussed in a prior post, most FIs are not yet embedding the results of stress testing into their business planning and risk management policies—but they should be. Establishing clear linkages between risk appetite, business planning and stress testing will allow firms to prepare for both regulatory and market-based impacts with efficient capital allocation. For example, FICO has worked with clients to create macro-economically adjusted scores for use in origination. This helps ensure that stress requirements have an operational effect on the decision process and clearly contribute to a more prudent risk assessment on an applicant's ability to pay, depending on financial climate.
We've also blogged about how survey responses highlighted critical regulatory gaps in model risk management processes for model validations and independent audits. Firms will need to address these gaps—not only to prove to regulators that their models are fit for purpose, but to improve business intelligence and reduce duplication of effort.
Overall, our survey findings demonstrate that, despite significant investment by FIs, there is much room for improvement. FIs should ensure they are adopting best practices, including:
Implementing processes, benchmarks and systems to integrate regulatory compliance activities with risk management and business planning in order to derive operational efficiencies.
Separately managing the development and internal/external validation of models to ensure effective controls, decisions and accuracy of reports.
Enabling clear enterprise communication down from the Board of Directors and between key stakeholders in the risk function, business lines and internal audit.
For full survey results and additional best practice recommendations, download the report:
Leading Practices in Capital Adequacy
.
Thanks to my colleague Campbell Scott for co-authoring this post with me.