Fraud Protection & Compliance
Individuals are using their own identities to purchase phones and other equipment, with the intent of never paying.  Techniques for thwarting identity theft are ineffective at predicting fraudsters that want to game the system in their own name.  This type of fraud is known as subscription fraud or first party fraud, where a consumer is opening an account for a subscription service (e.g., cell phone service).  This type of fraud can constitute 10-20% of the bad debt.
 In this blog post I will look at:
The growing problem of subscription fraud
Why it's growing
How organizations can fight back against first-party fraudsters 
According to the latest 2019 Communications Fraud Control Association (CFCA) statistics, subscription fraud remains a top problem.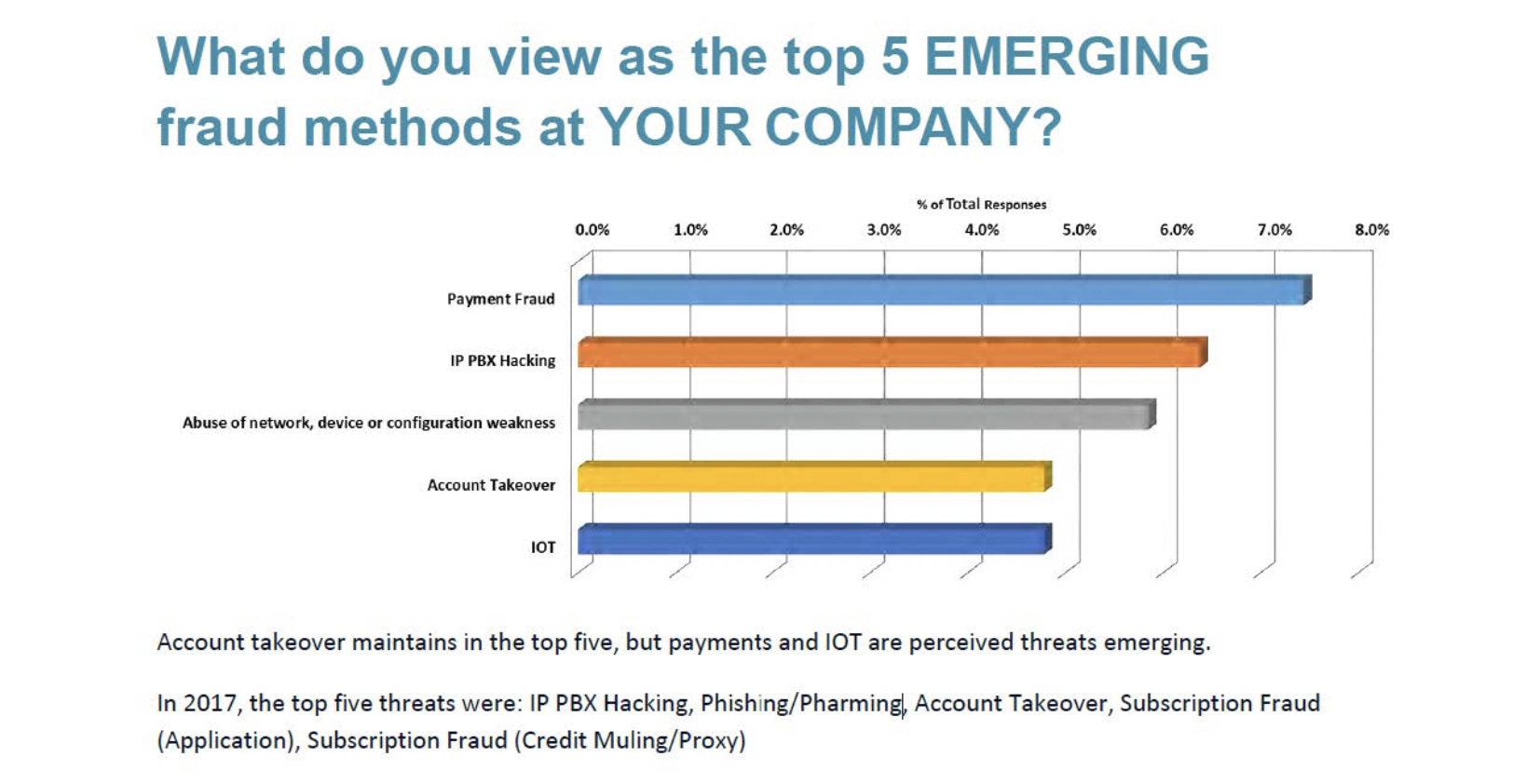 Part of the challenge with subscription fraud, is being able to accurately determine what caused the loss.  Let's compare two consumers with similar credits scores to better understand subscription fraud.
Person A, with a prime credit score, has financed more equipment and services than they could afford.  The Collections department might be able to help this consumer get back on good terms.  This is not subscription fraud.
Person B, with a similar credit score, might have financed the same package with no intention of ever paying.  In this case, the Collections department has no hope of collecting from this consumer.  Person B is committing subscription fraud.
In other cases, a sophisticated fraud ring might target financially strapped students, and influence them to purchase phones and equipment, for resale through the fraud ring.  This is also subscription fraud.
Subscription fraud is sinister as it is difficult to predict consumers who plan to intentionally defraud the service provider in their own name   When non-payment occurs, is it because the consumer credit score did not effectively predict risk?  Was it intentional fraud?  Is there still an opportunity to work with the consumer to collect payment? 
These questions require the Credit, Fraud and Collection teams to work together to better define the problem, predict this risk and prevent future losses.  When subscription fraud is not properly identified and addressed, the problem grows.
So how can organizations better take on and beat subscription fraud?  Here are 4 best practices to fight subscription fraud.
1. Build domain expertise across Credit, Fraud and Collections
Start with a First Party Fraud (FPF) exposure assessment undertaken by reviewing across products, services and channels, identifying ownership & size of the FPF problem by department.  Ensure everybody is on the same page with regards to definitions of fraud.
Define fraud across all first party fraud categories including uncleared effects, true name, intent never to pay, credit mule, employee collusion and synthetics.
2. Deploy the latest analytics for identifying FPF
Look beyond exact matching rules and values to detect income and demographic manipulation by applicants.
Deploy advanced techniques like Fuzzy Matching Rules.  Specifically look for recycled PII and manipulation of demographics (e.g. income statements).  This is critical to identifying velocity, anomalies, and inconsistencies.
Use Machine-learning FPF models specifically targeting FPF types and behaviors.
Network Analytics (SNA) provides proactive link analysis to build connected fraud rings metadata for decisioning and models (e.g.: #f applications in fraud ring, velocity of applications, # connections to other 1st party fraud cases, and homogeneity of linking features.
3. Operationalize the solution
Analytics are only as effective as your ability to operationalize them.  Deploy more effective FPF solutions that better target subscription fraud:
The balance between fraud management and sales is optimized to improve the timing of revenue
Empower the fraud management team to dynamically change strategies
Analytically identify fraud attacks by channel, region, and product in real-time
Reports, dashboards and heatmaps of FPF impact, and clusters/networks showing fraud losses and operational efforts
4. Implement full customer lifecycle monitoring
Use prebuilt real-time workflow integration with acquisition ecosystems that bridges silos by integrating with downstream risk and fraud solutions to add protection across the customer lifecycle
Operationalize FPF scores downstream in both fraud and risk strategies (e.g. segmentation of credit line increase offers, cross-product marketing offers, payment clearance cycle strategies, collections etc. for loss mitigation, and identifying and quickly exiting FP fraudsters 
Enterprise data orchestration to orchestrate internal, FICO, and 3rd party data and scores for decisioning whether automated or manually initiated. Enterprise level decisioning across all products or channels for FPF detection
Ready to learn more?  FICO and the Communications Fraud Control Association (CFCA) held a webinar to discuss the latest trends, challenges and solutions in Telecom fraud. FICO also presented best practices in fighting subscription fraud. You can access a recording of the webinar here.