Customers Prefer Easy & Safe
FICO's 2022 Fraud and Customer Experience survey uncovered important insights about what FIs' customers value most, particularly when opening new financial accounts or applying for loans. Only 6% of customers rate "good customer service" as their primary consideration, but 34% and 32% respectively rate "ease of use" and "good fraud protection" as their top factors when choosing a financial institution. When we look at top three considerations, there are more people (74%) that include fraud protection as a top three consideration compared to any other consideration.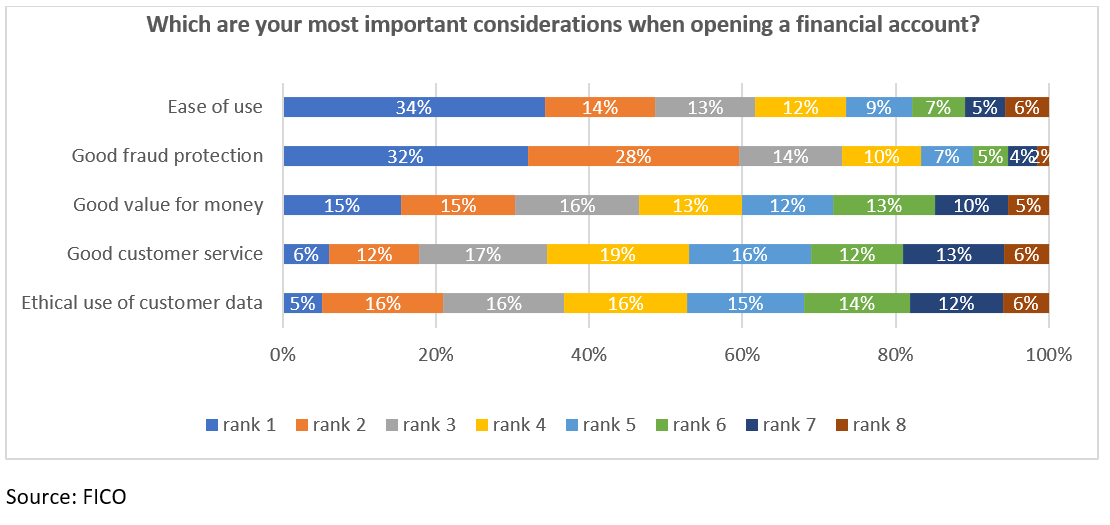 Typically, the challenge for FIs has been the natural opposition of ease of use and good fraud protection and account security. While many FIs have worked to streamline digital banking experiences, they have constantly had to add friction back into processes to prevent fraudster tactics, like SIM swaps, account takeover, and impersonation scams.
Customers Resist Friction
Our survey data shows, that even a little too much friction in the process, especially relating to identity checks, dissuades many customers from completing an originations process. Customers may realize that while identity checks protect a FI and the victims of identity theft, for the individual customer the benefit is limited – they know who they are, having to prove it to the FI is simply a mandatory task. However, this aversion to badly thought-out identity checks extends to use of existing accounts. While the aim here is to protect the customer from account takeover, 24% to 30% of customers (see chart) say they have reduced their use of a product, such as a credit card, bank account or savings account, because the identity checks required to use it were too complex.
For an FI that's adding 2 million digital customers per year, a 30% quit rate can translate into hundreds of thousands of customer engagement and revenue growth opportunities lost to anti-fraud processes that compromise customer experience.

Customers Prefer Biometric Security
One logical solution for FIs is to leverage biometric authentication above verification using personal information to help strike a balance between ease of use and security. Most customers are accustomed to methods that are easy, but not very secure, evidenced by the 70% of customers worldwide who like or strongly prefer SMS-based passcodes, despite the known security risks of these transactions (see chart).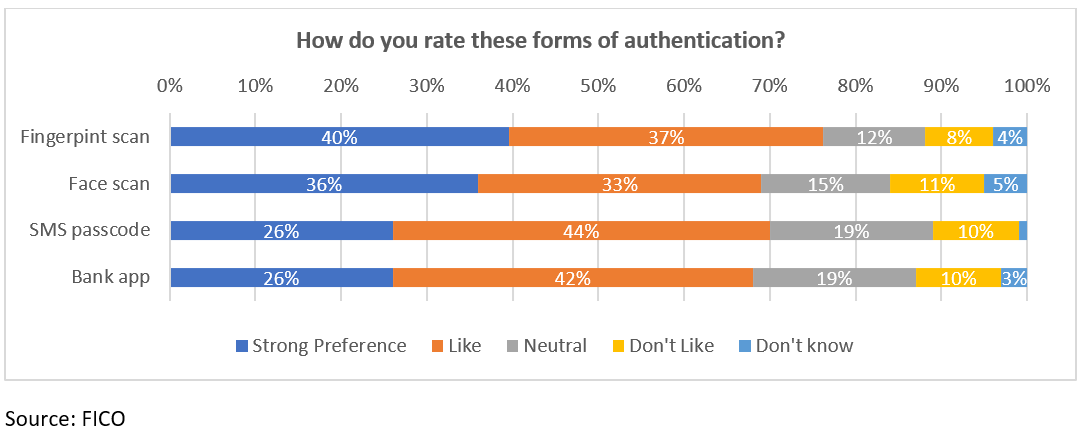 Fortunately, 40% of customers now strongly prefer fingerprint scans and 36% prefer face scans (see chart) when authenticating their identities. Overall, more than 77% of customers worldwide either like or strongly prefer fingerprint scanning biometrics for authentication. And more than 80% of customers worldwide rate fingerprint biometrics excellent or good for providing security and preventing fraud.
Authenticate at the Right Time
Just because biometric-based checks can be easier for customers to use than codes or passwords does not mean FIs can overuse them. Authentication checks, by any means, should be deployed around crucial points in a customer journey but also calibrated sensibly to adjust to scenarios. For example, while a transfer of $50 from a bank account to an existing payee may not require a biometric authentication test, a transfer of $5,000 to a newly added payee probably should.
Applying this sort of situational logic to customer journeys in how authentication checks, be they biometrics or personal information, are deployed helps FIs create customer experiences that are frictionless enough to keep customers engaged, but secure enough to protect customers while feeling confident in their provider.
This blog covers the results of the survey across all 14 countries surveyed. To understand the results from the individual countries there are e-books for:
The United Kingdom
South Africa
Germany
Indonesia
Philippines
Thailand
Malaysia
Brazil
Peru
Colombia
Mexico
USA
Canada
How FICO Can Help You Fight Application Fraud