Banking and insurance companies have a customer experience problem: despite spending hundreds of millions of dollars trying to optimize their clients' customer experiences through digital transformation – spending that totaled more than $1.3 trillion across all industries in recent years – less than a third of them have succeeded in creating the types of customer service solutions and innovations that are critical to boosting client satisfaction and retention.
Study after study proves the value of positive client experience, offering us insight into what solutions and new technologies will make tangible difference to customers.  For example, according to the PWC global research report, "Experience is everything: Here's how to get it right,"
One in three consumers (32%) say they will walk away from a brand they love after just one bad experience and 59% after several bad experiences.  
73% of all people point to customer experience as an important factor in their purchasing decisions. Yet only 49% of U.S. consumers say companies provide a good customer experience today  63% of consumers said they would be amenable to sharing more of their personal data, if it would result in a more personalized, beneficial user experience.  
Moreover, Forbes reports that consumers are significantly more likely to share news of a positive customer experience (49%) than a negative one (30%) on social channels, meaning that getting it right increases the odds of helping clients become advocates for your company.
No brilliant strategy and/or clever marketing campaign can offset the damage done with an unsatisfactory customer experience; there are just too many traditional and digital alternatives for banking and insurance clients to remain loyal to an organization who they think doesn't appreciate them.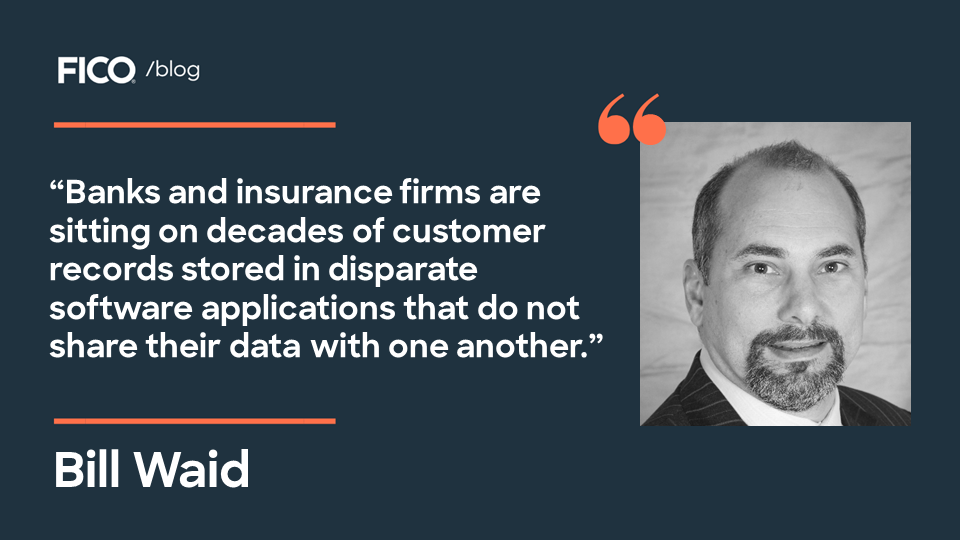 Think Long-Term, but Act Immediately
The financial cost of losing a customer due to inadequate customer experiences or poor customer service is staggering on an aggregate basis.  According to the 2020 U.S. census, the average American earns about $65,000 per year, or approximately $2.6 million over their working lifetimes; double that for individuals with higher education and more lucrative occupations.
According to census, real estate, and banking data, the average person:
Moves 11.4 times in their lifetime, and purchases 3.5 to 4.5 homes… 64.8% of them purchased using a mortgage. On average, they pay $95,000 in homeowners insurance over their home-owning lifetimes.
Purchases 9.4 automobiles, 35% of them with a car loan. And they pay about $94,000 for auto insurance over their driving lifetime.
Uses 2.08 credit cards for 27% of all transactions with average credit card debt of $3352.
Borrows for education 55% of the time, at an average of $37,200.
Examined over the course of time, losing a single customer can have huge lifetime-value (LTV) implications; losing them in droves is catastrophic. When you consider that client defections in both banking and insurance are at all-time highs, and the cost of acquiring a new customer is five times the cost of retaining existing customers, the need for smarter solutions, improved customer service, optimal customer experiences – all rooted in data analytics – is imperative.
Bringing Your Data to Bear
Traditional financial services and insurance firms are sitting on decades of valuable customer records that are typically stored in disparate software applications that do not share their data with one another.  As a result, banking and insurance firms cannot rely on their data and analytics to accurately foresee impending customer needs; thus, they miss out on valuable strategy and marketing opportunities to cross-sell and up-sell their financial products to customers… even though those customers will actually need those very products at some point in their financial lives. 
Without cross-enterprise intelligence, the personalization, timing, and delivery of offers becomes hit-or-miss… and thus, an expensive, unpredictable, marketing-driven drag on efficiency ratio. Customer centricity involves using a software platform to unify all available information over a customer's lifecycle – their bank accounts, mortgages, auto loans, credit card usage, etc. – and making it interoperable around the customer. With this complete, 360-degree view, it becomes possible to automate the creation of high-precision, highly personalized customer experiences that dramatically improve customer satisfaction, retention, and lifetime share-of-wallet. These targeted client strategies and marketing programs not only become predictive, they become preemptive… striking at the precise moment the customer is ripe for action.
Getting Started
Delivering these levels of data- and analytics-driven customer experiences, and winning over the hearts and wallets of clients, takes five important steps:
Unify and mobilize the enterprise: Implement a scalable decision platform across the enterprise to optimize and monetize the use of people, data and analytics. By leveraging all available information, this connects-the-dots and fills-in-the-holes in decisioning requirements to ensure better decisions at every point of customer actions across the lifecycle, iteratively improving over time. 
Leverage business users' domain expertise: Disruptive companies are bringing the heat of the marketplace into their planning by encouraging and empowering business users to create and manage the strategies, rules and analytics that drive decisions and actions – without IT oversight. This tandem approach combines the "book smarts" of the technology organization with the "street smarts" of business users, to swiftly respond to shifts in business scenarios and enable companies to build and test a wider range of scenarios faster than ever before, fostering a market-driven approach to ensure more prosperous outcomes.
Optimize and maximize reusable knowledge assets: This enables companies to leverage, and re-use connected decision assets to improve decisions across the enterprise and across the customer lifecycle. This gives companies the ability to create customized, targeted decisioning strategies that are consistent, transparent, explainable and expandable as needed over time.
Simulate and optimize strategies before they are put into production: This provides highly accurate predictions about programs' prospects for success, giving companies the highest possible degree of certainty that programs will perform as desired when launched. By iteratively simulating, fine-tuning, and perfecting strategies prior to launch, companies ensure optimal, predictable results, to maximize success rate and ROI.
Ensure automated, seamless, personalized customer experiences: Armed with both business savvy and technical precision, hyper-personalization enables companies to offer customers consistent, tailored experiences that are reached by, and infused with, customer intelligence. By creating personalized customer strategies, companies can more accurately predict and effectively serve their clients' immediate and future needs, paving the way for cross-selling and up-selling. This is the key to raising short-term customer satisfaction and loyalty, as well and long-term customer retention and share-of-wallet.
These sound like formidable challenges, especially considering that only a third of companies succeed in accomplishing their digital transformation and customer experience goals. But FICO is a recognized leader in helping companies beat the odds, and enjoy success that others find so elusive.  Example of these industry-leading customer experiences can be found on the FICO webpage, "Digital Jane."
 
See How FICO Can Help You Improve Your Customer Centricity