FICO releases quarterly Canada Bankcard Industry Benchmarking trends. Previously, these were published on the FICO Community, but going forward they will be published on the FICO.com blog. To catch up on the last quarter Canadian market trends, click here. Looking for a different market? We also feature US and UK industry trends.
FICO® Advisors regularly monitor in-depth data reported by Canada's leading credit card issuers. These credit card performance figures represent a national sample of approximately 38 million consumer accounts from FICO client reports generated by the FICO® TRIAD® Customer Manager and Adaptive Control System solutions.
Canada continues to see credit cards as a popular choice for everyday purchases.
In Canada, the unemployment rate in March fell 0.2% points to 5.3%, lowest on record since 1976. The labor market continues to show robust recovery from the pandemic.

Annual inflation rate in Canada rose to 6.8% in April 2022, the highest since January 1991. Consumers continue to feel the squeeze as prices rose in all major market categories. These market pressures are further exacerbated by the Russian invasion of Ukraine as it continues to impact the prices of energy and commodities. The government of Canada raised its target for overnight rate to 50 bps to 1 % on April 13th, 2022. Further rate hikes are expected as Canada's government tries to combat inflation.
Rising cost of goods and rising interest rates will have an impact on the portfolio population who are at risk. For example, the interest rate hike will have an impact on the mortgage payments, and some consumers might face financial hardship or financial squeeze. These events will slow down global economic recovery and will put pressure on all aspects of the credit life cycle for issuers and lenders.
Evaluation of performance trends reveal that average spend is at pre-pandemic levels, payment rates continue to stabilize, and delinquency levels are rising. Credit cards continue to be popular choice for consumers to shop for everyday purchases. 
Spend, utilization, and payments
Canada continues to see stable bankcard utilization rates in March 2022.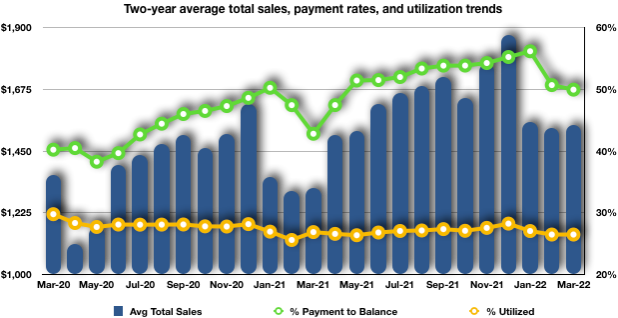 Average total monthly sales increased to $1,546 in March 2022, 17.5 % higher
year-over-year. The average total sales in December 2021 were at a two-year high point. The low unemployment rate, robust economic recovery, along with ease of travel restrictions may have contributed to this increase in transactions and consumer spending.
The overall payments trends show the rate is down 1.5% M/M to 49.9% and an impressive 16.7% higher Y/Y. The highest payment rate over the last two years was observed in January 2022 at 56.16%. As Canadian consumers continue to use their credit cards over debit cards for everyday purchases, and the revolve rate on credit card increases, we expect credit card payments rates to decline further in 2022.
The overall Canadian bankcard utilization rate in March 2022 was 26.4%, stable M/M, and 1.5% lower from a year ago.
Delinquency
Canadian market sees a rise both M/M and Y/Y on delinquency rates.
1-cycle account and balance rates posted an increase to 6.1% and 8.3% respectively, translating into M/M increases of 11.2% (#) and 9.2% ($). From a Y/Y view, the 1-cycle rates were up 3.7% for both (#) and ($). The 2-cycle unit rate increased to 0.9% and 2-cycle balance rate increased to 1.1%. from a Y/Y view, the 2-cycle rates are up 8.0% (#) and 2.2% ($) respectively.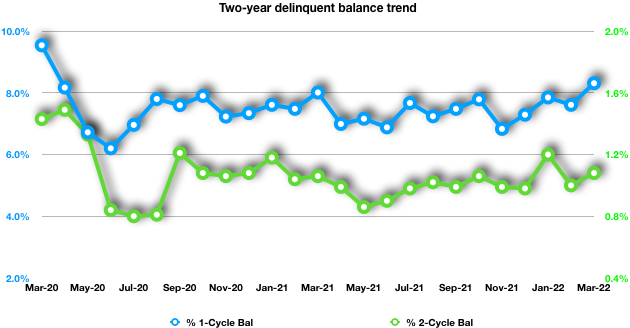 These metrics give a high-level overview of the credit card industry in Canada. We recommend that issuers closely monitor their portfolio metrics and look for indicators that may point towards a shift in consumer behavior. As the credit industry landscape continues to change, this is a great time to revisit your customer engagement strategy and reach these customers in a timely fashion through digital channels. If COVID-19 has taught us anything, it's the importance of digital communication channels in the 21st century. The more digital tools an organization invested in before the pandemic, the better equipped they were to proactively reach out to customers in March and offset the number of calls they received. This allowed them to not only allocate customers, but also capture important data that could be applied to later decisions.
The above consumer and market information was compiled by FICO Advisors, the business and strategy consulting arm of FICO. Our financial services lifecycle risk management practice has more than 300 combined years of experience spanning all phases of credit, banking, fraud prevention, and collections across six continents.

If you have any questions about the results or methodology, please contact Amir Sikander. If you haven't already, consider subscribing to our Customer Credit Lifecycle Blog to be notified about new and exciting content on this topic.