The FICO Blog releases quarterly Canadian Bankcard Industry Benchmarking trends. To catch up on the last quarter click here.
On July 13th, 2022, Bank of Canada raised its target overnight rate to 2.5%, an increase of an entire percentage point. This is the strongest rate hike since 1998. Bank of Canada is expected to raise the interest rates to further mitigate spending and curb rising inflation across the Canadian economy. 
Consumer inflation in June 2022 is up 8.1% YoY. This is the largest yearly increase in inflation seen since January 1983. The inflation increase in June was primarily due to gas prices, however, price increase was noticed across market with seven out of eight major components increasing by 3% or more.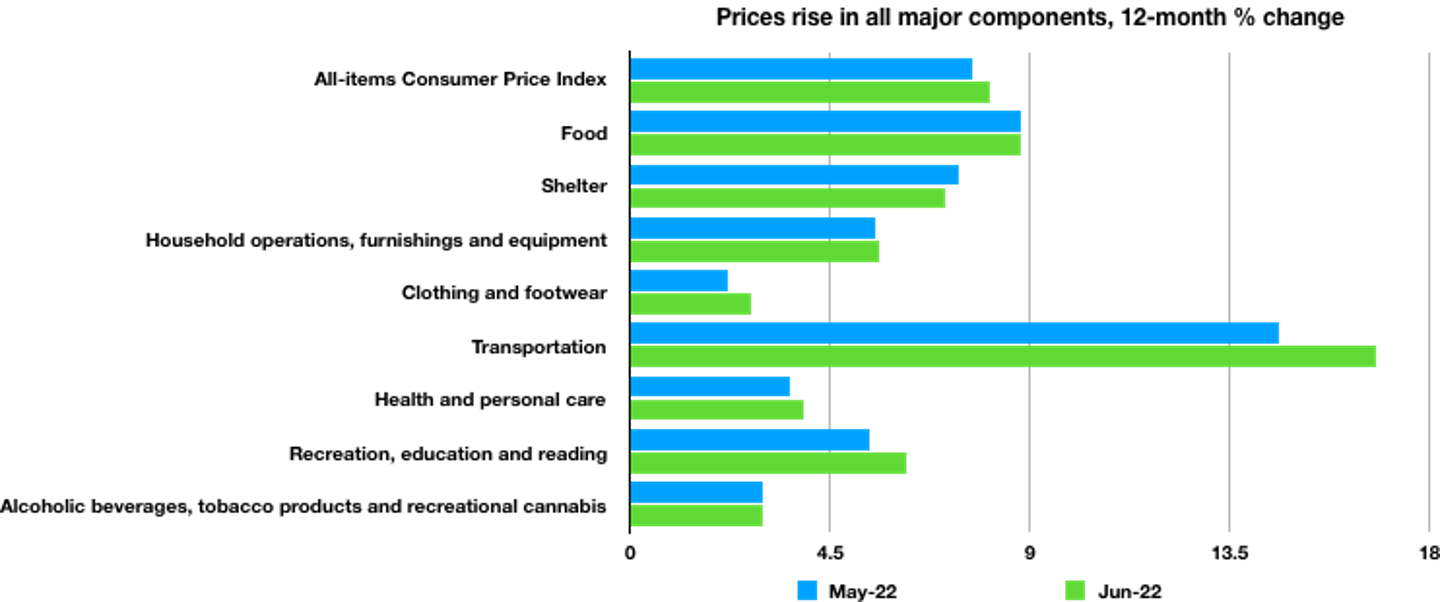 The unemployment rate in Canada in July 2022 remained unchanged from June 2022 at 4.9%. this is the lowest unemployment rate on record in Canada.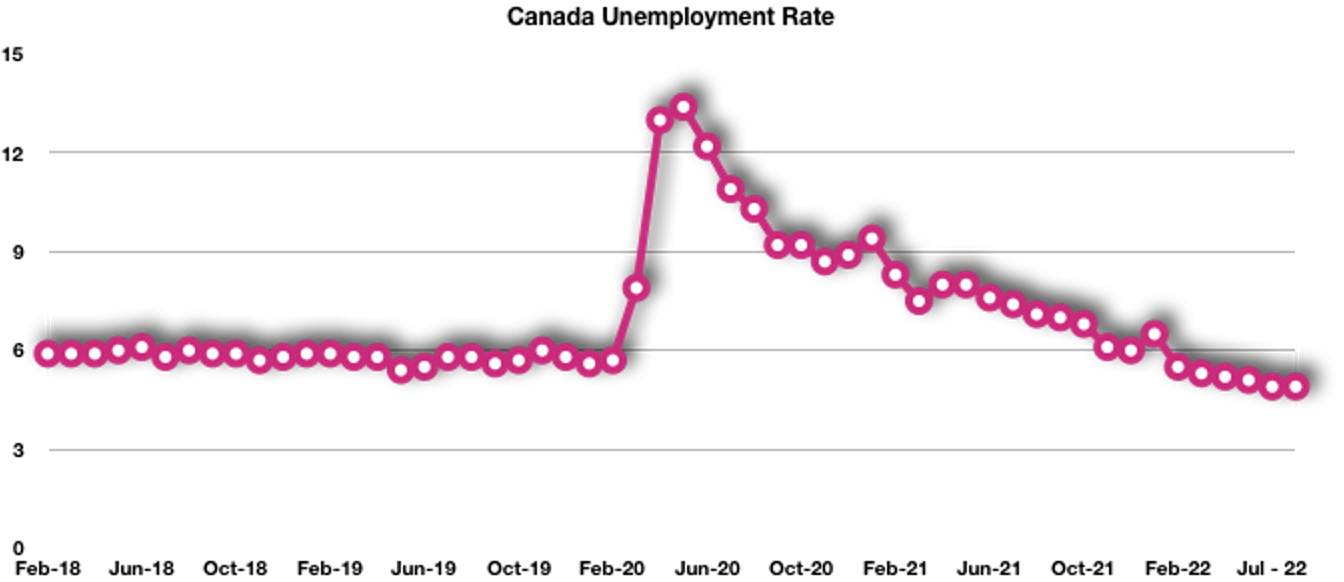 Real gross domestic product in Canada grew 0.8% in Q1 2022, driven by increased business investment and household consumption. The GDP growth slowed compared to the previous two quarters, primarily due to drops in export volumes. Household consumer spending rose for a third consecutive quarter, up 0.8% from the previous quarter.
Evaluation of financial performance trends reveal that average spend in Canada is higher than pre-pandemic levels, but credit card payment rates have kept average balances and utilization rates steady, and delinquency levels continue to stabilize. Credit cards continue to be a popular choice for consumers to shop for everyday transactions. 
Credit Card Spend, Utilization, and Payments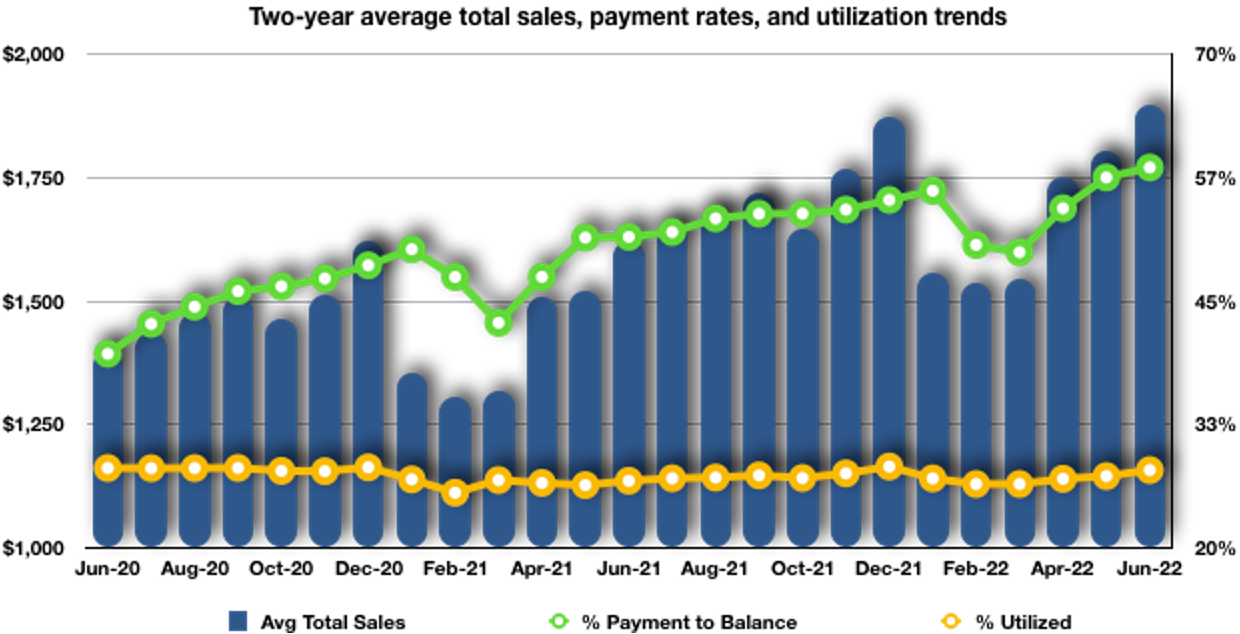 Canadian average total monthly sales increased to $1,898 in June 2022, 17.1 % higher Y/Y. The average total sales in June 2022 are at a two-year high point. The low unemployment rate, robust economic recovery, and easing of travel restrictions may have contributed to this increase in consumer spending across the economy.
The Canadian overall credit card payment rate is up 1.8% M/M to 58.5% and an impressive 13.7% higher Y/Y.
This is the highest payment rate observed in the last two years. The average active balance at $2,938 is 2.3% higher M/M and 2.6% higher Y/Y – however, average active balance continues to trend lower than pre-pandemic levels. Household consumer spending continues to be strong and credit cards spend and transactions are higher than pre-pandemic levels, but higher payment rates are keeping average active balances and average card utilization rates steady.
Credit Card Delinquency
1-cycle account and balance rates decreased to 5.4% and 7.1% respectively, translating into M/M decreases of 4.1% (#) and 4.9% ($). From a Y/Y view, the 1-cycle rates were up 6.5% for (#) and 3.5% ($) The 2-cycle unit rate decreased to 0.9 % and 2-cycle balance rate increased to 1.0%. from a Y/Y view, the 2-cycle rates are up 19.9% (#) and 13.0% ($) respectively.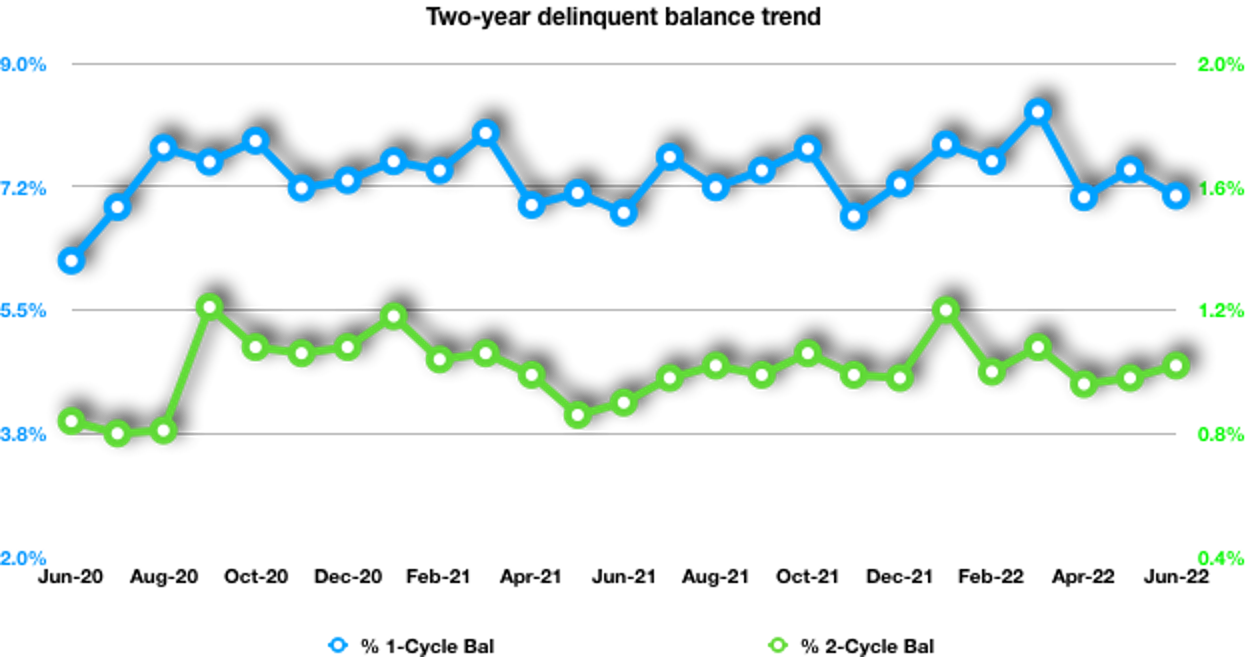 This report and high-level metrics give an overview of the Canadian bankcard industry trends. We recommend that you closely monitor your portfolio metrics and look for indicators that may point towards a shift in consumer spending behavior. The rising interest rates and inflation can put consumers in financial stress. It is important for issuers to conduct a portfolio analysis and understand who these customers are and create effective account management strategies to reduce future losses. These customers might need their financial services provider more than ever, creating flexible banking and forbearance programs will help to maintain customer retention and loyalty.
The above information was compiled by FICO Advisors, the business and strategy consulting arm of FICO. Our financial services lifecycle risk management practice has more than 300 combined years of experience spanning all phases of credit, fraud prevention, and collections across six continents.

If you have any questions about the results or methodology, please connect Amir Sikander. And in case you haven't already, consider subscribing to our Customer Credit Lifecycle Blog to be notified about new and exciting content on this topic.