Recession talks have increased over the last few months. Canadian consumers are being hit with the rising cost of goods and borrowing. To curb inflation, Bank of Canada embarked on a series of interest rate hikes in 2022, and most recently in January 2023, bringing the overnight rate to 4.5% to the Canada bankcard industry.
The good news is that the high inflation rate of 8.1% in June seems to have peaked, and the inflation rate in December was 6.3%. The rising cost of borrowing will be redirected from consumer spending. Unfortunately, Canada's interest payments are set to increase further in 2023 and consumer spending is forecast to decline further.  This will potentially slow down growth in Canada and tip the economy into a recession.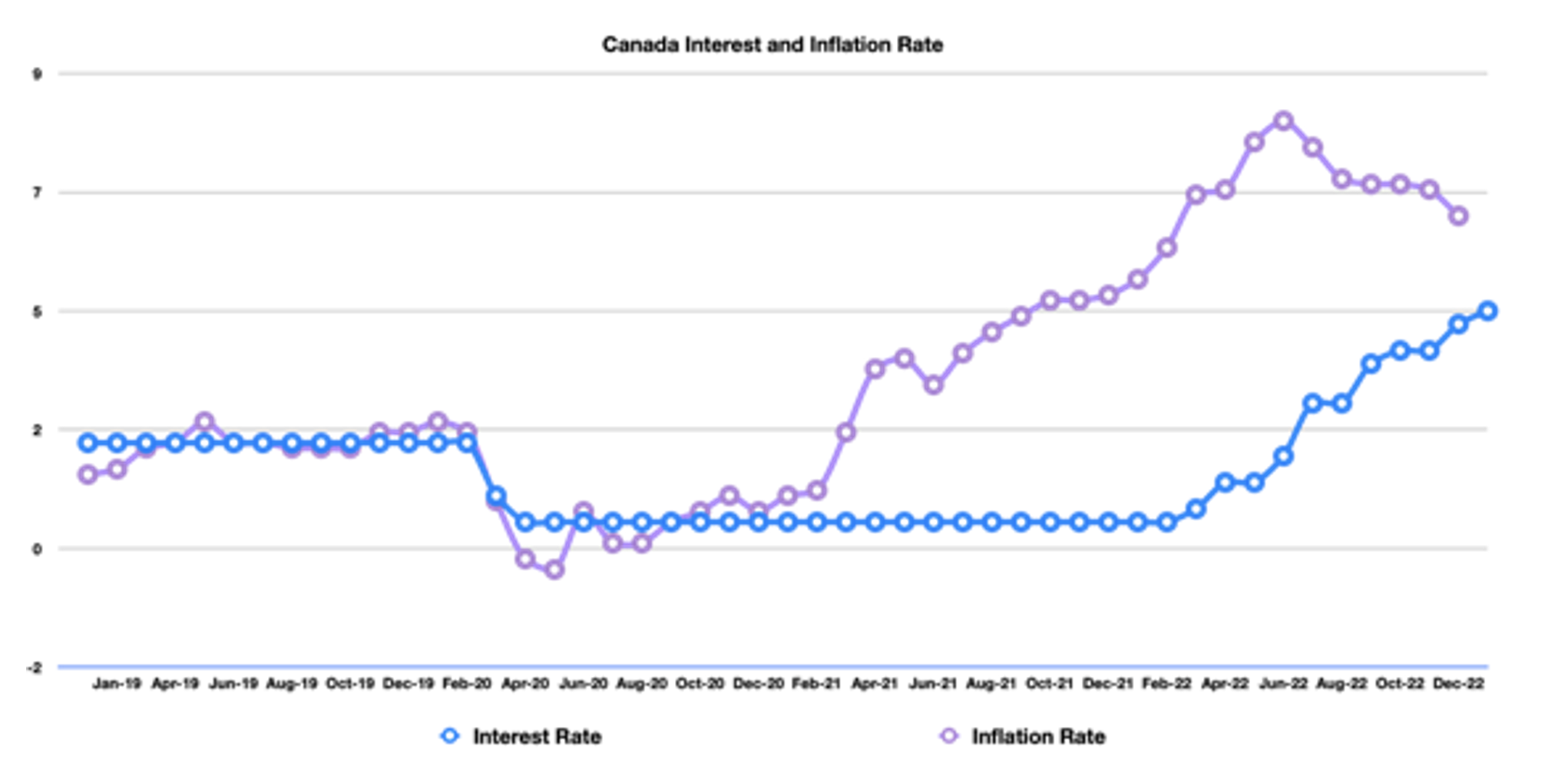 Typically, a recession is associated with an increase in layoffs. However, the unemployment rate in Canada in December was 5%, one of the lowest on record. Indications are that the Canadian labor market remains tight and vacancies are higher than pre-pandemic levels. Given the scarcity of labor supply in the market and a large number of vacancies, we don't expect to see an upward trend in job losses in the event of an economic downturn.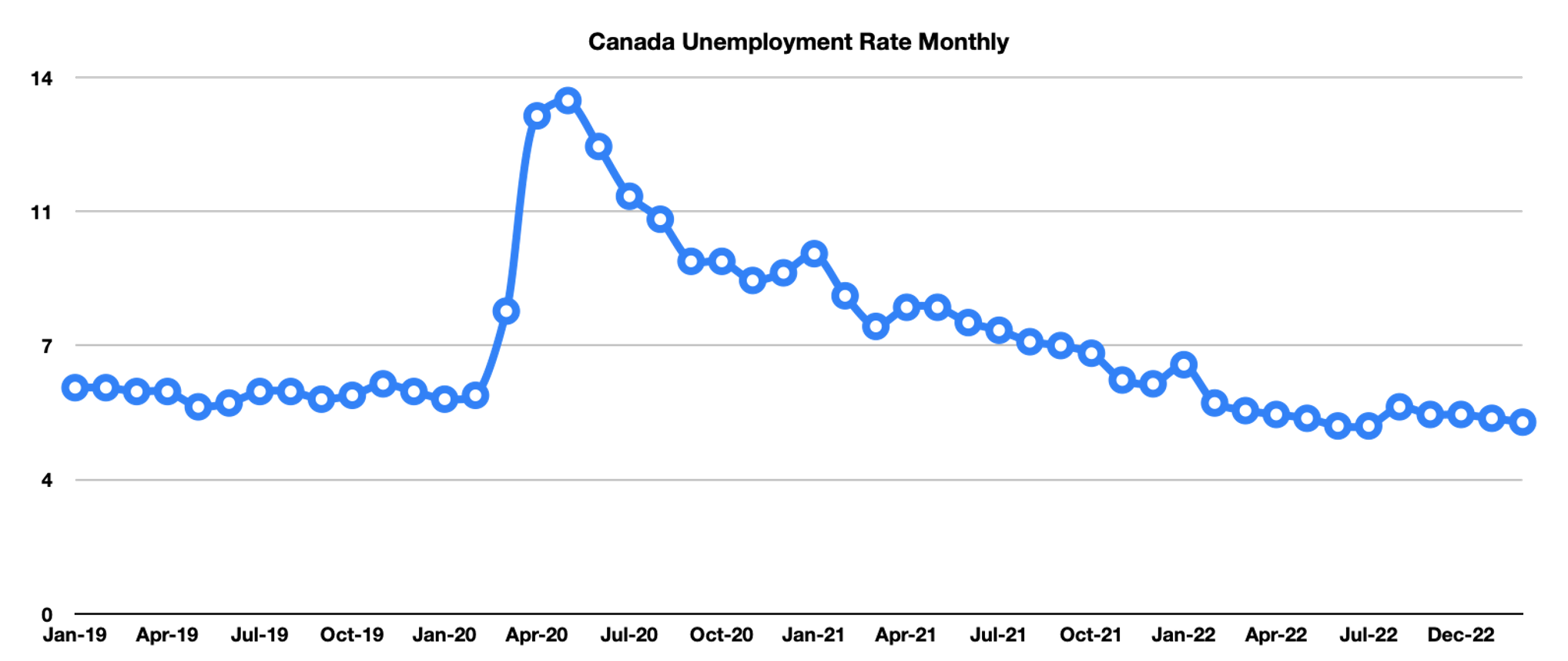 A review of the Q4 2022 Canadian credit card statistics and industry data provides a clear picture of the impact of inflation and rising interest rates on consumers. We're seeing credit card delinquency rates increasing, payment rates decreasing after historical highs, credit utilization rates increasing, and record high average total sales figures.
Average Total Sales, Credit Card Payment Rates, and Credit Utilization Trends in Canada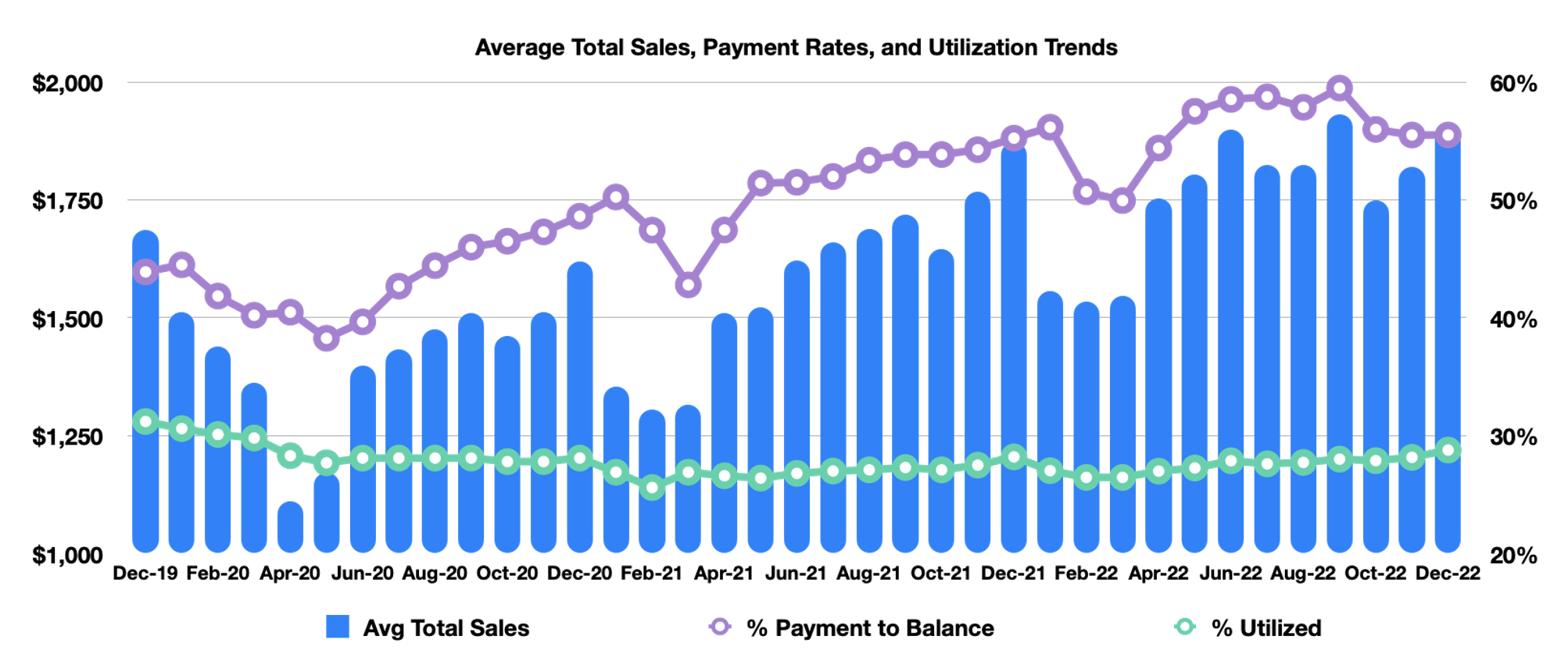 Average total sales increased 3.6% in Q4 2022 (compared to Q4 2021) and average total sales was up 8% from December 2019. This data indicates that credit cards continue to be a popular choice for many Canadian consumers.
Canada's payment rates increased during COVID as more consumers were paying down their credit card balances in full. Payment rates since August 2022 have started to decrease modestly, indicating that some consumers might be starting to rely on their credit cards for everyday purchases and transactions.
The utilization rate on credit cards was suppressed in 2020 and 2021. This is largely due to higher payment rates, as Canada's consumers paid down their credit cards at higher than historical levels. With payment rates starting to decrease, the credit card utilization levels are starting to bounce back in 2022 but are still 7.7% lower compared to 2019.
Canada % 2+ Cycles Delinquency Rate by Account Vintage Segment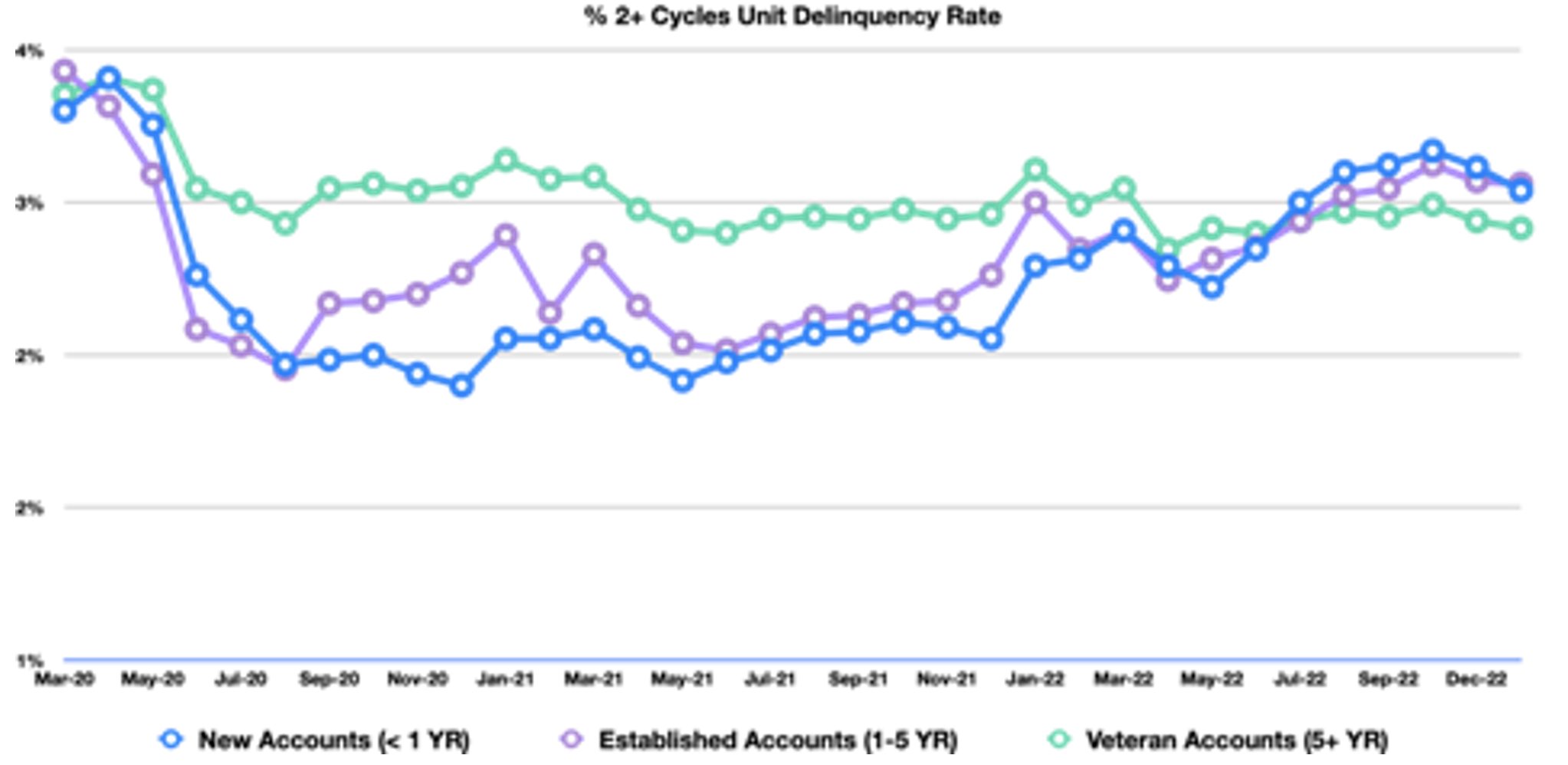 Credit card delinquency rates in Canada have started to increase. This increase in delinquency rates is more prominent in new accounts (<1 YR) where the delinquency rate increased by 38% in 2 years. The delinquency rate for established credit card accounts (1-5 YR) in Canada increased by 14%, while Veteran accounts (5+ YR) delinquency rate decreased by 6% over 2 years.
Strategies to Consider: Understanding Canadian Consumers' Financial Resilience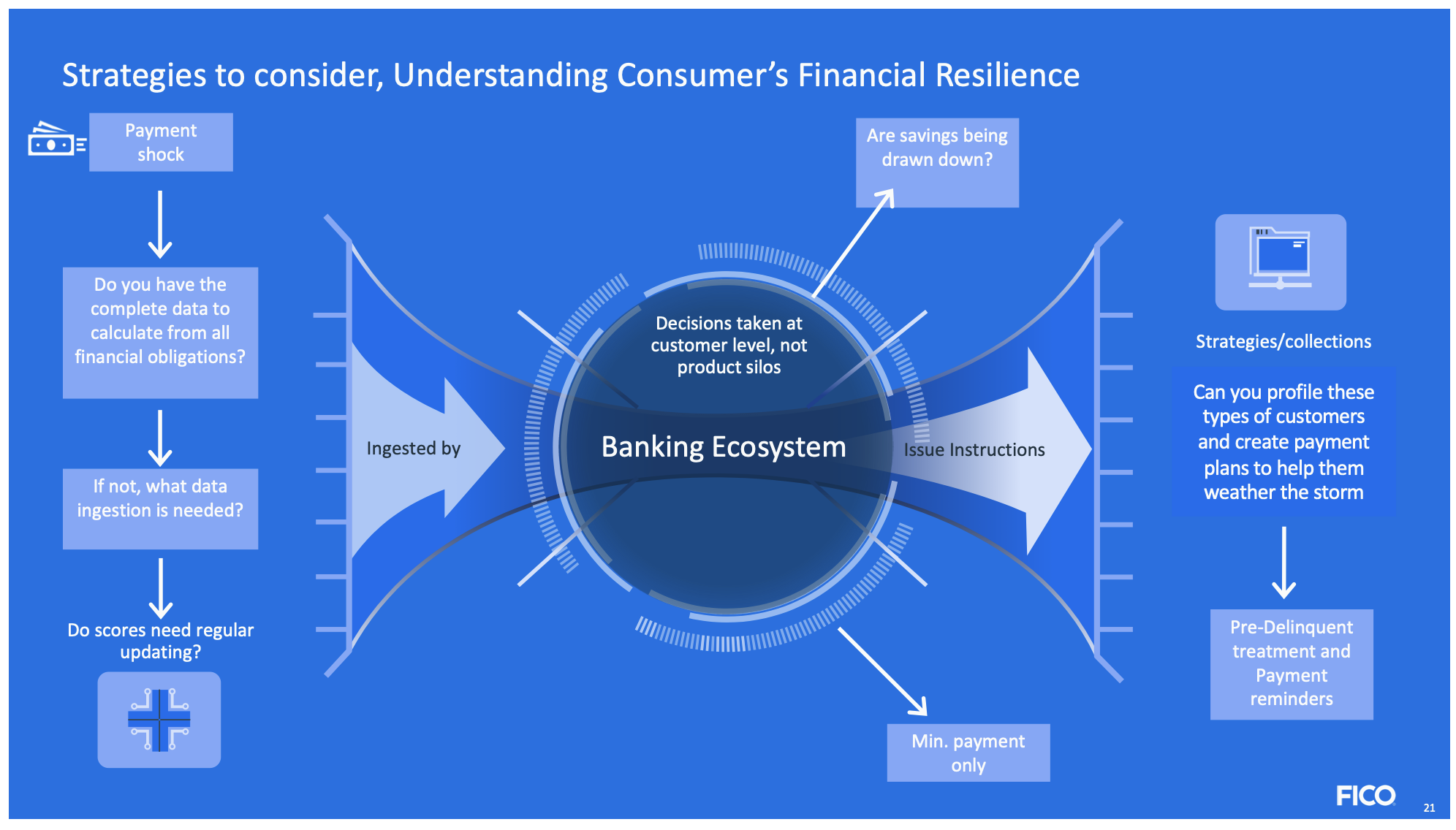 In these challenging times, the most resilient financial institutions understand if their customers are able to withstand a payment shock from rising inflation, interest rates, and borrowing costs. They ensure they have all the data sources to calculate customers financial obligations internally and externally. 
Using triggers (e.g., transactions that indicate if savings or debit card balances are being drawn down, or if customers are only making the minimum payment on their credit card) can profile Canadian consumers who are being impacted by these challenging times, and credit card payment plans can be created to help them weather the storm.
Pre-delinquent strategies can also help financial institutions in Canada get a head start on collection activities. If you can profile a customer who would be impacted by a payment shock, you might choose to isolate that customer and reach them through their preferred digital channel. This can also help to take burden off your collection resources.
The above information was compiled by FICO. If you have any questions, please email amirsikander@fico.com.