If you speak with FORTUNE Global 1000 executives from around the world, they all have the same decision management mission: they need quickly transform their traditional business capabilities to digital…. break down the silos of data across their enterprise… build a complete 360º view of every customer across their buying lifecycle… and to maximize ROI.
Industry experts call these synergistic capabilities "centralized decisioning"… or, depending on where you are, Decisão Centralizada… Décision centralisée…  중앙 집중식 의사 결정… Zentrale Entscheidungsfindung, and so on.  But in any language, it's a misleading name for an amazing and broadly-proven digital decisioning solution. Just the name – "centralized decisioning" – conjures up images of grainy, black-and-white Soviet-era central committees and Five-Year Plans: slow, bureaucratic, and more often than not, wrong… and with disastrous outcomes for everyone involved.
In reality the exact opposite is true: the "centralized" in centralized decisioning doesn't mean decisions are made by some faraway central committee; it means that there is a central repository of all analytics, data, and decision logic that everyone can tap into and add to in which to enable an omnidirectional view of the customer journey.  As a result, all customer-facing decisions and strategies across the enterprise are made with the customer at the center, surrounded by connected, panoramic view encompassing all knowable information, updated in real-time.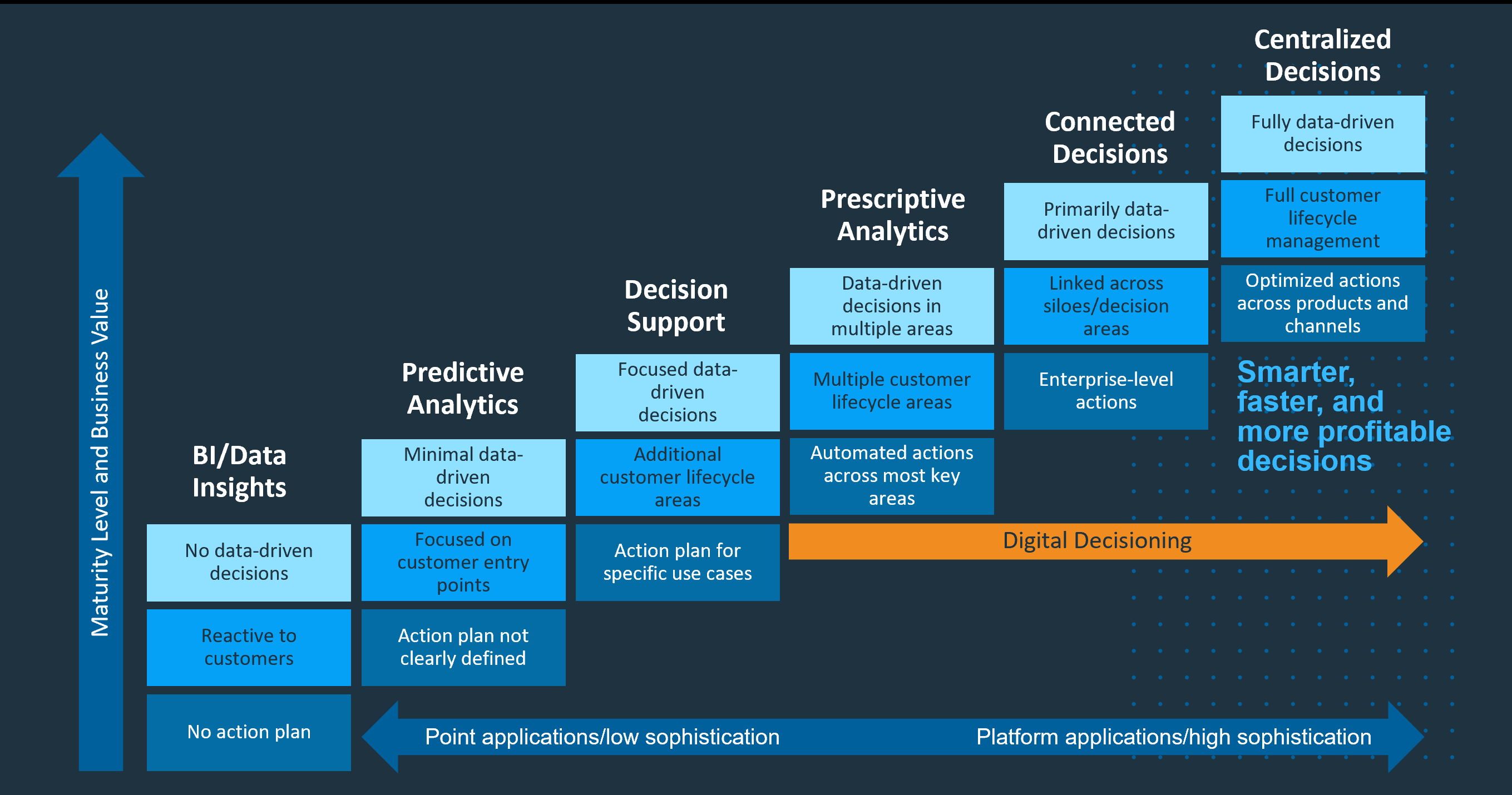 Centralized decisioning is the new pinnacle in the long evolution of decision support and decision management solutions.  In the era of digital decisioning (orange arrow) there had been two distinct eras until now: prescriptive analytics and "connected decisions."  These were vastly better than the approaches that preceded them… but they fall short of the full-automated, enterprise-wide, lifecycle-long decisioning capabilities required to achieve true what industry experts call "customer centricity."
| | | | |
| --- | --- | --- | --- |
| | Prescriptive Analytics | Connected Decisioning | Centralized Decisioning |
| Organizational Pervasiveness | Data-driven decisions in multiple areas | Primarily data-driven decisions | Fully data-driven decisions |
| Breadth of data available to support  decisions | Multiple customer lifecycle areas | Linked across siloes/decision areas | Full customer lifecycle management |
| Breadth of automated actions | Automated actions across most key areas | Line of Business and/or Enterprise-level actions | Optimized actions across all products and channels |
In comparison to previous-generation approaches, centralized decisioning delivers smarter, faster, and more profitable decisions at every possible customer touchpoint across all channels.  And over time, customer insights incrementally grow deeper and more accurate with each iteration and interaction, resulting in increasingly higher return-on-decisions over time. 
In the IT consulting and industry analyst world, customer centricity is the Holy Grail of customer satisfaction and retention.  Study after study shows that C-level executives in every major industry see the value in customer centricity and are arduously working to achieve it.  Why is there such a pervasive and palpable sense urgency?
Surveys by research team at Arizent, publisher of American Banker and Digital Insurance, show that executives in the traditional financial services and insurance segment have not yet figured cracked the code on how to contend with their FinTech and InsurTech competitors when it comes to personalization and delivery of digital experiences;
85% of major corporations already have a digital transformation effort underway (Ernst & Young) meaning that nine out of 10 competitors are gearing up to be even more formidable adversaries in 12-18 months;
Companies have invested an estimated $1.3 trillion in digital transformation; those who've succeeded are reaping huge benefits and immediate, dramatic ROI… BUT only 30% have done so; the other 70% of companies concede that, despite their best efforts, they largely failed to achieve their transformation goals (Ernst & Young, McKinsey.)
When you combine all those factors, it's easy to see – given the disruption in the marketplace, coupled with FICO's reputation as a leader in digital decisioning – why the number of customer installations for our FICO® Centralized Decisioning solution has been growing doubling every year, including the largest deals ever in the company's history.
Why is centralized decisioning so immensely popular with forward-thinking customers?
Unprecedented customer insights: Centralized decisioning unifies the valuable customer information currently scattered about the enterprise in siloed, department-specific applications. Until this data is aggregated and made interoperable, it is impossible to build a complete, 360-degree view of customers and their needs; it's like trying to solve a crime without having all the clues that should be at your disposal.  But by integrating customer information enterprise-wide and centralizing it around each customer – and then applying advanced analytics and simulation against each customer profile – companies enjoy incredibly accurate, detailed in-sights into the customers present and future needs. It's like the difference between grainy, 2D black and white x-ray and a high-definition 3D MRI image of what's in your customer's head.
Hyper-personalized customer treatments: Centralized decisioning makes it possible to create highly effective customer strategies that span a company's product line, personalized for each customer.  By applying deep analytics to customer data, smart firms are building customized, 360-degree digital cocoons around each client, to protect them from market elements.  From there, they are able to extrapolate future marketing and customer service opportunities with superlative accuracy and ROI. Because of these prescriptive services, customers are less likely to feel the urge to look elsewhere, because their current provider is proactively meeting their needs even before those needs even arise.
Business-powered analytics strategies: Centralized decisioning solves ones of the biggest problems facing organizations endeavoring to become truly data-driven: the fact that an estimated 85% of analytics projects fail to reach deployment.  The leading reason for this is a lack of organizational alignment: data scientists have limited knowledge of business problems, and business users lack decision modeling and programming skills; so unfortunately, they just keep talking past each other.  Centralized decisioning solves this by utilizing easy-to-learn decision modeling tools designed to allow business users to manage day-to-day analytics strategies, freeing data scientists for higher-level analytics projects.  By moving analytics upstream to business users, companies are able to explore more, and a far wider range, of analytics projects than ever before, without depleting IT resources.
Always-connected decision assets: Centralized decisioning unifies disparate data assets – even those external to the organization – to promote a 360-degree view of individual customers, segments, and prospect groups. Though individual departments may have invested in point solutions designed for their specific departmental needs, they are frequently not integrated into a unified enterprise-wide solution. By enabling the all-inclusive use of data assets from across and beyond an organization, centralized decisioning creates an enterprise-wide force-multiplying effect with profound business implications, creating the ability to develop decisioning strategies that are consistent, transparent, and expandable as needed over time. Reusing and leveraging connected decision assets across the customer lifecycle not only helps to improve decisions but keeps them transparent and explainable.
Simulated, validated customer actions: Centralized decisioning gives companies the highest possible degree of certainty that new customer programs will perform as desired before putting them into production by allowing them to simulate and optimize decisions they are implemented.  Simulation removes uncertainty in decision-making, while bringing clarity and confidence to business strategies. This enables firms to maximize the success rate and ROI of their decisions, by iteratively simulating, fine-tuning, and perfecting them prior to launch with dashboards displaying predicted and compared-to results; this ensures predictable, optimal outcomes. Testing and impact analyses help companies understand the implications of changes in tactics and decision assets, resulting in more effective strategies that deliver higher returns.
These are just some of many compelling reasons why companies around the world are flocking to centralized decisioning… the awkward name notwithstanding.  Should it have been called "omnidirectional decisioning" or "omniscient decisioning?"  Perhaps. But remember: in William Shakespeare's play Romeo and Juliet, Juliet asks, "What's in a name? That which we call a rose, by any other name would smell as sweet." As FICO customers across the globe will tell you, they are seeing sweet results from the product with the unwieldy name.
For more information on the FICO Centralized Decisioning solution, please visit www.fico.com/CentralizedDecisioning  For educational material on digital transformation and digital disruption, please visit www.fico.com/DTeducation  For information on digital transformation in the financial services industry, including detailed research and reports from Arizent and American Banker, please visit www.fico.com/ABresearch