Some time ago, I witnessed a plea for help in a global healthcare summit from a Director of Claims Management for assistance in automating their national health plan's 100% manual paper-based claims process. This health plan was struggling with the limitations that their manual process imposed upon their ability to fulfill their role in providing their citizens with access to quality healthcare, and they felt isolated in their struggle.
Many health plans around the world have automated their management of health insurance claims to a large degree. And while many may not be in the unenviable position of this national health plan, every health plan typically has a "wish list" of things that they would like to — or need to — do better in claims management.
In this post, I will touch on the current state of health insurance claims automation and common pressures for innovation in claims operations. I will share typical challenges to improvement in claims automation and how to drive an automation initiative forward. And we will offer a few examples of how FICO solves customer challenges in claims automation.
The Current State of Claims Automation
A health plan or administrator may automatically process and pay as much as 90% or more of healthcare claims via straight-through processing. The balance of claims processing requires manual intervention. In a custom claims management environment, straight-through processing may be done with legacy "custom-coded" software that runs in a mainframe environment. In a claims management environment that runs on a third-party system that consists of Commercial Off the Shelf (COTS) software, claims processing may done with a combination of "hard-coded" and business rules processes that are built into the COTS software.
The value of straight-through claims processing includes lower claims management cost and faster, more consistent claims decisioning than you can achieve with manual claims decisioning. Straight-through processing also institutionalizes business knowledge, which is increasingly important in healthcare's rapidly evolving workforce environment.
However, one of the downsides to straight-through processing is that maintenance of a claims management environment is typically dependent upon IT or a claims management software vendor. The dependence of the health plan upon a third party may limit the plan's agility and the ability of the plan to meet requirements that cannot be readily met by a legacy software environment or COTS software.
While one might think that 100% straight-through processing is the desired state of claims automation, a certain percentage of claims will be automatically pended for manual review due to special circumstances such as unusual or acute patient health or the health plan's experience with a particular procedure code or diagnosis code. Some claims may also be automatically pended for prepayment review or routed for post-payment review as the result of analytic results that identify the potential for payment leakage due to fraud, waste or abuse[PC1] [DS2] . However, excessive or unnecessary claim pending and manual intervention in claims operations should be avoided, as it dramatically increases claim processing cost, increases the risk of errors and delays in claims administration, and may also harm patient, provider and stakeholder relations. A health plan must strike a balance between straight-through claims processing and manual intervention to deliver a safe, effective and consistent experience for patients and providers and the dynamic nature of healthcare and limitations in custom-coded or COTS claims management software can challenge the plan's agility and ability to do so.
Regardless of which approach a health plan uses for claims management — custom, legacy software or COTS software — some automatically processed claims will be "reprocessed" because of a query from a patient or provider about the plan's decision on a claim. Resolution of a claim query may include manual intervention by the health plan's claims operations team, the plan's provider relations team, the clinical team, their call center team, and others. Resolution of a query or an issue which comes up repeatedly may also result in the need to adjust the logic or rules (edits) which are used for claims processing, which requires additional labor and time if it can be accomplished at all due to common limitations in custom-coded or COTS claims management software.
Pressures for Innovation in Claims Management
A report by McKinsey identifies pressure on private health plans to innovate in 3 dimensions of claims management:
Medical spending
Customer interactions
Claims operations
In addition to the interest in reducing the cost of manual intervention in claims operations, which we have described above, this report identifies four "drivers" of the need for innovation in claims operations:
Competitive pressure to use technology advances in data processing to lower operating costs
Growing pressure to reduce traditional paper-based processes
Pressure to eliminate siloed functions and duplicative infrastructure
Emerging need to develop contemporary working norms
Further, this report observes that while the vision for future claims operations may be fully digital claims management — 100% "straight through claims processing" — full digitization isn't a realistic short-term goal, but taking steps toward a long-term goal of fully digital claims management can result in "significant improvements in efficiency, usability, and customer satisfaction."
Challenges to Improvements in Claims Automation and How to Drive Innovation Forward
Common challenges to improvements in claims automation may include long IT lead times and limitations in COTS software capabilities. For those organizations that want to begin or increase their use of analytics, AI and machine learning (ML) in claims automation, such as the use of analytic models prior to payment to identify suspicious claims or provider behavior which is indicative of fraud, waste or abuse, there may be organizational and technology challenges to getting their analytic models into production. By the way, getting analytics out of the lab and into production is a common challenge in many industries, and FICO excels at helping our customers to get that done.
When change — innovation — is pursued to address measurable performance gaps, this change is made more quickly, it's "stickier" (more durable) and it's recognized by stakeholders as being of greater value than change that is pursued with other approaches such as leadership edict. Therefore, driving innovation forward in claims automation should begin with the identification of measurable performance gaps in claims automation and a clear understanding of the business case for addressing them.
Examples of measurable performance gaps in claims automation may include:
The cost of manual intervention to a line of business compared to an internal or external benchmark
Claim denial rate compared to a benchmark
Reducing complaints made by members of an important provider specialty
The ratio of straight-through claims processing compared to a benchmark
Claims savings opportunity lost due to the amount of time that it takes to make changes to claim edits to (re)align claim processing results with payment policy
The Recommended Way Forward: Transformation with a Small "t"
So what is the best way forward on improvements in claims automation? While full digitization of claims operations may not be a realistic short-term goal, the McKinsey report referenced above states that partial digitization can move a health plan in the direction of long-term goals to save as much as 10-20% of medical costs and to reduce operating expenses for claims processing by up to 30%.
FICO also believe that partial digitization — transformation with a small "t" — is a prudent way forward because partial digitization can deliver measurable improvement in claims automation while controlling the cost and risk to do so. For example, for transformation with a small "t," FICO Platform offers key capabilities for digitization of claims operations: a Decisions capability for automation of claims processes that has been proven in a range of public and private sector claims operations, and Optimization and Business Outcome Simulation capabilities.
FICO Platform capabilities are used by our clients to enhance existing custom or COTS claims management software, rather than replacing it. In legacy custom claims management environments, FICO Platform's Decisions capability has been used to create business rules-based decision services such as "front end edits" for pre-adjudication screening of a billion Medicare claims per year in a legacy mainframe environment. FICO Platform's Decisions capability has also been used to create business rules-based decision services for claims adjudication, pricing, and benefits and limits for a TPA mainframe environment that processes tens of millions of claims per year for multiple commercial health plans.
These kinds of decision services reduce manual claim interventions and improve the transparency of claims decisioning and speed to market while assuring adherence to tight production timetables and requirements for reliability.
In a COTS claims management software environment, FICO Platform's Decisions capability is already the built-in rules engine for a leading commercial claims management software solution. FICO Platform's Decisions capability can also be used to create claims automation capabilities that fill the gaps between a health plan's needs and the capabilities of their commercial software.
In addition to FICO Platform's Decisions capability for improvements in claims automation, and opportunities to leverage other FICO Platform capabilities to introduce attributes of "future systems" in claims automation, FICO Platform's Optimization and Business Outcome Simulation capabilities empower a health plan to solve bigger problems, make better decisions and simulate the impact of incremental changes in claims automation on the end-to-end claims process.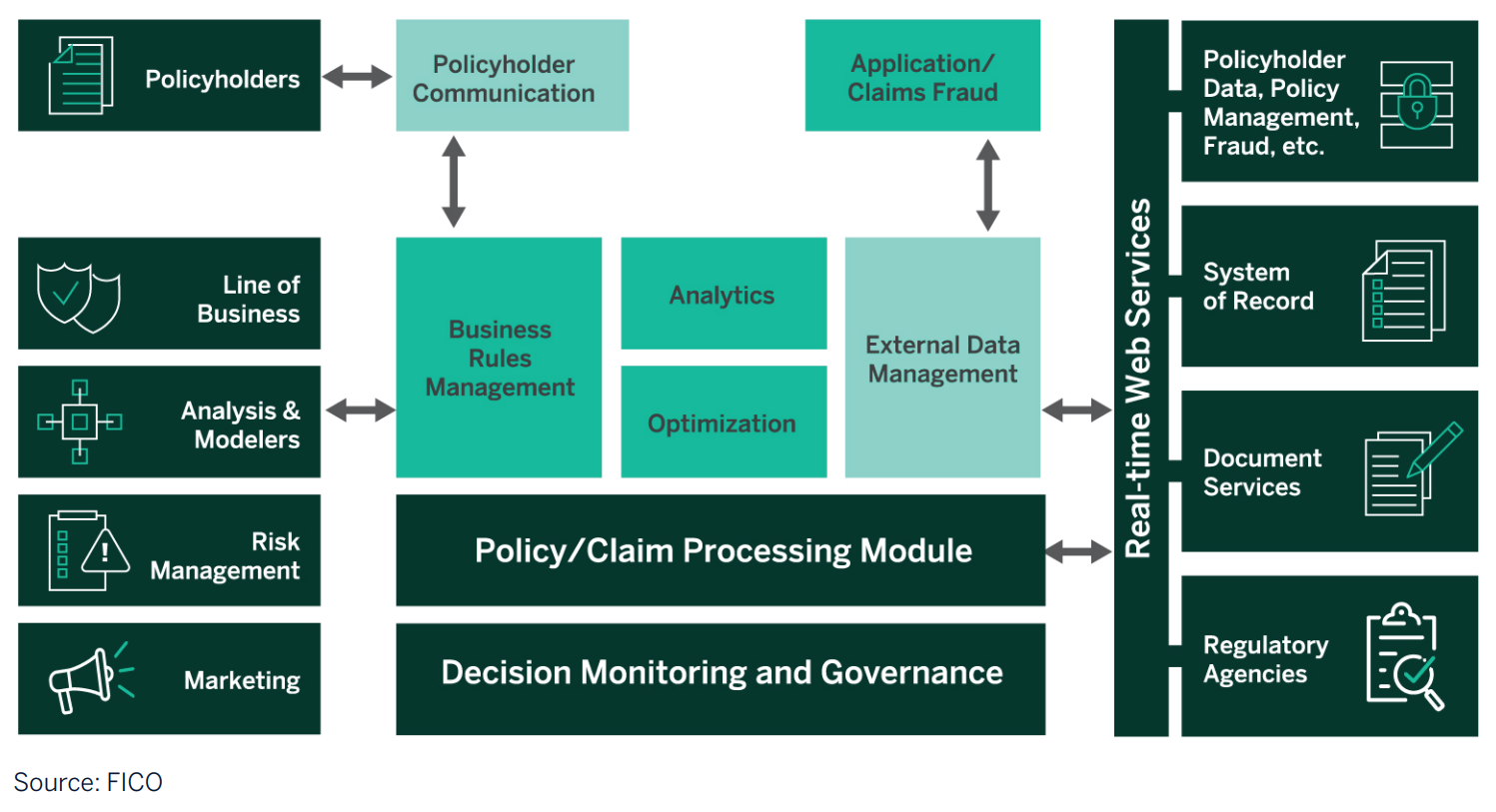 Conclusion
Every health plan and administrator is under pressure to reduce healthcare costs, improve patient outcomes and increase patient and employer or stakeholder satisfaction. Transformation of claims automation — digitization — should play an important part in achieving these goals. By focusing on transformation with a small "t" that addresses measurable performance gaps using proven capabilities like those of FICO Platform, health plans and administrators can achieve their goals for improvement and innovation in claims automation while also controlling the cost and risk of transformation.
How FICO Is Helping Insurers Increase Agility