Successful digital decisioning, customer centricity, and digital transformation force companies into playing the role of a detective.  No matter who your favorite fictional detective happens to be – Sherlock Holmes, Miss Marple, Hercule Poirot, Nancy Drew, etc. – they all have a common methodology that enabled them to solve vexing crimes that eluded their contemporaries:
They all had an uncanny ability to see clues that everyone else missed, and know from experience that each clue might have potential relevance, even if not yet fully known;
 
They could aggregate clues from "siloed" subject matter experts like eyewitnesses, police, crime lab technicians, etc. – that seemed like oddball pieces from different puzzles to most people – and construct an ingenious composite out of them;
 
They were able to take those clues – however small, random, and disconnected as they seemed– and connect them in a way that identified an individual suspect, their motive, their methods, and predict where they would strike next.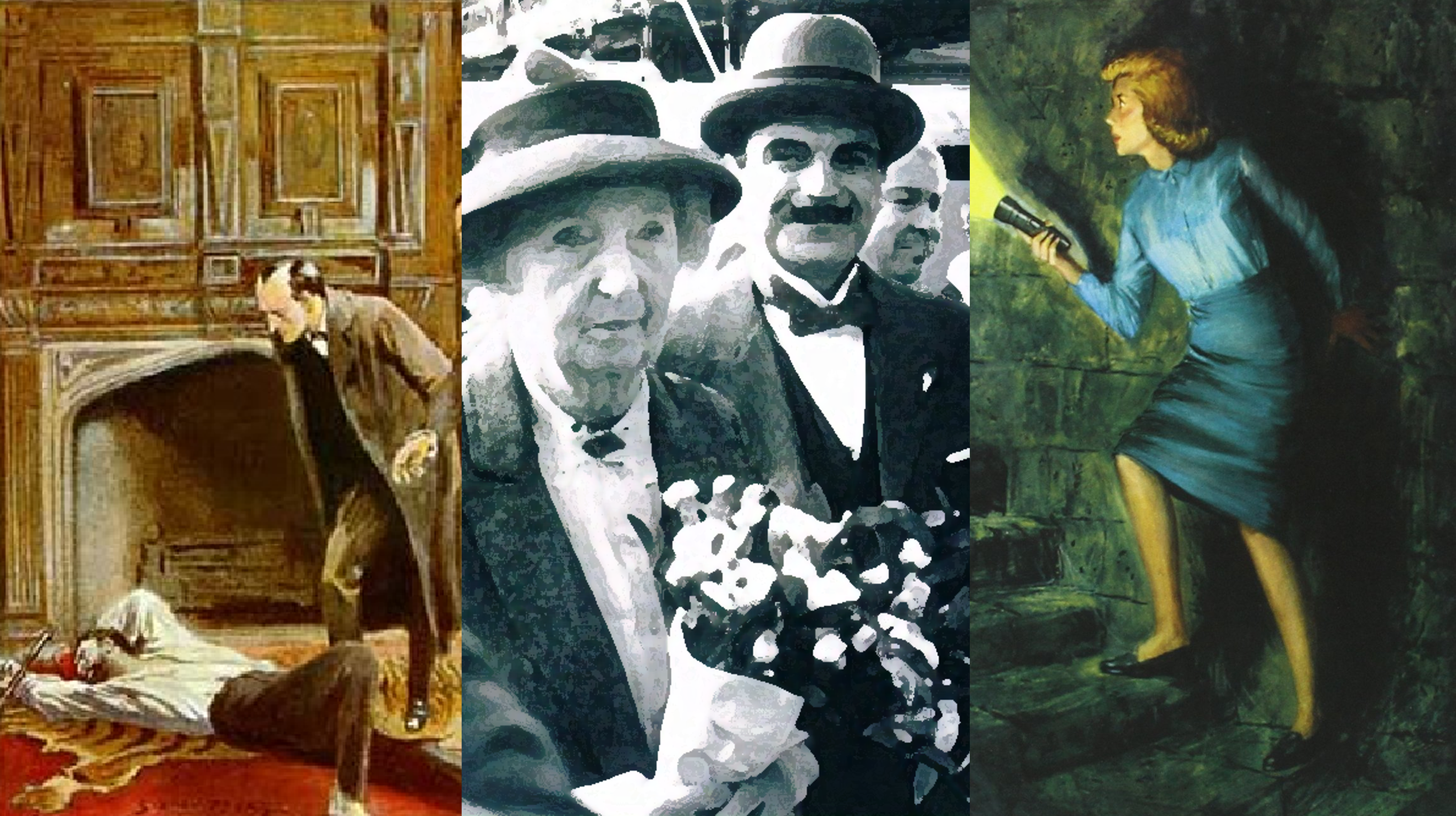 It all comes down to an ability to aggregate, assimilate, and appreciate the value of every piece of information of available.  As Sherlock Holmes observed in "A Scandal in Bohemia", "It is a capital mistake to theorize before one has data. Insensibly one begins to twist facts to suit theories, instead of theories to suit facts."  Clearly, Holmes has little use for tribal knowledge, trusting-your-gut, or the-way-we've-always-done-things-here.
The Plot Thickens: Why Are Customers Mysteriously Disappearing?
Solving the mysteries of genuine customer satisfaction and lifecycle-long customer retention turns companies into detectives, too.  As in crime-solving, the more clues companies have – in the form of verified customer data – the more they learn about their customers and prospects… and the more they learn, the better they can create the super-personalized treatments customers are demanding to boost short-term satisfaction and long-term retention.  That's the underlying promise of the FICO® Centralized Decisioning solution.
Just as detectives are trying to determine where a criminal will strike next, and be there to apprehend them, Centralized Decisioning helps companies predict when their customers will strike, and for what – a new mortgage, expanded insurance coverage, etc. – and be there with an unexpected and unbeatable offer.
But customer retention has been a mystery that major information-savvy companies have struggled to solve.  Despite decades-long customer relationships, years of aggressive investment in information technology, and volumes of rich customer data from which personalized services could be extracted, traditional companies continue to bleed customers:
In banking, 5.6 million U.S. customers switched their primary banks last year; 6.3 million customers plan to switch within the next year; and another 31 million customers are on the fence about whether to stay or go (Federal Reserve Consumer Help, Resonate Research, Stastica)
 
In insurance, the number of "at-risk" U.S. consumers has risen to its highest level since the metric started being tracked 20 years ago. The rate of auto insurance loyalty has fallen to 48% today from 59% in 2004, a 27% drop; over the past year, the rate of switching among insurance shoppers has increased to 35% from 31%, helping to drive down overall insurance customer retention by two percentage points to 88%. (J.D. Power)
 
Millennials in particular tend to distrust corporations and financial institutions (86%), the government (82%) and the press (88%). Their belief that "Big is Bad" correlates to why long-established products and services are suspect, when compared to start-ups and innovators, and the opinions of online strangers are more persuasive than corporate endorsements. (Forbes)
Determining Motive
What is driving these defections, and why are top-tier companies struggling to retain customers when they are brimming with customer data?  The problem lies largely in their not being good detectives: they are drowning in clues (their data) but oftentimes failing to connect them in a meaning way (unique customer insights). 
Without insights into customers' present and future needs, it becomes hit-or-miss to try to match customer strategies to those needs. According to the recent Accenture Global Consumer Pulse Research report:
33% of consumers who abandoned a relationship did so because personalization was lacking
76% of consumers would re-evaluate their current relationships if a new company would excel at relevance, compared to their current one
84% of customers say being treated like a person, not a number, is very important to winning and keeping their business
73% of consumers expect specialized treatment for being a good customer, based on a deep understanding of their needs, preferences and past interactions, but…
Only 22% believe that the companies with which they do business tailor their customer experiences effectively
Solving "The Case of the Missing Customers"
Clearly, the problem traditional businesses face is that they are not piecing together their data – their "clues" about customer wants and needs –to form an omnidirectional perspective of their customers.  Often the clues are laying in plain sight…  just not within sight of one another. And when they are not, customers and prospects will gladly surrender them to you: the same survey from Accenture noted above found that 61% of customers will provide even more personal information if it results in their receiving more tailored services.
Connecting with customers requires nothing more than connecting the dots of their lifestyle and needs, using information already at your disposal.  Centralized decisioning helps companies begin to solve the mystery of customer defections by empowering them to:
1. Adopt a unified, scalable decision platform across the enterprise
Just as a detective gathers clues and evidence from the crime scene, the suspect's home, and other points of interest, and then brings them to a crime lab for analysis, digital transformation teams have to aggregate valuable customer information from across the enterprise, make it interoperable, run it through decision models, and study the analytical results. The models will find all sorts of connections and interrelationships the human eye could never see, producing a 360º higher-resolution view of every customer… and providing a roadmap for their future lifecycle.
2. Create personalized customer treatments
Developing a "profile" of a potential suspect helps detectives to focus their limited time and energy on the most likely persons-of-interest.  After surveillance and study, a detective will know everything there is to know about a suspect's habits, routines, and tendencies, in order to track his or her next move… precisely the way a company need to know its customers.  Unified data can provide the clues necessary to not only predict immediate and future customer needs with hyper-accuracy but serve up perfect – and perfectly-timed – strategies for optimizing relevance, retention, and revenue.
3. Empower business users to create and manage the strategies, rules and analytics
Cases aren't just solved by detectives; they rely on specialized expertise – from forensics, coroners, criminal psychologists, ballistics experts, and so on – to build a case that is guaranteed to win in court.  Likewise, IT professionals, data scientists, and operations researchers can't provide solutions that are guaranteed to win in the marketplace unless they can tap into the market-facing expertise of their business users. In fact, many companies are having great success deputizing business users, and having them take the lead in the formulation of analytics strategies.
4. Re-use and string together decision assets across functions
Street-smart detectives maintain a reliable network of assets, informants, and undercover colleagues – coupled with an encyclopedic mental knowledge of case details dating back years – that they can rely on for useful information to solve case after case.  Likewise, companies can create what are known as "decision assets," decision-ready customer characteristics and other variables known for their reliable predictive value. They are unique to a company's portfolio and its strategies, and they are not just single points of "data" but strands of dependably consistent and collectively important information. Maintaining and growing those assets is the key to long-term success.
5. Test decisions before they are put into production
To test and validate their theories, detectives will frequently reconstruct a crime scene and reenact the series of events they believed occurred, in order to validate their plausibility and weed out faulty premises.  In the business decisioning world, companies can use their data to simulate, analyze, and optimize the outcomes of their strategies and customer-facing actions.  By iteratively fine-tuning proposed actions before taking them, companies can rule out under-performing concepts and improve the ROI of those they decide to deploy.
Taken together, these give companies the ability to track the effectiveness of the insights drawn from their data and inform business users with real-time feedback on consumer uptake, interaction, insight effectiveness, etc. for continuous improvement.  This powers an unabated upward spiral of smarter, faster, and more profitable customer decisions over time.
Closing the Case
After careful analysis, detectives will accurately identify persons of interest; likewise, businesses will accurately identify persons interested in buying what they are selling.  It's that simple.  And with a foundation like the FICO® Decision Platform and our centralized decisioning solution, companies are increasing productivity, efficiency, and revenue while lowering their costs, reporting that they:
Enhanced their legacy decisioning system across 60 decisioning areas enterprise-wide
Automated decision management for ROI of 20:1 in the first year
Accelerated application development, speeding solution delivery by up to 10x
Transformed a projected loss to $6.5 million profit in less than six months
Reduced the time required to confirm a transaction 90%
Increased approval rates nearly 60%
Reduced gross fraud by 20%
Increased the volume of credit line management 3x
Clearly, the benefits of doing the detective work on your data are both and abundant and substantial; more importantly, it lays the information foundation companies need to succeed in their digital transformation efforts.  At a time when 85% of companies have a digital transformation effort in the works, but only 30% of them will succeed, the platform and centralized decisioning approach is the promising strategy yet for keeping your company competitive and a market leader for years to come.
For educational material on digital transformation and digital disruption, please visit www.fico.com/DTeducation  For information on digital transformation in the financial services industry, including detailed research and reports from Arizent and American Banker, please visit www.fico.com/ABresearch.