Our latest review of UK card trends shows that 2-cycle balances continue to grow, which raises several concerns. In this post, I'll review some of the metrics for UK "Classic" cardholders (excluding Premium and Student cards), break these down by vintage, and offer some thoughts on what issuers should do.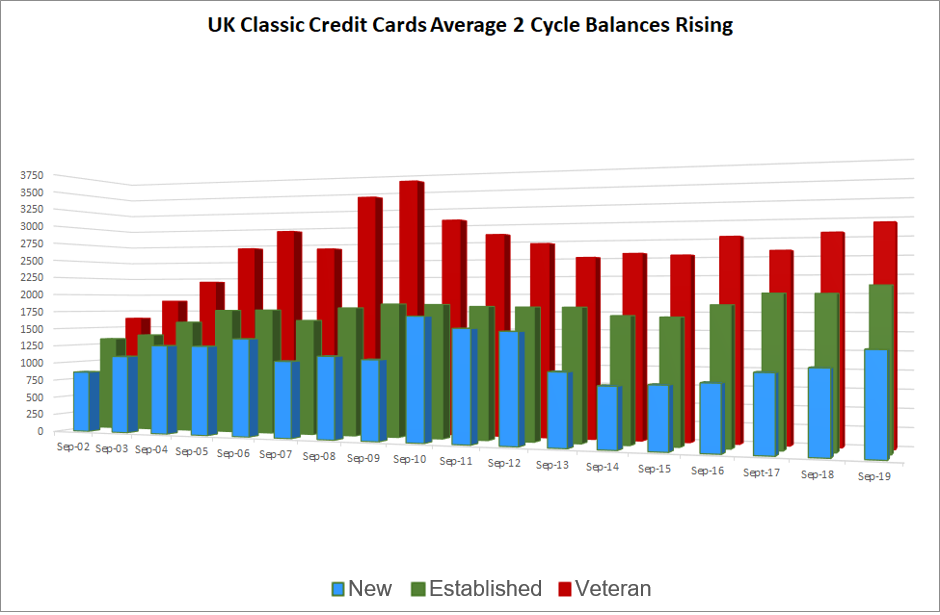 Accounts < 1 Year on Book (New)
The last time the 2-cycle average balance was higher than September 2019 was September 2012, when they were still coming down off the peak in 2010.
The annual growth of 21% (£230) was the third highest of the 18 years we reviewed, highest was 2009 to 2010.  
Average credit lines have been falling year on year over the last 2 years and were £32 lower than the September 2014 peak.
The percentage of card accounts that are at 2 cycles delinquent was stable annually, and 20% lower than during the financial crisis of 2008. However, they have grown 26% since 2016 with the percentage of 2-cycle delinquent balances nearly doubling in that same period. This means that whilst a lower percentage of accounts are missing two payments, those that are have higher balances.
Accounts 1- 5 Years on Book (Established)
In September 2019, the average 2-cycle balance was at its highest September level in the 18 years studied and is 16% above the 2008 result.
Average credit lines were also at their highest September level, although the annual growth has recently slowed. They are 30% higher than September 2008.
The percentage of accounts that are 2 cycles delinquent has been growing over the last four years, although it is noticeably below the 2008 value.
The percentage of card balances that are 2 cycles delinquent are also below the 2008 level and have also been increasing since 2016. Over the last year, this figure grew at twice the rate of accounts, indicating again that higher balances are rolling to 2 cycles.  
Accounts 5+ Years on Book (Veteran)
There has been a 13% growth in the 2-cycle average balance and the last time the balance was higher was September 2010. Average credit lines decreased after the last economic downturn, but since then they have been rising and are at their highest in at least 18 years.
On the positive side, the percentage of 2-cycle accounts is at its lowest in the 18 years reviewed and is 66% lower than September 2008.
The percentage of 2-cycle delinquent balances was at its highest during the crisis and in September 2019 is 80% lower.
Overall, the volumes of accounts going to 2 cycles isn't the concern, it is the higher balances. These suggest that when financial stress occurs for whatever the reason, repayment on the balance is not sustainable.  The continued increase in credit lines to new highs, in line with the increase in delinquent balances, indicates issuers need to closely monitor the performance of accounts qualifying for the higher limits from an affordability as well as risk perspective.
Considerations for Collections
Collections has historically relied on risk indicators to determine the priority of the contact with customers. The FCA are asking for more focus on affordability, and whilst this is now common when deciding which customers to offer an increase of their card limit and by how much, there is scope for this to influence collections activities.
If the data shows affordability levels are low or the customer would be stressed due to an increase in their balance, the traditional flow of actions may not be suitable and alternative paths should be taken. Repayment plans and debt counselling information could be offered earlier, as well as accelerated direct human contact to discuss their financial situation, bypassing the round of SMS, email and letter attempts.
Wider customer data can help determine if customers are 'lazy payers' and they can be warned of fees and how they could fall into the Persistent Debt definition as a result, especially for those paying a low percentage of their balance each month. This would improve the customer experience and reduce collections costs on activities that are not suitable and hence will not have a positive outcome. It will also help to identify vulnerable customers sooner.
Over the last year, issuers have shown more interest in pre-delinquency activities in order to take preventative actions on those most likely to miss a payment. This has partially been driven by the Persistent Debt regulations introduced in September 2018. Incorporating data related to affordability and balance increase sensitivity could also enhance this approach, helping to reduce the number of customers missing payments or entering the Persistent Debt process, by taking the most relevant actions for that customer based on their circumstances, at an earlier point in time. This will also again improve the customer experience.
The introduction in June 2018 by the FCA of regulations relating to the consumer's choice as to whether to contact an issuer to reject or accept a card limit has had no discernable impact on industry trends, over a year later. Limits are still growing to new highs for accounts >1 year on book, and inactive exposure and unused credit on active cards continues to increase. The issuers who reduce limits on, at a minimum, inactive accounts or low-utilisation accounts will gain an advantage if economic conditions worsen. Affordability and balance increase sensitivity metrics can also indicate that a decrease is appropriate for the customer and will ensure limits are kept in line with their financial situation.
The Persistent Debt regulations have been in place for 15 months, and the impact on card trends will be discussed in a future blog.  
The card performance figures are part of the data shared with subscribers of the FICO® Benchmark Reporting Service. The data sample comes from client reports generated by the FICO® TRIAD® Customer Manager solution in use by some 80% of UK card issuers. For more information, contact me at staceywest@fico.com.