As credit issuance, account management and collections enter the digital age, the opportunity for innovative experimentation is accelerated and made more complex by the wide range of data and decision points a digital platform enables. Credit executives can now enable continuous learning and improvement that is technology-enabled, and which is no longer tied to the duration of the billing cycle, nor the seasoning of the portfolio. In this post, I'll discuss the four imperatives of conducting experiments in credit management that should drive this continuous improvement cycle, and the technological underpinnings that can help make these experiments achieve successful results.
The Pillars of Experimentation
1. Learn and Adapt
Consider your process and identify where short-term read-outs are possible. For example, in a digital originations process, streaming data can tell you if applicants are abandoning the application at specific points, are struggling with meeting certain criteria, or are cruising through the customer experience rapidly. Early-life account data can tell you whether the customer is leveraging funding and/or utilizing revolving credit or services and at what volume and velocity.
Especially by monitoring early and anecdotal results from your campaigns, you learn at the beginning of your test. Learning early in the experiment saves financial resources and time. It is equally important to adapt fast to the learnings in days rather than months. From the start, ensure you know your target result, which will allow you to ask the right questions.
For example, for you are targeting customers digitally through social media and search engine marketing, and you find that thousands of customers are applying but relatively few are being approved, is this satisfactory? You have an opportunity to adapt the target messages, the target social media outlets and the credit criteria to improve the applicant quality, or to alter your credit criteria to capture what appear to be creditworthy applicants that your original criteria declined.
If you find that you lose applicants because of authentication requirements, you have the opportunity to restage your process so that you generate a conditional approval pending receipt of documentation, rather than a flat decline saying no to an otherwise qualified applicant. Alternately, you may decide that you cannot capture sufficient quality customers through some social media outlets and may reduce or eliminate those application sources.
2. Solve for the Problem, Not the Solution
The second principle of experimentation is to solve for the problem and not the solution.
Why this is important? If you focus on describing the customer problem first (rather than an innovative solution), you design your experiments to solve for customer's pain points and in this process, you will generate customer value.   
For example, the solution you want will enable a seamless, frictionless digital onboarding experience to your customers. The problems you face are in structuring your credit and authentication criteria to facilitate the desired customer experience.
If your organization is trying to create a seamless, frictionless digital onboarding process, then it might help to answer a few questions upfront about the process:
How does the application process compare to the most relevant peers?
Can the application process exist in a fully digital state for this product for your organization? For example, unsecured products can often be handled in an entirely digital fashion, while mortgages and other forms of secured lending may require physical document fulfilment in certain jurisdictions. Can the decision process be fully digital, even if the documentation process must be fulfilled manually? The importance of this was shown in a recent FICO survey.
What is the timeframe from the start of the application until a customer can fully use the product? Can you issue credit digitally and enable instant funding or purchase usage?
Are biometrics being used for authentication and is it reasonable that your target customer will be able to supply these digitally? If e-signatures and electronic document imaging are legally permitted, is there an easy way for customers to supply these to you?
Are you able to capture and leverage information from any existing customer relationship without unduly burdening the customer?
Are there government or third-party information providers that can supply information with customer permissions? For example, the tax authority in Denmark enables customers to electronically authorize the release of tax returns, including verified income and expense details. The problem an executive in Denmark needs to solve is how to capture that customer permission and obtain that electronic data.
Can you use auto-fill to populate new application data for your customer?
If you take each of these questions individually, you can structure a series of experiments designed to improve your processes and solve customer pain points, while still supporting the overall desired solution: to create a seamless, frictionless digital onboarding process.
3. Test Your Assumptions
The third principle of experimentation and one of the most crucial ones in the process is to test your assumptions about how the subject population will behave under the experimental conditions. It is imperative to quickly ingest new data sources and find characteristics that will generate business value. To gain a competitive advantage, it is important to test these assumptions about the right data sources and characteristics with speed and understand the predictive value of data characteristics.
Considering revenue impact, how quickly can you profile an ideal customer who was digitally onboarded and use that profile to target new customers through social media? After you have modified any criteria, are you able to look at the expected outcomes of decisions to ensure they match your expectations and comply with your policy?
To increase the speed of your learnings, you may need to upgrade your infrastructure. FICO Platform has capabilities that can build a successful ecosystem.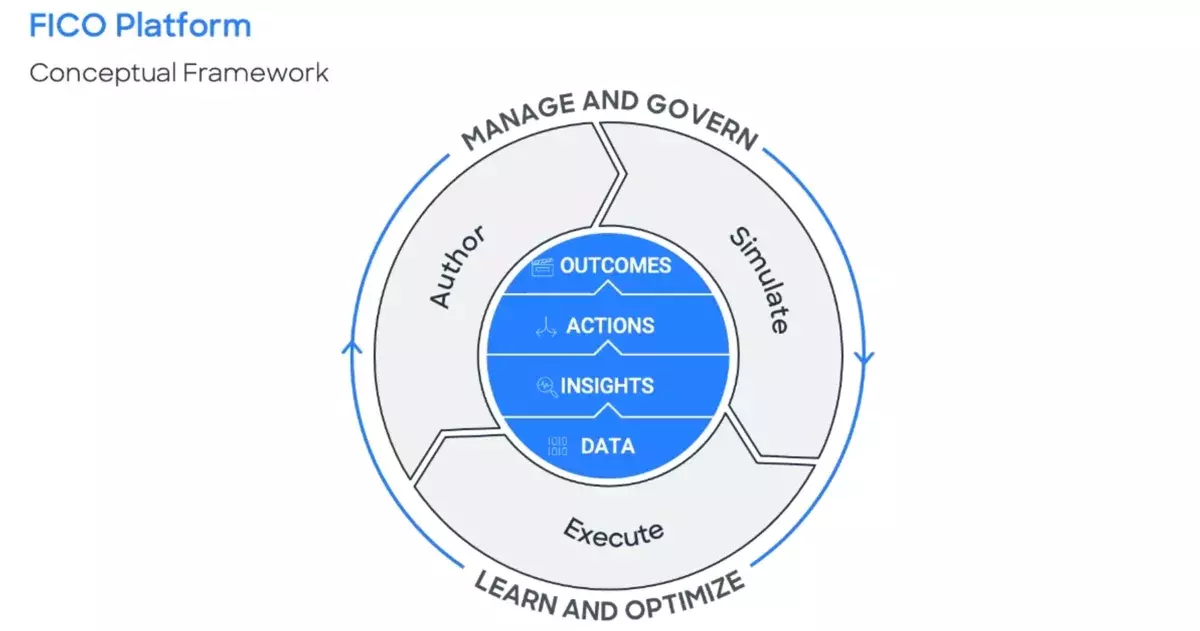 Data ingestion capabilities: In the example I shared above, the data ingestion capabilities of FICO Platform can bring in data from various internal and external sources that can be used to accurately profile a customer. External data costs much less than it did a decade or more ago, and it is much easier to process internal data. Through experimentation, executives can ascertain which existing and alternative data sources provide the greatest lift in predictive capability or in decision accuracy.  For example, access to customer-level and non-traditional data such as consumer utility payment history provides risk assessments lacking in a thin credit file population.
In the chart below, enhanced precision in risk detection observed by leveraging customer-level data.
Population of 1-cycle delinquent bankcard accounts with FICO Score, behavior score, and deposit balance
Customer-level data (deposit account balance) identifies risk patterns not detected via traditional scores
Better risk detection means improved targeting of customers for best treatment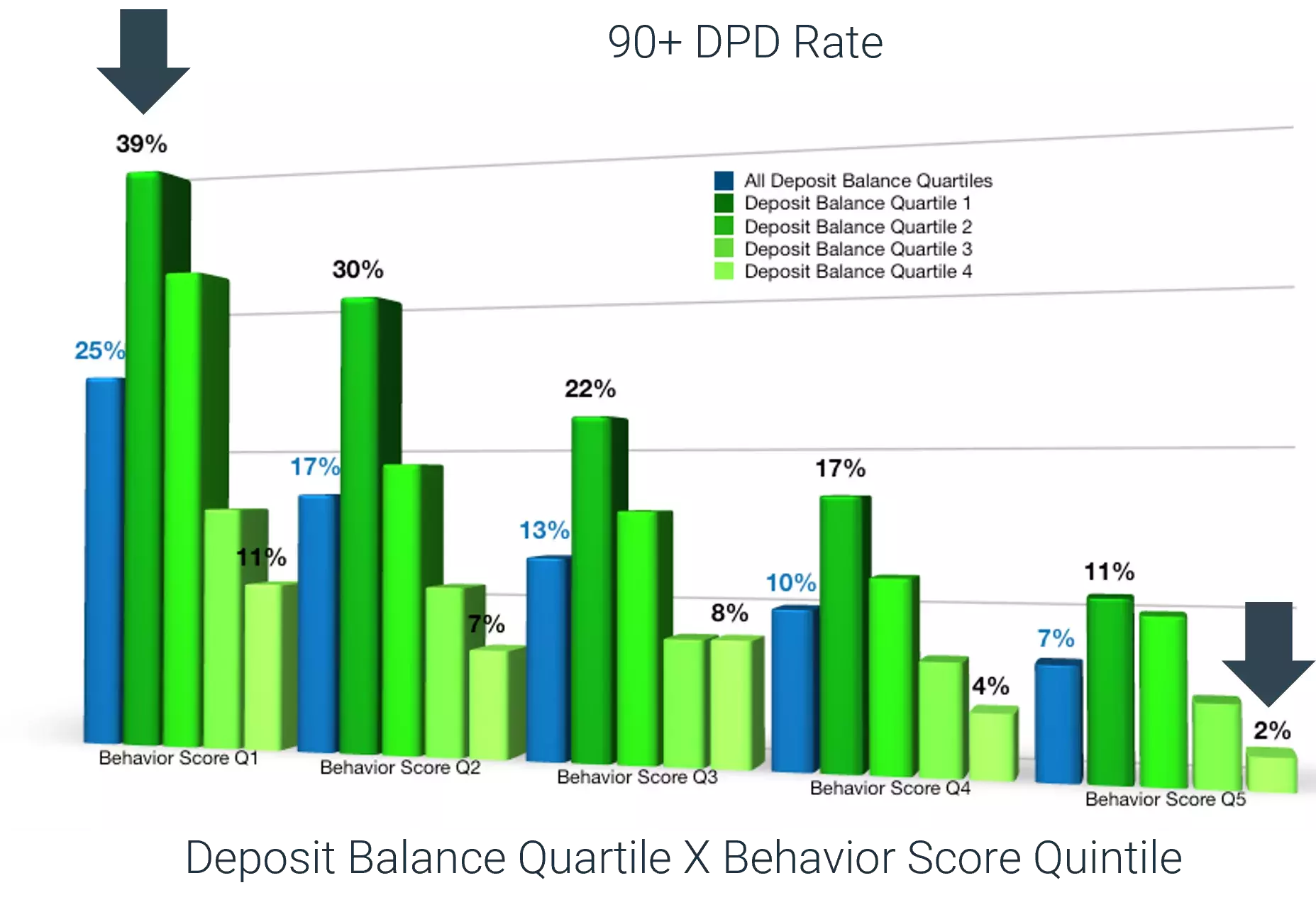 The better we can uncover "hidden" risk indicators the more successful we can be in promoting the best customer experience while properly managing portfolio risk.
Decisions: The decision capability of FICO Platform can combine all the data sources identified through data ingestion in the previous step and apply it to predefined business strategies and analytics, and issue consistent instructions to operational systems for execution.
FICO Strategy Director is built on the FICO platform and is FICO's next-generation customer management decisioning solution.  Strategy Director can consider the entire customer relationship with the bank and the events impacting the customer at any given time. More rapid and efficient ingestion of custom decisioning data and variable creation increase business agility, and superior strategy management capabilities drive improved targeting of customer treatments that reduce bad debt, lower operational expenses, and improve activity rates and sales while promoting the best customer experience.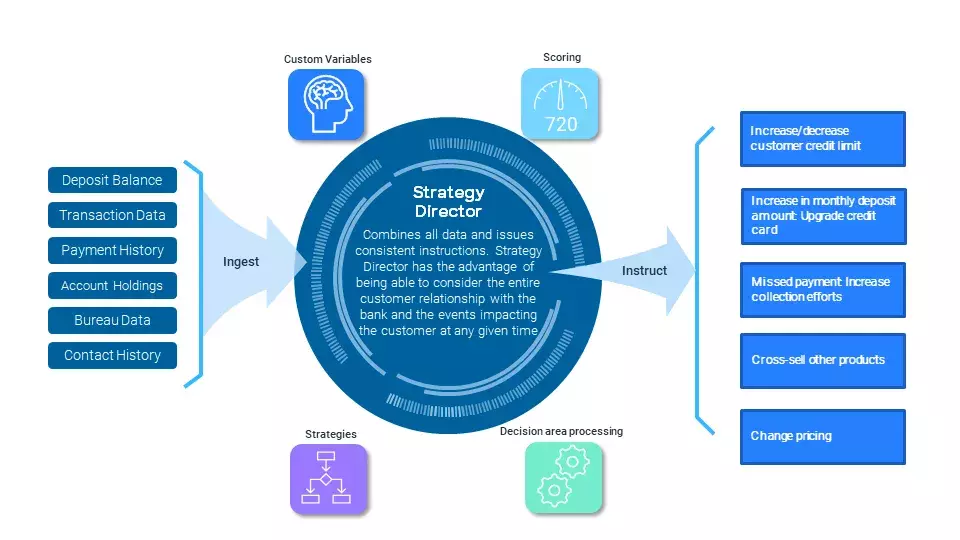 Simulation: Before implementing variations of any strategy or data input changes, understanding the potential impact is crucial. Business simulation allows testing of different what-if scenarios and identifying various outcomes to find the best scenario based on your business imperatives.
Example: Simulate Different Versions Of A Loan Originations Strategy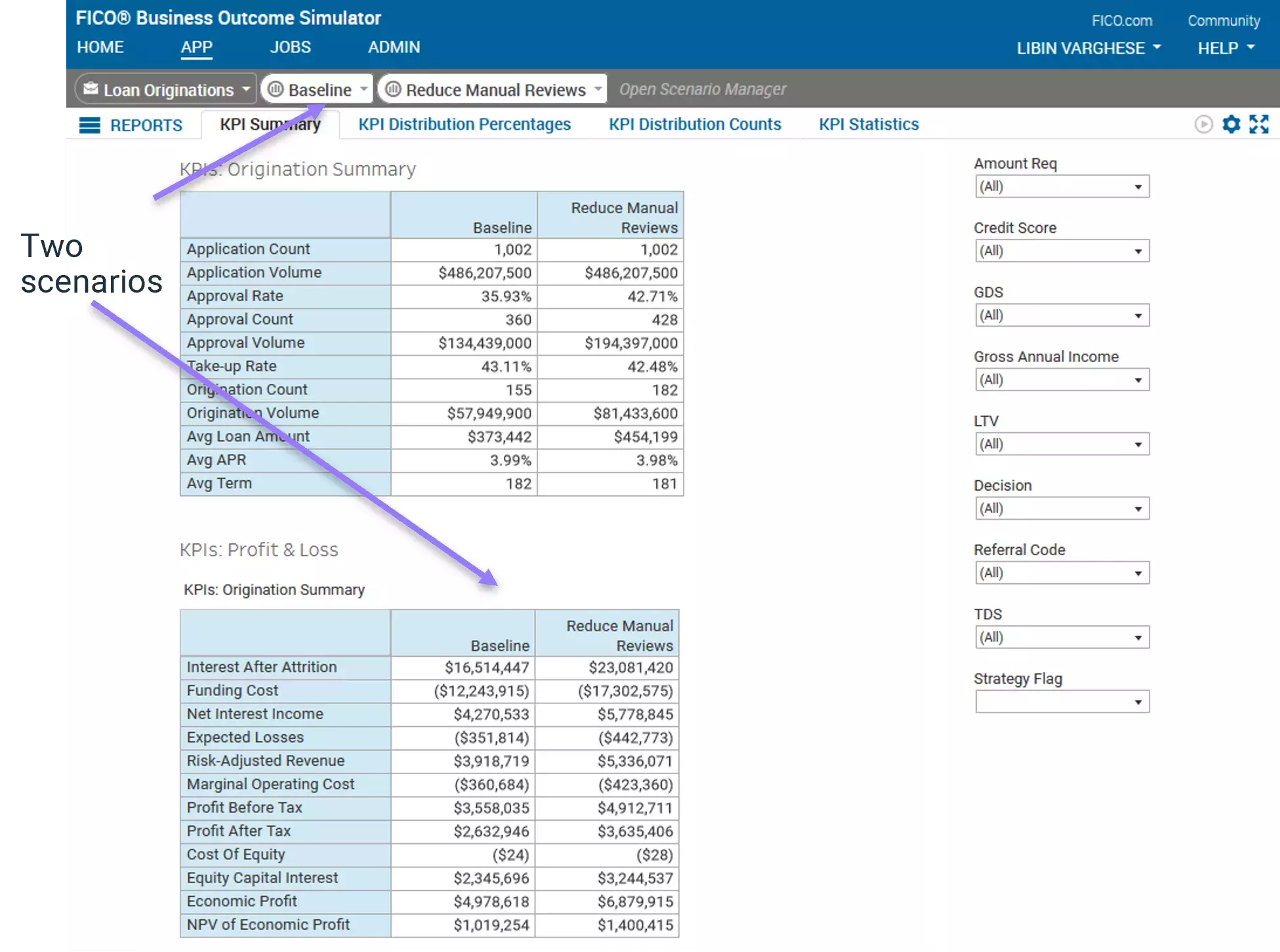 In the above illustration, we are simulating results for two different changes to an account originations strategy, using FICO Business Outcome Simulator.
4. Fail S
mart
"Do not be embarrassed by your failures, learn from them and start again." — Richard Branson
The last principle of experimentation is the art of failing smart. What we learn from a failed result ultimately defines how we change the business strategy. Put another way, the test succeeded by showing us the results were unsatisfactory under our imperatives. Just as it is important to amplify and generate new experiments in the wake of a successful result, it is equally important to share the learnings from a failed result with others in the organization to avoid similar mistakes being made. The culture of failing smart should be cherished and celebrated. Ideally, you would fail early and cheaply, just as you flourish early and cheaply.
Learn more about thriving in the digital era by checking out my last post on best practices for a timeless digital customer experience.
How FICO Platform Can Help with Experiments in Credit Management