At the start of the pandemic, unemployment spiked and the CARES Act was passed to support those in financial need to pay their bills, including mortgage and auto loans. Consumers could avoid delinquency on their credit accounts by requesting a payment accommodation due to hardship caused by the pandemic. With the CARES Act mandating accommodations for mortgages upon request, it is not surprising that accommodations became particularly prevalent in the mortgage industry. Mortgage and home loan accommodations peaked at 9% in June 2020. Furthermore, home price appreciation accelerated after the onset of the pandemic, and enabled homeowners to build home equity, an asset that homeowners would likely want to protect by avoiding foreclosure.
Correspondingly, we have found that since 2020, borrowers have prioritized mortgage payments to lenders above auto loan payments.  This is the first time in our research that this 'flipping' of loan payment hierarchy has been observed; in all previous periods analyzed, consumers prioritized making auto payments over mortgage.
In Figure 1, we analyzed the borrower population with at least one active auto loan and mortgage loan and at least one 90+ day delinquency on an auto or mortgage loan. We then calculated the percent of that borrower population that had a 90+ day delinquency on only their mortgage loan, a 90+ day delinquency on only their auto loan, or had a 90+ day delinquency on both their auto and mortgage loan. We studied this on three pre-pandemic performance periods (pre-Great Recession 2005-2007, post-Great Recession 2010-2012, and pre-pandemic 2015-2017) as well as two pandemic-era periods (2020-2022 and a one-year period from 2021-2022).
Figure 1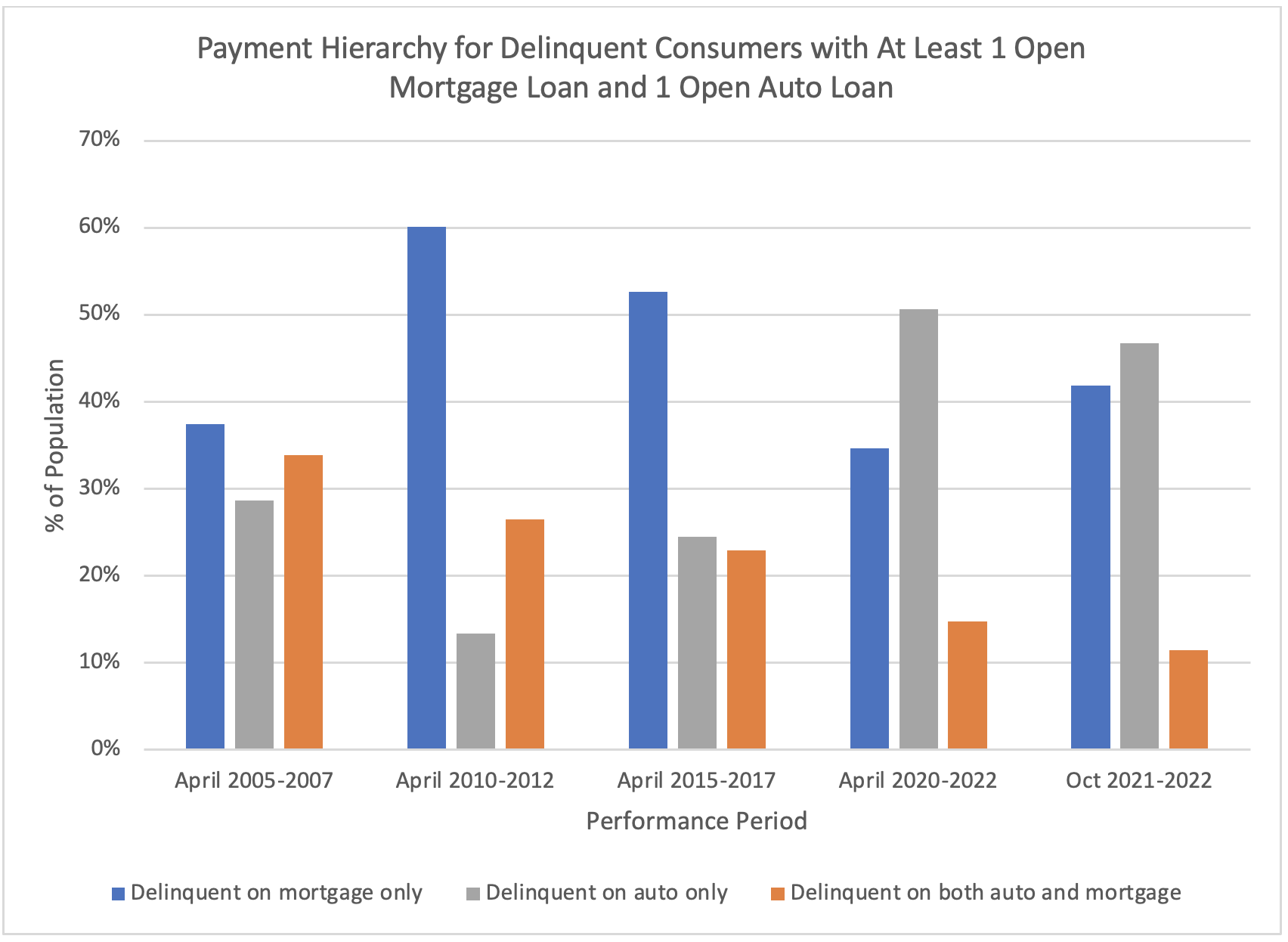 For April 2005-2007, the blue bar represents the 38% that had a 90+ day mortgage delinquency, but no 90+ auto delinquency. The gray bar represents the 29% of this borrower population that had a 90+ day auto loan delinquency but no 90+ mortgage loan delinquency, and the orange bar represents the 34% that had both a 90+ day auto and 90+ mortgage delinquency.
When the blue bar is higher than the gray bar (as we see in the first 3 time periods), it means that borrowers in this segment prioritized auto payments to their lender over mortgage loan payments, resulting in more frequent delinquencies being observed on mortgages than auto loans. Conversely, when the gray bar is higher than the blue bar (as we see in the 2020-2022 and 2021-2022 periods), it means that consumers have prioritized making their mortgage payments over their auto payments.
It is important to note that loan payment hierarchy can vary by FICO® Score. For example, borrowers with FICO Scores of 700+ at the start of the performance period prioritized mortgage over auto loan payment to their lenders in the pre-Great Recession 2005-2007 period as seen in Figure 2, a reversal relative to what was observed for the total population in the 2005-2007 period as seen in Figure 1.
Figure 2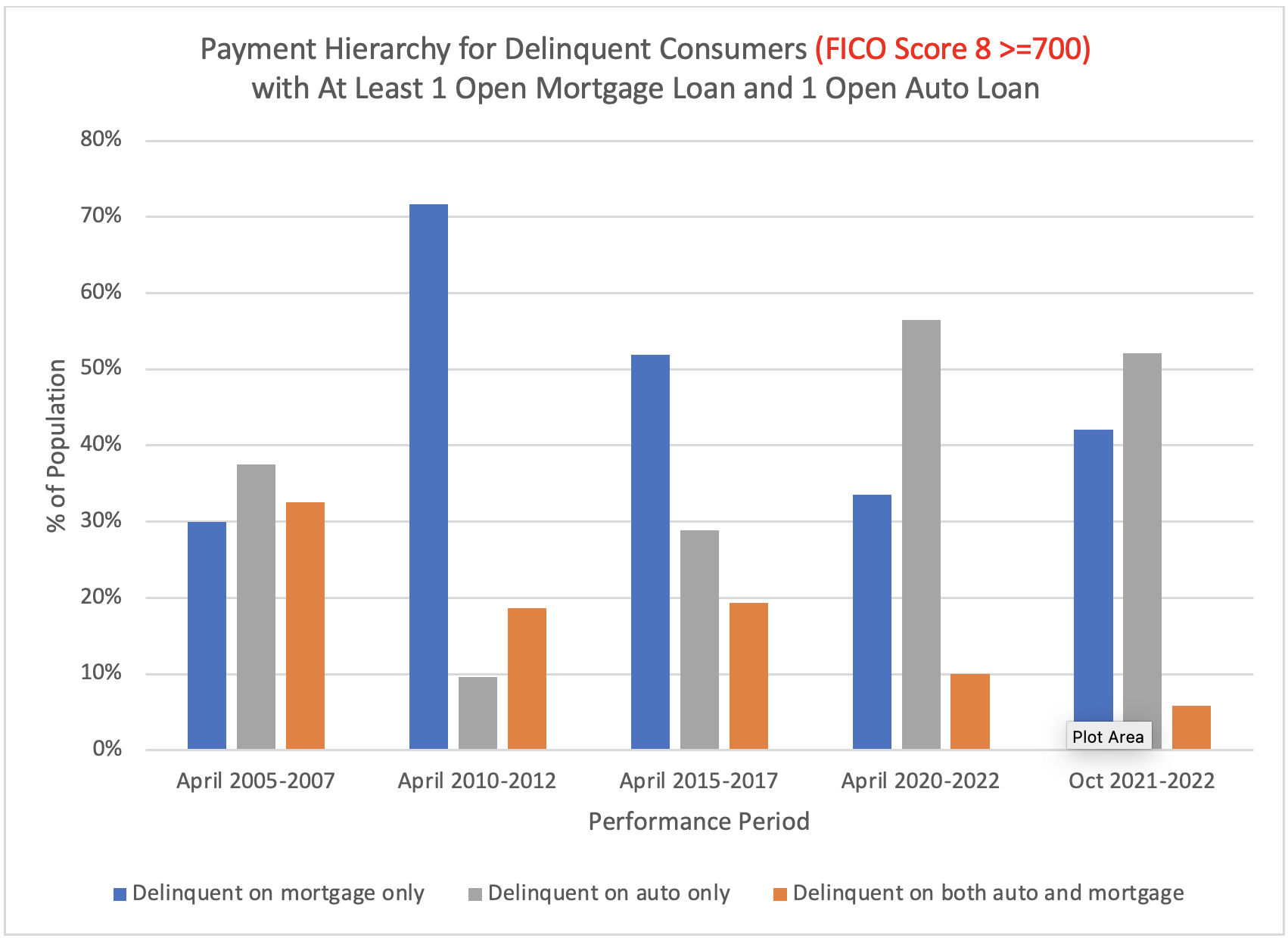 For high scoring borrowers especially, a big shift in loan payment hierarchy occurred after the mortgage crisis. Some of this was driven by 'strategic default' behavior: consumers who may have been able to pay their mortgage were unwilling to do so because their home had rapidly declined in value and they owed more on their mortgage than the house was worth. These strategic defaults contributed to high scoring consumers shifting their debt repayments and prioritizing auto loan over mortgage loan payment.
Since many mortgage borrowers now have substantial equity in their homes and are not in immediate jeopardy of going underwater on their homes, we do not expect an elevated number of homeowners to strategically default on their mortgages in the near future. Still, the pandemic-related shift in payment hierarchy may be temporary, since CARES Act mortgage accommodations are no longer mandated. In the 2021-2022 period, we observe the loan payment hierarchy reverting slowly back towards the historical norm. As we move away from the unique conditions of pandemic-era accommodations, it would not be surprising for lenders to see auto loan payments once again become more highly prioritized than mortgage loan payments.