Fraud Protection & Compliance
Around the world, COVID vaccination campaigns are ramping up, as leaders pledge to protect their citizens from the deadliest pandemic in a century. But despite Herculean logistics efforts worldwide, in some countries (and localities within the US), the vaccine is still hard to come by.
People everywhere are anxious to get the COVID jab, and fearful of contracting the disease—two vulnerabilities that are among fraudsters' favorites to exploit. Let's take a look at some of the scams we've seen popping up, and run through a checklist of how to protect yourself and your loved ones. 
Fraudulent "Buy Direct" Sites Proliferate
From the minute the pandemic struck, domain names containing COVID were snapped up; check out this Krebs Security article to see how the spikes in domain registrations and traffic early in the pandemic, as fraudsters quickly began shilling all manner of fake medical goods, from personal protective equipment (PPE) to nebulizers. Early on in the pandemic, FICO detected a 3x surge in medical equipment fraud.
Further downstream from the domain registration frenzy, a multitude of official-looking fake websites has popped up. These sites promise direct sales of vaccines, but instead take people's money and personal data. The Wall Street Journal recently reported that as of mid-February, U.S. Department of Homeland Security investigators had seized roughly $33 million in illicit proceeds and analyzed almost 80,000 COVID-19 domain names.
The image below from The Journal, provided by the U.S. Department of Justice, shows a fraudulent website that invited the public to buy doses of Moderna's COVID-19 vaccine. Three men were charged with conspiracy to commit wire fraud in a criminal complaint filed Feb. 9 in federal court in Baltimore.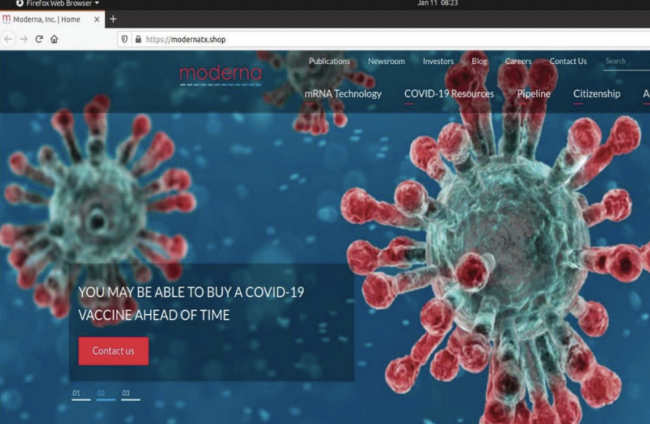 A professional-looking, yet fake website offering advance sales of vaccine.
Ads and Direct Solicitations
Meanwhile, fraudsters are also reaching out directly to an anxious public, running ads for COVID-19 vaccines on community sites like Craigslist. Some are using outbound sales teams to call consumers, offering home delivery of the vaccine after payment is made up-front.
Predatory criminals are also issuing a fleet of text messages inviting recipients to set up an appointment for a coronavirus vaccination, or urgent offers of "leftover" vaccine supposedly up for grabs. While it's true that many clinics release unused vaccines at the end of each day, this practice is never advertised by legitimate vaccine distribution sites.
A Comprehensive Fraud Checklist
Numerous U.S. government agencies have published alerts about COVID vaccine fraud. I like this one from the U.S. Department of Health and Human Services (HHS), which is particularly useful for communicating the dangers of fake vaccine offers to elderly loved ones. Elder fraud prevention is a cause I am passionate about, and one I blog on regularly. And while it's true that older citizens have been the U.S. government's top vaccination priority, many fake vaccine scams are still going strong, appealing to, for example, grandparents wanting to secure COVID vaccines for younger, as-yet-ineligible family members.
The HHS alert warns that the following criteria are potential indicators of fraudulent vaccine offers:
Advertisements or offers for early access to a vaccine upon payment of a deposit or fee.
Requests to pay out of pocket to obtain the vaccine or to put your name on a COVID-19 vaccine waiting list.
Offers to undergo additional medical testing or procedures when obtaining a vaccine.
Marketers offering to sell and/or ship doses of a vaccine, domestically or internationally, in exchange for payment of a deposit or fee.
Unsolicited emails, telephone calls or personal contact from someone claiming to be from a medical office, insurance company or COVID-19 vaccine center and requesting personal and/or medical information to determine eligibility to participate in clinical vaccine trials or obtain the vaccine.
Claims of Food and Drug Administration (FDA) approval for a vaccine that cannot be verified.
Advertisements for vaccines through social media platforms, emails, telephone calls, online or from unsolicited/unknown sources.
Individuals contacting you in person, by phone or by email to tell you that government officials require you to receive a COVID-19 vaccine.
In addition, U.S. government agencies offer these tips for avoiding COVID-19 vaccine fraud:
Consult your state's health department website for up-to-date information about authorized vaccine distribution channels. Obtain a vaccine only through such channels.
Check the FDA's website for current information about vaccine emergency use authorizations.
Consult your primary care physician before having any vaccination.
Don't share your personal or health information with anyone other than known, trusted medical professionals.
Check your medical bills and insurance explanation of benefits (EOBs) for suspicious claims, and promptly report errors to your health insurance provider.
Follow guidance from the U.S. Centers for Disease Control and Prevention and other trusted medical professionals.
Lastly, once you have had your vaccine, don't share a photo of your vaccine on social media! Remember, it does have personal information on it that could help thieves in an identity theft situation.
I know it's hard to be patient. Although I was extremely lucky to track down a last-minute vaccine appointment and websites such as Dr. B are rolling out to help expand this option, I'm anxiously waiting for the green light for the rest of my family to be vaccinated. But to avoid being fleeced today, and potentially being a victim of downstream identity theft, there's no way I'll take the bait on a COVID vaccine scam. I know you won't, either.
To keep up with my latest thoughts on combatting scammers, fraudsters and financial criminals, follow me on Twitter @LizFightsFraud.