Last year I blogged a lot about how payments and fraud patterns have changed. But despite the COVID pandemic having effected massive changes in the ways consumers transact, credit card fraud is still a "thing," and a big, ever-changing thing at that. In this blog post I'll do some quick level-setting with 2019 card fraud numbers, touch on what that looked like for 2020, and then share a round-up of several of the latest credit card fraud trends.
Fraud Numbers Vary Widely
Exactly how big credit card fraud is depends on where you look. The U.S. Federal Trade Commission (FTC) is an important resource, taking in reports from consumers about problems they experience in the marketplace. The reports are stored in the Consumer Sentinel Network (Sentinel), a secure online database available only to law enforcement partners, which can use information in the database to spot trends, identify questionable business practices and targets, and enforce the law.
The graphs below show the top fraud types reported to the FTC in 2019 and corresponding dollar loss amounts.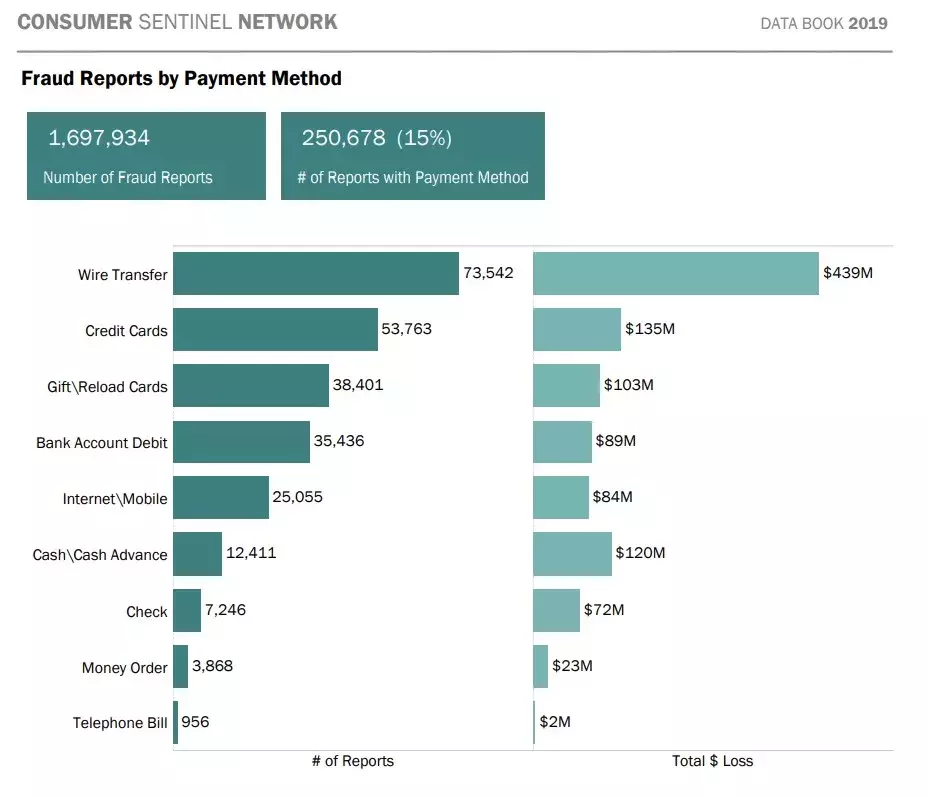 Credit card fraud was the FTC's second most-reported fraud type in 2019. It's important to note that the numbers in the graph above reflect only the total 250,678 incidents reported to the FTC; a much higher number of credit card fraud incidents impact banks and issuers. The important point here is that's the second largest type of fraud reported to the FTC by consumers, indicating it's still a large problem and causing pain to the victims.
For example, in April 2020, early in the pandemic, The Wall Street Journal reported that fraud losses – including losses linked to credit and debit cards – cost banks, merchants and, in some cases, cardholders $16.9 billion in 2019, according to Javelin Research. Note the dramatically higher number here; $16.9 billion is more than 125 times greater than the $135 million, credit card-only figure from the Sentinel report.
Additionally, payment services provider FIS (a FICO Partner) said the dollar volume of attempted fraudulent transactions in April 2020 rose 35% over the prior year, a trend it expected to continue.
More recently, in December the Nilson Report quantified global card fraud losses at $28.65 billion. That's nearly 7 cents per every $100 in spending, representing significant losses across issuers, acquirers, and merchants.
Credit Card Fraud Tactics and COVID-19
So exactly how has credit card fraud morphed during the pandemic? As also reported in The Wall Street Journal, here's a quick look at some trends and tactics:
Fraudsters are generating random card numbers until they stumble upon legitimate accounts.
More fraudulent purchases are being attempted with card numbers stolen in pre-pandemic hacks.
Phishing attacks are on the rise during the pandemic. These include emails, texts and phone calls that attempt to trick customers into handing over their credit card credentials.
Special Tools to Combat Credit Card Fraud
In times of rapidly changing fraud patterns, banks and card issuers that use FICO's fraud solutions are protected by numerous technologies that help detect more fraud, faster.
FICO® Falcon® Platform is underpinned by contextual profiling technology that provides nano-profiling across any dimension of behavior, to find the real frauds and reduce false positives. For example, techniques pioneered by FICO such as behavioral sorted lists keep track of a customer's favorite usage patterns. When a transaction occurs that is out of the normal pattern, it is flagged as potentially fraudulent.
FICO® Falcon® Compromise Manager identifies compromised merchants, the time window during which payment card information is stolen, and the cards that are at risk. By pairing the power of cross-institutional transactions data in the FICO® Falcon® Intelligence Network with advanced analytics, banks receive targeted treatment recommendations for cards at risk. This balanced approach avoids expensive mass block-and-reissue replacement.  
FICO ® Customer Communication Services (CCS) for Fraud validates suspicious transactions with the consumer in real-time to combat fraud in the moment, via their preferred channel: mobile push, text, phone call or email. The technology helps fraud operations scale by involving the customer to find more fraud.
The irony isn't lost on me that those of us who fight fraud professionally are also susceptible to this crime as consumers. All of us need to protect ourselves from credit card fraud. For a quick refresher course, take a few minutes and read my colleague Liz Lasher's recent discussion with CNBC about how to prevent credit card fraud; her tips for the holiday season are relevant all year 'round.
Stay safe, fight fraud, and follow me on Twitter @FraudBird.